The New York Legislature will discuss human services funding on Jan. 24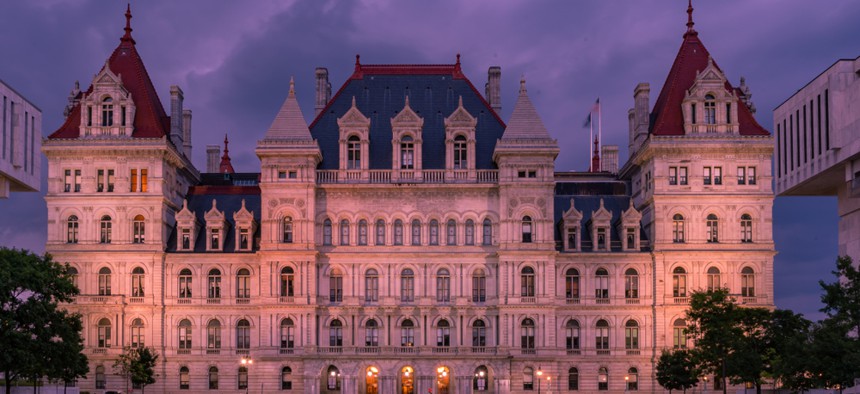 The New York state Legislature will have a budget hearing on human services on Jan. 24. Witnesses must limit their comments to five minutes and submit a copy of their testimony via email to both financechair@nysenate.gov and wamchair@nyassembly.gov at least 48 hours in advance of the hearing, which will take place at 9:30 a.m. in Hearing Room B of the Legislative Office Building in Albany, according to the New York Senate website. At least 50 copies of the testimony must be provided on the day of the hearing. The hearing will be live-streamed.
New York City's child welfare chief has gotten some recognition. Casey Family Programs has given its 2019 leadership award to David Hansell, commissioner of the New York City Administration for Children's Services, and Lisa Opoku, chief operating officer for the engineering organization at Goldman Sachs. The award recognizes a public-private partnership among ACS, Goldman Sachs and Casey Family Programs that places foster care youth with mentors who help them navigate college and get jobs, according to a Jan. 16 press release. Hansell received the award at an event in Seattle, where Casey Family Programs is based.
"Casey Family Programs is the North Star for child welfare agencies across the country," Hansell said in the press release. "I will continue to work towards building a 21st-century child welfare system that focuses on strengthening services and supports for children and families in New York City."
Northern Manhattan Improvement Corporation has gotten a contract renewal for a homelessness prevention law project. The three-year, $6.03 million deal with the New York City Department of Social Services will run through June 2021, according to the City Record. My Time, a Brooklyn-based organization, has received a $144,547 contract to deliver mental health services for adults on behalf of the city Department of Health and Mental Hygiene. Mosholu Montefiore Community Center received a $147,132 contract from the department to deliver mental health services for children and adolescents.
A Wednesday webinar will offer an update on everything having to do with the 2020 Census. The discussion will center on what remains to be done to ensure an accurate decennial count of people in New York and across the country. A federal judge ruled earlier this month that a citizenship question has to be removed from the Census; the Jan. 23 discussion will focus on what else will affect the Census in upcoming months and how advocates of a fair Census aim to keep the pressure on Congress and the Trump administration. The free discussion (register here) is sponsored by the Coalition on Human Needs and the Leadership Conference on Civil and Human Rights. Here is who is speaking:
Mary Jo Hoeksema, director of government affairs, Population Association of America, and co-director, The Census Project

Beth Lynk, Census Counts campaign director, The Leadership Conference on Civil and Human Rights

Deborah Stein, network director, Partnership for America's Children

Deborah Weinstein, executive director, Coalition on Human Needs

Corrine Yu, senior program director, special projects, The Leadership Conference on Civil and Human Rights
Heidi Reavis, board chair at Women's City Club of New York, has something to say about the third annual Women's March. She appeared on "Driving Forces" on WBAI over the weekend to discuss her observations from the day. Division among organizers led to two events: one in downtown Manhattan and one on the Upper West Side. Reavis appeared at the latter and said that this year's march has made her more optimistic, with many progressive priorities likely to get attention at the state level such as the Reproductive Health Act and sexual harassment. "We're not just marching today in the hopes of things happening in the future," Reavis said in the interview with Jeff Simmons, host of the program and an executive vice president at PR firm Anat Gerstein. "It's also to support those legislators that have actually made it a priority to act swiftly to make up for lost time."