Here is why nonprofits are teaming up with millionaires in Albany.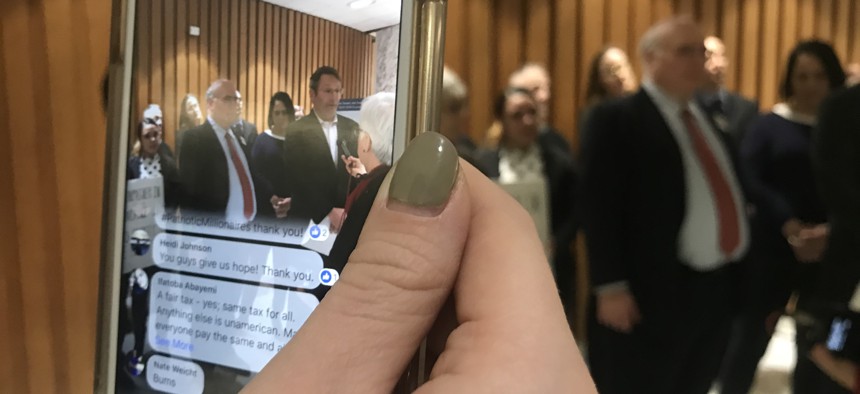 The former CEO of University Settlement and The Door has written a new book. Leadership Dilemmas and Challenges: Reflections and Advice: Or, "Why I Do That?" by Michael Zisser aims to inspire people in the nonprofit sector through a mix of personal essays. Zisser retired in 2016 after 28 years as head of University Settlement and The Door.
"Part insightful guidance, part humorous memoir, author Michael Zisser pulls from more than 30 years' experience managing major New York City-based organizations, as well as several decades teaching graduate level courses in planning, public administration and social work," reads a description of the book on the Barnes and Noble website.
Several nonprofits appeared at the state Capitol Feb. 12 to advocate for higher taxes on the wealthy to fund social services. This included a press conference outside of a state legislative hearing on taxes where advocates floated the idea of a new tax on multimillionaires, which they said would raise $2-3 billion per year. Here is the letter they sent to Gov. Andrew Cuomo.
The star of the press conference was Morris Pearl, chair of Patriotic Millionaires and a former managing director of BlackRock. He argued that rich people such as himself can pay more in taxes without lawmakers having to worry that they would move out of state.
"I will tell you as someone who knows a lot of rich people in New York, the rich people who make decisions on where to live based mainly on taxes do not live in New York, and they have not lived in New York in decades. They moved to other states like Kansas generations ago," he said at the press conference. "Please don't buy the empty threats of millionaires who claim they'll leave the state if you raise their tax rate."
Representatives from VOCAL-NY, the Fiscal Policy Institute and other groups also spoke out at the press conference:
Here is their submitted testimony to lawmakers:
Scott Rogowsky, the host of HQ Trivia, had some questions of his own for The Arc Westchester. The app-based celebrity stopped by the Westchester County-based nonprofit on Feb. 1 after corresponding for months with Samantha Makris, a resident of the organization's group homes.
Makris is the nonprofit's public face for the Ronald McDonald House of the Greater Hudson Valley. Among her duties is promoting a recycling program that help raise money to offset the house's expenses, according to a Feb. 6 press release. Rogowsky, who is a native of Westchester, was so impressed by the program that he wanted to see it first-hand. He wasn't the only big name to come by. Artist Jeffrey Schrier also came by to discuss the art he makes with aluminum can tabs; he left a $500 donation.
Human services nonprofits across the state are making a push for $100 million in new state funding in the upcoming week. They will host a series of press conferences along with local elected officials. They will be in Syracuse on Feb. 19, the Bronx on Feb. 20, Binghamton on Feb. 21, and Westbury Feb. 22. More information is available here. Organizations that cannot send representatives can find the hashtags they need to know here to participate on the social media front.
Children's Rescue Fund has received a $22.39 million contract from the New York City Department of Homeless Services. The money will fund a three-year extension of a cluster model program in the Bronx, according to the City Record. The Center for Employment Services got a one-year, $396,360 extension through Dec. 31, 2019 to fund employment services for the Department of Probation. Several dozen nonprofits got contract renewals to deliver mental hygiene services on behalf of the city Department of Health and Mental Hygiene.