Two new bills affecting child welfare in New York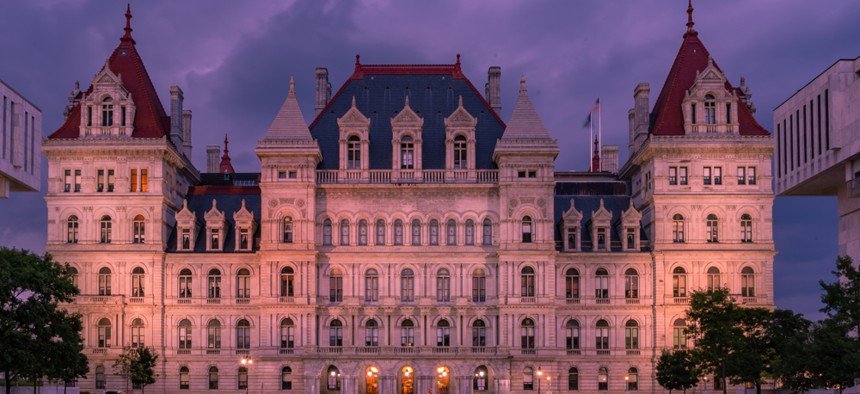 A proposed state law would require annual training for mandatory reporters of suspected child abuse. The bill, sponsored by state Sen. Catherine Young, would require two total hours of training over a 30-day period. "The record must be producible," reads a description of the legislation, "to any employee of the office of children and family services, child protective agency, or law enforcement officer engaged in the investigation of suspected child abuse or maltreatment." The bill is currently before the Senate Finance Committee.
But that is not the only bill before the Legislature that would shake how the state regulates child abuse reporters. A bill sponsored by state Sen. Patrick Gallivan would require the state Office of Children and Family Services to record phone calls made to the central registry of suspected child abuse or neglect. That recording would then be included in any report, according to a summary of the legislation. The bill is currently before the Senate Children And Families Committee.
There is a new executive lineup at The Child Center of NY. Linda Rodriguez, previously the organization's vice president of early childhood and prevention, now oversees its behavioral health division. Tanya Krien and Marie Mason are the vice presidents overseeing early childhood education programs. Robert Cizma is now the head of all prevention programs. Amanda Etienne, formerly associate director of youth development, is now a vice president of the division. Here is the current executive lineup. 
An earlier version of this story incorrectly stated that Jaimie Angarita was chief operating officer and chief development officer at The Child Center of New York. In fact, he left the position in October. A announcement of the executive changes was originally made in July 2018. 
FPWA is going on a roadtrip today:
We are traveling to Albany TOMORROW (Feb 4)! We need your support to help advocate for
- Minimum wage increase
- Cost of living adjustments
- Quality and affordable healthcare
- Criminal justice reform
and so much more. Let's protect our communities together.#FPWAAdvocacyDay pic.twitter.com/oibplHqdeM

— FPWA (@FPWA) February 3, 2019
Reader's Digest has the story behind a $6 million donation to Henry Street Settlement. It all began with a legal secretary named Sylvia Bloom. She lived in a one-bedroom apartment in Brooklyn and commuted by subway to her job in Manhattan until she was 96 years old. When she died at age 97, she left behind a surprisingly robust estate. Educational programs at Henry Street Settlement received a $6 million donation – part of $8.2 million left by Bloom to charity. Read more here about her story and other secret millionaires' philanthropic gifts.
One attorney at Brooklyn Defenders was in the thick of the action on Feb. 2 at a federal prison in Brooklyn. Scott Hechinger, director of policy, posted numerous videos and comments via Twitter from the Metropolitan Detention Complex, where hundreds of people protested a lack of heat for inmates. Hechinger chronicled the confrontations between police and the protesters that made headlines over the weekend:
 
*Thing just got intense. About 25 Corrections Officers came out in force. At around 20 seconds in, you'll see an officer slap a phone out of a woman's hand. What you don't see is he then steps on it. And forcefully pushes past her. pic.twitter.com/QYmx2iVjqz

— Scott Hechinger (@ScottHech) February 3, 2019
The Door is receiving a contract renewal from the New York City Department of Social Services. The three-year contract extension for an undisclosed amount will fund legal services for immigrant workers, according to the City Record. Richmond Medical Center has received a $255,300 contract and a $165,777 contract to provide mental health services in Staten Island on behalf of the city Department of Health and Mental Hygiene. The agency is considering extensions of existing contracts to provide vocational programming for individuals with intellectual disabilities to Goodwill Industries of Greater New York and Northern New Jersey, Brooklyn Bureau of Community Service and New York State ARC.