NY officials submit comments on proposed rule changes in federal housing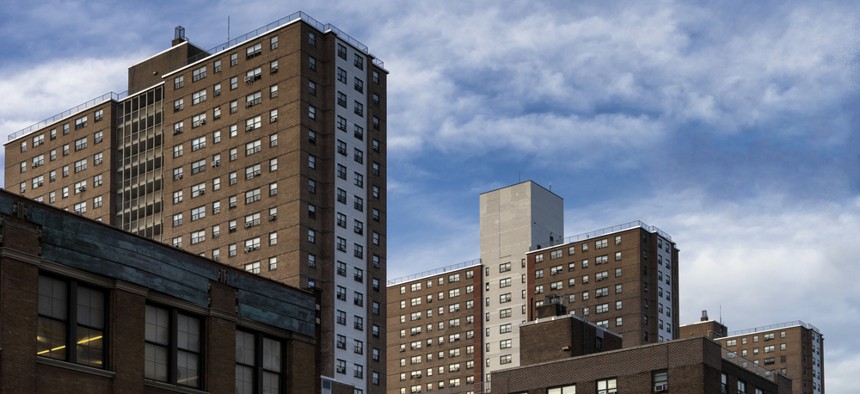 Theater of War has a new take on Greek tragedy. A Brooklyn production of "Antigone in Ferguson" retells the classic drama through the story of Michael Brown, an unarmed black teen fatally shot by police in Ferguson, Missouri, in 2014. The New York City-based theater troupe has a history of producing its own take on ancient stories in a variety of settings, including a 2018 reading of the tragedy "Philoctetes" for the nonprofit Services for the UnderServed.
The Juvenile Justice Information Exchange recently wrote and produced a video about the latest free one-hour production, which runs through Saturday at St. Ann and the Holy Trinity Church in Brooklyn. Public Advocate Jumaane Williams is among the cast members.
Breaking Ground is getting some good press in The New York Times. The paper of record reports that a client of the nonprofit is enjoying his new digs at the Prince George Hotel, a former hotel that provides affordable housing for people at risk of homelessness. The client, a transgender man, is having an easier time in his new housing after a lifetime of adversity, which includes struggles with depression and cancer, according to the Times.
"I felt like I could breathe easy when I got the keys," Buddy Jones said. "I thought this was an awesome place. Therapy was finally worth it. It felt like a total clean slate."
The New York State Office of Mental Health has new regulations on telepsychiatry. The goal is to expand access to mental health services through electronic communication, according to a July 9 press release. Previously, only psychiatrists and psychiatric nurse practitioners could help patients electronically. As recently as 2014, nearly two out of three New York counties lacked sufficient mental health professionals, according to the department. Read the new regulations here.
The NYC Housing Partnership has a new general counsel. Crystal Kay is taking on the position after serving as a senior staff attorney at Brooklyn Legal Services Corporation. She is a graduate of Rutgers Law School and Wesleyan University, according to a press release. 
The New Jewish Home is getting some respect for one of its rehab facilities. The nonprofit's Sarah Neuman facility in Westchester has received a Gold Seal of Approval from The Joint Commission, which recognizes the quality of the facility's heart failure program. "A Joint Commission surveyor evaluated compliance with certification standards including clinical practice guidelines, functional improvement in rehabilitation services, managing of daily weights, and rehospitalizations," states a press release. Sarah Neuman, a short-stay rehab for patients with heart failure, is only the second facility in New York state to receive such a recognition.
New York City has submitted its formal comments to a proposed federal rule change that could take subsidized housing away from thousands of people. The Trump administration wants to make some federal housing aid – including Section 8 vouchers – contingent on immigration status, not only for an individual but for other people that live in the same home. "This rule change would have immediate effects for approximately 11,400 New Yorkers, including nearly 5,000 children," states a press release from Mayor Bill de Blasio. July 9 was the final day for comment on the proposal. A group of state attorneys general, including New York State Attorney General Letitia James, submitted their own joint comment yesterday to the federal Department of Housing and Urban Development.
A previous version of this article misstated the name of the Prince George Hotel.