De Blasio's new leader of New York City Service
New York City Mayor Bill de Blasio announced the new leader of New York City Service yesterday.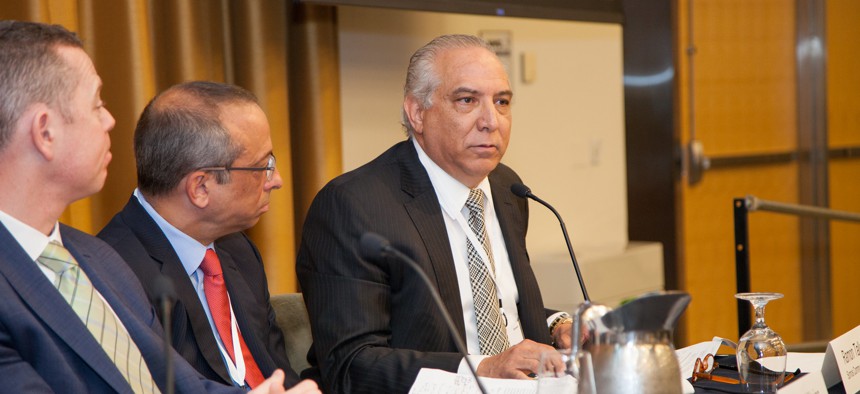 New York City Mayor Bill de Blasio announced the new leader of New York City Service yesterday. Anusha Venkataraman will be taking over as the city chief service officer from Patricia Eng, who is moving on to become president and CEO of Asian Americans/Pacific Islanders in Philanthropy. Beginning Oct. 9, Venkataraman will head efforts to promote civic engagement and volunteerism in the city. She has an extensive background in city government, currently working as a senior advisor in the Office of the Deputy Mayor for Housing and Economic Development. 
The nonprofit health care provider SOMOS received an organization of the year award. The Board of the Dominican Day Parade presented the award to SOMOS, which provides care to 700,000 Medicaid beneficiaries throughout the city. Earlier this year, the organization partnered with New York state to care for undocumented and unaccompanied immigrant children.
"As a Dominican immigrant myself, it's an overwhelming honor to have the life-changing work done by SOMOS recognized by the Dominican Day Parade, but we know our work is only getting started," Ramon Tallaj, founder and chairman of SOMOS, said via press release. 
The Urban Justice Center received a $16.4 million contract from the New York City Department of Social Services. The funds will go toward the Immigrant Opportunity Initiatives program, which provides legal services to low-income immigrants in the city. The Neighborhood Self-Help by Older Persons Project received a $667,663 contract from the city Department of Aging. The department also awarded two other contracts, both for similar services: one to the New York Foundation for Senior Citizens for a $635,436 contract; and one to the Jacob A. Riis Neighborhood Settlement for a $191,000 contract. The Administration for Children's Services also awarded a $117,000 contract to Forestdale for child care services.
The Department of Homeless Services has a contract award hearing scheduled for Aug. 15 for four organizations –  The Doe Fund, with two proposed contracts at $307.8 million and $107.5 million, respectively; Black Veterans for Social Justice, with a proposed $39.2 million contract; and Urban Pathways, with a proposed $15.8 million contract. The Department of Aging is also holding a contract award hearing tomorrow.
Nonprofit New York announced 13 semifinalists for its Nonprofit Excellence Awards last week. A 38-person selection committee evaluated them on communications, financial management, and inclusivity, among other factors. The winners and finalists of the award will get monetary awards, a scholarship for leadership programs for nonprofit professionals, and participate in Nonprofit New York's Best Nonprofit Conference. Here are the semifinalists:
Callen-Lorde Community Health Center 
Chinese-American Planning Council 
Edible Schoolyard NYC 
Educational Alliance, Inc.
Fiver Children's Foundation 
Global Kids 
Henry Street Settlement 
The HOPE Program
Literacy Inc. 
LitWorld 
LiveOn NY 
WITNESS 
Youth Inc. 
The Spectrum Designs Foundation and Nicholas Center raised more than $225,000 to support people with autism. The money was raised during the ninth annual Night in White Gala, which was attended by local Long Island officials such as Nassau County Executive Laura Curran. Spectrum Designs and Nicholas Center employ people with autism and support at Spectrum Designs' three businesses. 
A report shows that the New York City Adult Protective Services's caseload has grown 37% over the past five years. The New York City Independent Budget Office's fiscal brief, released last Wednesday, shows that the need for the agency's services increases as the city's population ages. It also shows that the most common reasons for agency assistance are "inability to manage finances, help needed with daily activities, and eviction." To see the report, look below. 
Adult Protective Services NYC IBO by Anonymous haLWSQy on Scribd