Moving into the next phase of addressing New York City's hunger crisis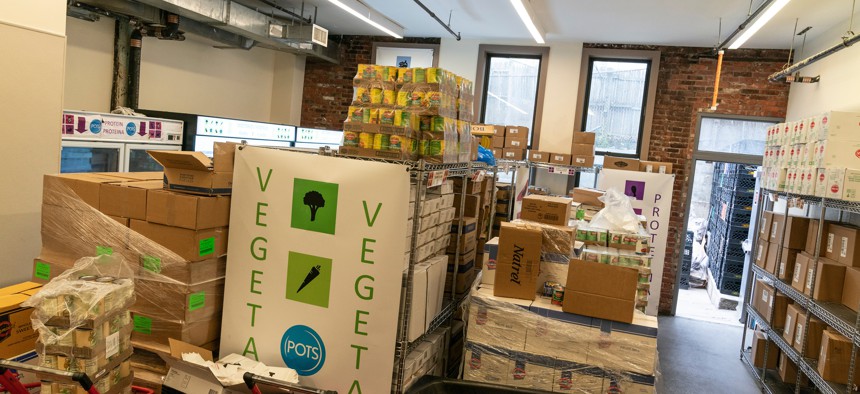 Reduced COVID-19 caseloads and the first tentative steps toward an economic recovery may be encouraging indicators of New York's progression out of the pandemic, but countless New Yorkers are still struggling with financial hardship and food insecurity on a daily basis, as illustrated by New York City Mayor Bill de Blasio's estimate in late April that the number of hungry city residents would reach 2 million because of the pandemic.
The city has responded with Get Food NYC, the food assistance system created in response to the pandemic to provide emergency meals to people in need. But as the conversation in New York shifts to reopening businesses and other establishments, how the program will adapt to the new environment is in question.
"We are actively doing some strategic planning around this very question of how much you want to leave in place," said Kathryn Garcia, the city's COVID-19 food czar. "How much do you want to ratchet back as things change?"
For example, the city has created and expanded an emergency home delivery program that provides three meals a day for people who cannot go out and purchase food, amounting to 1 million meals a day. But that distribution is currently reliant upon out-of-work taxi drivers and others whose livelihoods have been hit hard by the pandemic, many of whom may have to return to their old jobs as reopening continues. 
New York City has given out 22 million free grab-and-go meals at public school buildings since the onset of the pandemic, with plans to continue doing so in the summer. But if schools end up reopening in some fashion in the fall, that approach will also likely need to be adapted.
"Figuring out what we need, and then what would we need for staffing to replace those (people) and how do you keep everything running is what we're thinking of as this summer goes forward," Garcia said.
There are related concerns among nonprofits offering home-delivered meals through another program under the city Department for the Aging, which predates the pandemic. Nonprofit providers have argued that the city should allocate more funding to them to accommodate additional clients instead of encouraging them to sign up for help under Get Food NYC instead. This program also connects elderly enrollees to other social services as needed, which providers say is particularly valuable during the pandemic.
"That's a population of less than 25,000," Garcia said about seniors served through the home-delivered meals program. "We are doing over 165,000 seniors every day and we are doing significantly more food. So it's just a question of scale."
Nonprofits participating in the home-delivered meals program have long lambasted the city for not providing sufficient funding to cover the program's costs and have pushed for more support in light of the pandemic. Earlier this year, the Human Services Council rated the city's request for proposals for the program – which has been pushed back to June 24 – as high-risk in part because of inadequate funding. New York City Councilwoman Margaret Chin, who chairs the Committee on Aging, has called for an additional $26.2 million to be allocated to support the initiative. 
Financial and logistical challenges have plagued other parts of the city's charitable network. Food banks, soup kitchens and other groups giving out free meals have also struggled to remain operational amid the crisis. Closures in this sector peaked in mid-April, when about one-third of them shut down, according to a new report from the Food Bank For New York City that surveyed its partner organizations. The greatest number of closures occurred in the Bronx, the city's poorest borough. "We are seeing some of those begin to reopen," said Camesha Grant, vice president of community connection and reach with Food Bank For New York City. "We have about 800 emergency feeding programs in our city, and right now, about 70% of them are open. … But we don't know if all of them will be able to reopen." Nearly half of the programs also reported that they had to turn people away because of food shortages, according to the report – the highest percentage recorded since the organization started tracking this information. 
For Nicholas Freudenberg, director of the CUNY Urban Food Policy Institute, the program closures illustrate how vulnerable the city's emergency food network can be. "Emergency distribution is needed – it was especially needed in the first part of the epidemic – but to my mind, it's not a sustainable way of addressing food insecurity," he said.
A better way forward, he added, would be to expand access to safety net programs, such as the Supplemental Nutrition Assistance Program. The Pandemic Electronic Benefit Transfer established at a federal level and administered by the state is one such example created in response to the emerging hunger crisis. It allows all families of New York City public school students to get up to $420 per child to pay for food to make up for free meals they lost out on because of school closures. 
"I think the hope for those of us in food policy and food justice is that this epidemic will help us to create a system that will address some of the deeper causes of food insecurity in our society," Freudenberg said, "and use the spotlight that COVID has shown in the food system to uncover and solve some of those problems."