Nonprofits
Girls Inc. receives $1M from Google for financial literacy initiatives
The not-for-profit's chief executive officer Pamela Maraldo talks to NYN Media about the importance of financial literacy and economic empowerment for girls in NYC and beyond.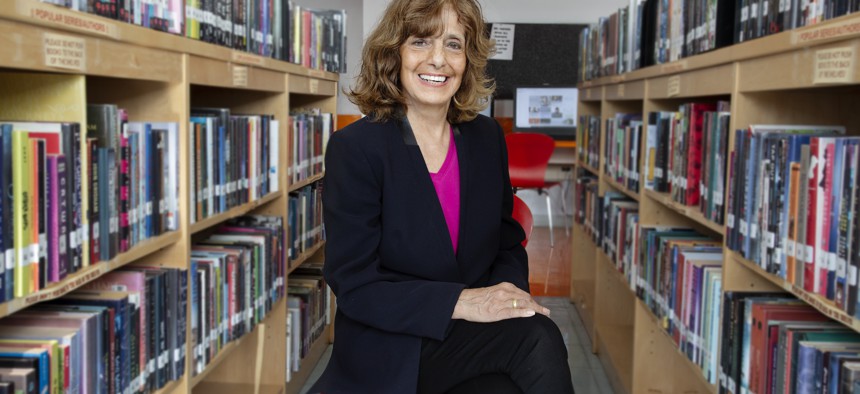 During a time where women and girls have lost $800 billion in income globally due to COVID-19, Girls Inc. of New York City received $1 million in funding for their financial literacy project, Her Future. Her Future hopes to teach young women to be economically independent and build a better relationship with money, all with the help of a mobile app that will change the way they think about money. 
Google.org's Impact Challenge for Women and Girls, a $25 million philanthropy challenge to support gender equity focused organizations, chose seven U.S.-based organizations out of nearly 8,000 applications globally. In addition to the funding, Girls Inc. will be participating in a four-month accelerator led by Women Techmakers and other partners. 
NYN media spoke to Pamela Maraldo about the importance of women and girls's economic empowerment through financial literacy and how Girls Inc. of New York City hopes to change the current landscape devastated by COVID-19. 
This interview has been edited for length and clarity.

Let's start with the broader context. How has COVID-19 impacted women's economic situations, especially in New York City, and why do you think it's important for girls from the city to receive financial literacy?
Women were hit hard by COVID-19 because they have family responsibilities, it's not just the workplace they had to worry about. Women on my board, for example, were in relatively small apartments in New York with children at home and had to work at the same time. It was a very challenging time and a lot of them left the workplace. In the communities we serve, which are the most economically challenged communities in the city, the girls in our programs were really either hit hard by economic circumstances of their families or the illnesses in their families, since many of their parents were essential workers. You probably already know this, but the mental health trends were going in the wrong direction before COVID-19. Now they're in epidemic proportions. So depression, anxiety, suicides spiked among the girls we serve in the communities dramatically. I think that the hope for our financial literacy program is to long-term, help lift girls out of poverty. 
The girls in our programs are from families earning less than $30,000 a year. Many women are in situations, regardless of the socio-economic bracket, that they don't want to be in because they can't afford not to be. So we want to give women in all demographics, especially the girls and the young women, the tools that they need to have financial know-how, have confidence in their ability, to make sound financial choices and ultimately choose careers and life situations that are comfortable for them and lift them out of poverty. We want this to be a watershed moment. 
We've been doing financial literacy for a really long time, we got funding a few years ago and we were teaching the girls how to invest in the stock market. These are young girls investing in the stock market in one year. We didn't make any decisions for them, they made their own. In one year, they had a 54% rate of return. Everybody was shocked, but when you teach them not to be intimidated by money, they're not. And we're going to start out by teaching them that money can be your friend. Money is simply a tool. When you grow up in poverty, you can't help but have an ambivalent attitude towards money because you have probably seen your parents struggle to pay the rent or put food on the table. Money has meant challenges, anxiety, fear, difficulty, but we want to start out by changing that. We want them to understand that money is a tool and money can be your friend.
Your organization just received $1 million in funding from Google to support your financial literacy initiatives. Can you speak more on what this means for the Her Future project, the young women participating in your programs and the organization over all?
Most of the girls in our programs grow up in difficult situations in communities that are impoverished. Growing up in poverty usually means that you have habits about money that aren't helpful. You're afraid of money; you feel that people that have a lot of money maybe aren't good people; you're skeptical about people that have money; and you don't really feel like you belong in situations where you have a lot of money. We want to begin by changing girl's and young women's attitudes towards money. We want them to understand that money can help you and we want to change their associations around money so that it's kind of like relationships. You can really like money; you can feel comfortable around money; you can feel like money is dependable, reliable and that it's important and a good thing in your life. I think that changing girls' emotional relationship to money is key and then giving them the knowledge through the Her Future app. We're going to teach them about budgeting, about savings, about banking, about lending, about interest rates, so that they're really comfortable navigating the waters of money and then the Her Future app is going to be designed in such a way that it is inviting. It's got gamified features. So first thing in the morning, you can't wait to jump out of bed and look at your app to see what messages the bot is sending you that is going to give you new ideas about making more money, new ideas about saving more, and what your savings is ultimately going to buy. We want to make this fun inviting and we want to make Her Future something that girls really want to integrate into their lives and be a part of their lives, kind of like an iPhone.
Can you name a time or a memory where you actually felt or saw how your organization's economic literacy programs impacted a young woman?
Well, in the program that I mentioned, where the girls had a 54% rate of return, they were allowed to keep the savings for college, whatever they earned. So they all got college scholarships because they made so much money in the stock market and now their lives will never be the same. They look at money very differently now because they look at money as something that they can earn, that they can use, that opened up a whole new world for them. And so, it was a big game changer and that's what we hope for with the Her Futures app. We want the app to be a game-changer for them so they can see a new reality and think not in terms of scarcity and what I can have and what I can't afford, but in terms of abundance and that I have a lot and with my knowledge and my confidence, I can get more and live the life I choose.
What advice do you have for other girl empowerment organizations who have been impacted by COVID-19 and hope to continue to serve young women and girls in NYC?
I think the most important thing to focus on right now is girls' emotional health. The isolation, the being without their friends and their network, being pulled away from school, all of that has really taken a dramatic toll. So, I think that I consider our organization to be an engine for social change, so that no matter if it's gender equality, or racial equality, economic equality, or mental health challenges, organizations like ours and other not-for-profits can step in to meet a need where we see a problem. And right now, I think the most pressing problem is the lack of emotional health on the part of thousands of girls throughout New York City so I think to let them know that, learning loss can be restored, to let them know that better times are ahead and let them know that their futures are going to be better and that COVID-19 is not going to be here forever and it's on its way out. We hope to give girls hope, to give them stability and to give them a sense of belonging.
How do you hope your organization's programming will change the current landscape in New York City and beyond?
Well, we're hoping that we can bring the message that there is no equality for women without financial capabilities and to help women through our Her Future app. Through our digitized curriculum, we want them to develop the skills and the knowledge to free them, to become independent women, and live the lives they choose. If they want to be in relationships, they're in relationships because they choose to be in relationships. If they're in jobs, it's because they choose to be in jobs, not because they feel enslaved to them or because they can't afford not to leave. We want that message to penetrate New York, that's our first approach, but ultimately nationally.