Advocates stand in solidarity with Rikers detainees on hunger strike
Advocacy groups argue that the protest action should draw concern.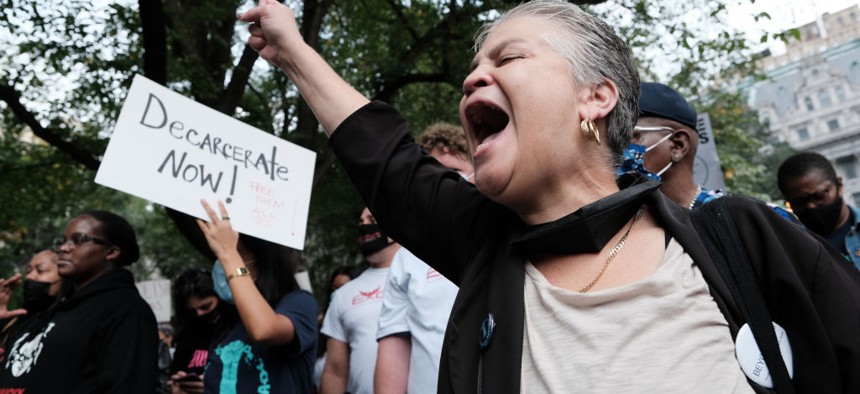 Advocates across New York City have come to the support of hundreds of detainees at Rikers Island refusing to eat in protest of current conditions at the jail complex, such as COVID-19 lockdowns, Department of Correction staff shortages and poor access to medical care.
Advocacy organizations standing in solidarity with the hunger strike on Wednesday, including New York County Defender Services, Bronx Defenders and #HALTSolitary, argued that the poor and inhumane treatment of detainees must come to an end.
"The fact that people incarcerated in city jails have resorted to the extreme measure of denying themselves food to draw attention to the sickening conditions on Rikers should concern everyone," Lupe Todd-Medina, spokesperson for New York County Defender Services said. "The shameful disregard of basic human and constitutional rights at Rikers is an ongoing humanitarian crisis. Throughout the pandemic, the Department of Correction has repeatedly failed to bring people to court, leaving thousands of New Yorkers unjustly held behind bars as they wait for their trials to start."
In December, then-New York City Department of Correction Commissioner Vincent Schiraldi announced that in-person visitations, congregate programs and religious services would be suspended until further notice due to a significant rise in coronavirus cases. COVID-19 positivity rates jumped from 9.5% to 17% within a span of 24 hours, forcing Schiraldi to take action, responding with safety measures within the complex. 
Advocates raised concerns about the mental health of detainees going without the services they needed. Schiraldi even joined defender offices and penned a letter to then-Mayor Bill de Blasio, requesting the release of detainees after they declared Rikers was no longer safe. A total of 16 detainees died in 2021, double the amount from the previous two years. 
Advocates say the only solution is to release the detainees and close Rikers once and for all. 
"Decarceration is the only immediate solution. Limiting the movement and rights of incarcerated people – halting their access to fresh air, exercise and phone calls home – is not how to fix the decades of neglect on Rikers Island," said Todd-Medina. "Our city's judges, district attorneys and elected officials must immediately follow former Commissioner Schiraldi's direct request and release people from Rikers. Only then will they be able to stop the breathtaking spread of COVID-19 and ensure that the basic needs of the people in their custody are being met."