New York State
Hochul wants to force more people with mental illness to get treatment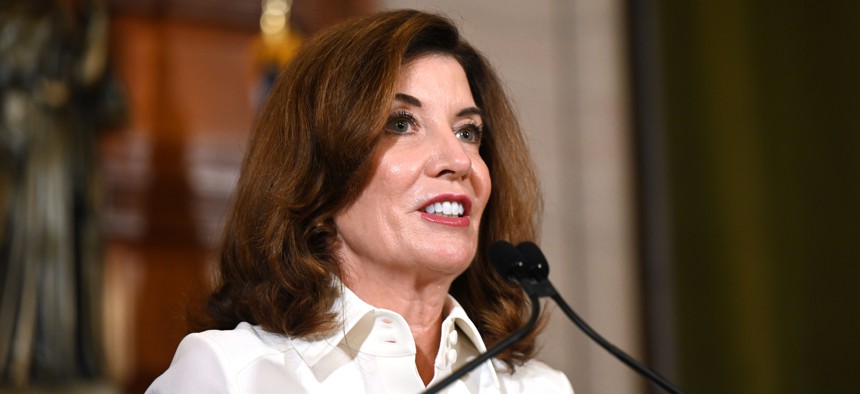 Gov. Kathy Hochul's new 10-point public safety plan has already drawn blowback from the political left for proposals to give judges more discretion to jail people pre-trial and to target gun possession among teens. But her proposal also dramatically expands a less prominent provision called Kendra's Law that gives the state permission to institutionalize and provide mandated treatment to people with mental illness. The proposed changes come after a string of deadly incidents involving homeless people in New York City's subway system.
Hochul included several ideas in her original proposed budget to make it easier to force mentally ill people to get treatment under some circumstances. Her new public safety plan goes much further by effectively making anyone living on the streets who cannot provide for themselves eligible for removal. Some advocates for the homeless say that approach could end up hurting them more than helping them.
"What the governor is proposing here is hugely problematic," Ruth Lowenkron, director of the disability justice program at New York Lawyers for the Public Interest. "We are just trying to lock people up as a means of feeling safer."
At issue is Kendra's Law, which was named for a woman pushed to her death in front of a subway train more than two decades ago. The current version of the statute allows for the involuntary commitment of people if they pose a danger to themselves or others and have a history of refusing treatment. That would change under Hochul's proposal to include any person with mental illness who "lacks significant capacity to provide ... food, clothing, shelter, or medical care" for themselves, according to the proposed legislative language. 
Kendra's Law was set to sunset this July, and Hochul has proposed extending it for five more years. The state Senate one-house budget resolution backed a one-year extension in its one-house budget proposal while the Assembly rejected executive policy proposals wholesale. 
Homeless advocates note how it often takes dozens of interactions between outreach workers and people sleeping on the subways before the latter agree to accept services. And advocates say forced treatment does not guarantee results. "Medication is not for everyone, OK," said Christina Sparrock, a mental health advocate who has overcome her own history of mental illness. She has spoken out about how current approaches to the mentally ill are disproportionately deadly to people of color. 
A tenth provision of Hochul's plan highlights $21 million included in her proposed state budget for outreach to people living on the streets and housing and mental health services that could help them. "Additional funding will be committed," reads the plan. A spokesperson for Hochul would not offer specifics on how much funding might be added to the budget. "Gov. Hochul has made the development of a comprehensive behavioral health crisis system in New York State one of her administration's key priorities," spokesperson Hazel Crampton-Hays said in an email. "We will work with the legislature this session on how best to keep New Yorkers safe."
Past research has shown that the statute is disproportionately applied to people of color, Gothamist reported in February. Nearly every person subjected to the law had previously been hospitalized for mental illness, according to state data cited by the online news outlet. About 27% of those people had threatened violence in some form when they began treatment and about 17% of them continued to do so following treatment.
The proposed changes to Kendra's Law are not getting attention like potential changes to state bail laws – but critics of both are saying the same things as budget talks get serious between Hochul, Assembly Speaker Carl Heastie and state Senate Majority Leader Andrea Stewart-Cousins. "It's wrong for the governor to cave to pressure," Roger Clark of the advocacy group VOCAL-NY said in a statement of Hochul's public safety plan. "I pray that Carl Heastie and Andrea Stewart-Cousins will push back and stick to their guns and not cave to the same pressure."