Healthcare
In a letter to state leaders, unions back immigrant health care expansion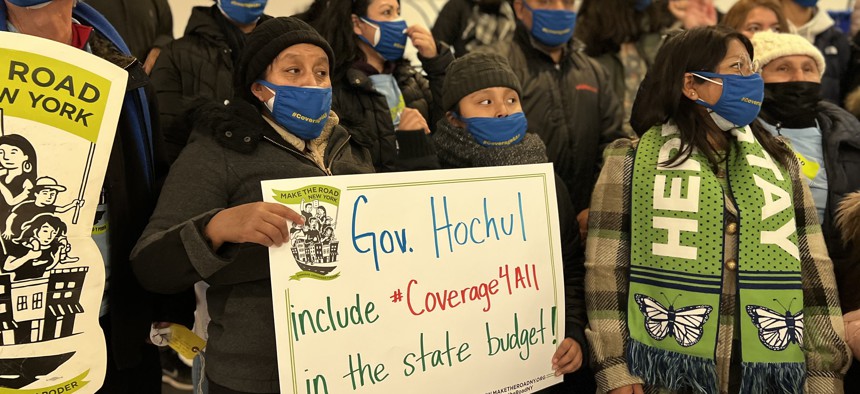 Continuing a trend of weighing in on budget proposals that are not strictly labor-related, several politically powerful unions have sent a letter to state leaders in support of legislation that would expand state-funded health care to undocumented New Yorkers. Legislative leaders included the proposal – called "Coverage for All" by proponents – in their nonbinding budget resolutions, but Gov. Kathy Hochul has not said whether she supports the measure. 
Influential unions including the health care workers' union 1199SEIU, building service workers' union 32BJ, the New York State Nurses Association, public employee union District Council 37 and the Retail, Wholesale and Department Store Union have all signed onto the letter addressed to Hochul, state Senate Majority Leader Andrea Stewart-Cousins and Assembly Speaker Carl Heastie. "As we saw during the height of the COVID-19 pandemic, immigrants, those with and without status, died at a higher rate than other marginalized and vulnerable communities," reads the letter shared exclusively with City & State. "Our state's recovery must include all who call New York home."
Right now, the state offers health care to low-income New Yorkers who make too much to qualify for Medicaid but can't afford private plans on the insurance marketplace. But the Essential Plan does not cover undocumented people, who also can't qualify for Medicaid due to its federal funding, leaving a pool of uninsured New Yorkers estimated to number around 46,000. The legislation proposed in the two chambers' one-house budget resolutions would remove the visa or green card requirement for noncitizens currently in place to access the state-funded health care. 
Although the letter was sent to all three state leaders, Hochul is the main target. "With the Legislature making it clear that Coverage for All is a priority, we urge Governor Hochul to show that these pandemic heroes are truly appreciated by providing them the opportunity to stay healthy, strong and safe," Murad Awawdeh, executive director of the New York Immigration Coalition, said in a statement. In a statement sent to City & State earlier this month, Hochul spokesperson Avi Small said the governor is "committed to supporting New York's immigrant communities and will review the legislation if it passes both houses." In response to the new union support for inclusion in the budget, Small said Hochul looks forward to "continuing to work with the legislature to finalize a budget that serves all New Yorkers".
Although labor unions always lonobby strongly during budget negotiations, they have been notably vocal this year on issues that don't directly pertain to specific member interests. In February, many of the same unions announced their support for the Clean Slate Act, which would seal New Yorkers' felony records after a certain amount of time without additional convictions. Earlier this month, a similar group backed legislation referred to as "good cause eviction" that would give renters additional protections by placing limits on when a landlord can evict a tenant.
Although union support does not guarantee "Coverage for All" or any other proposal will make it into the budget – "good cause," for example, will almost certainly not make it in – their backing brings with it resources that small grassroots organizations don't have at their disposal. The welcome boost will at the very least make sure that the issues are on the radar of state leaders as lobbying continues in Albany.