Nonprofits
Coalition relaunches petition effort to protect community gardens
A "Critical Environment Areas" designation is being sought to protect the gardens from development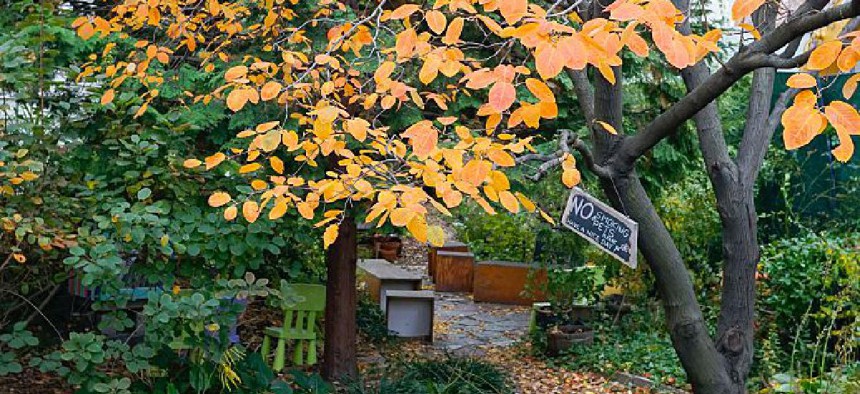 The New York City Community Garden Coalition is relaunching its From the Ground Up petition through a partnership with Earthjustice and 52 organizations. The petition requests that New York City's community gardens receive legal designation as Critical Environment Areas to protect them from development. 
While the coalition was officially assembled in 1996, community gardens have played a longer role in shaping New York City's urban landscape, finding their roots in the mid-1970s when the city declared bankruptcy in 1975. As the city administration was thrown into chaos, many vacant lots appeared as remnant sites of burned and abandoned buildings, quickly becoming hubs for dangerous and illegal activity. As city residents mobilized to reclaim these abandoned neighborhoods, they transformed many into gardens and a grassroots movement formed leading up to the 1978 city program "Operation Green Thumb," which issued short-term leases to community gardens on city-owned lots. 
The Coalition fears that with the competing interests of lucrative land developers, the gardnes will need greater legal protection. Hence, the coalition's petition to obtain legal designation as a Critical Environment Area will give them heightened conservational status, likened to aquifers and other environmentally sensitive areas. The state Department of Environmental Conservation indicates that Critical Environment Areas need to have one or more of the following characteristics:
A feature that is a benefit or threat to human health
An exceptional or unique natural setting
An exceptional or unique social, historic, archaeological, recreational, or educational value
An inherent ecological, geological, or hydrological sensitivity to change that may be adversely affected by any physical disturbance
The coalition's petition claims that community gardens fulfill all of the criteria for the designation. President Ray Figueroa elaborated on the benefits of community gardens in an interview with NYN Media.
This interview has been edited for length and clarity.
Please discuss the aims of the petition and what kinds of legal protections the Critical Environmental Area designation would grant to these spaces?
This (petition) will raise the bar when it comes to environmental impact assessments, and that means protecting these spaces from displacement by real estate development. Too often affordable housing justifications have been the rationale for displacing community gardens. As critical environmental areas, this designation would insert itself into the process whereby when the city government and the planning commission review development proposals, they would have to reconsider the areas where community gardens are located; halting approvals for real estate development. New York City as a coastal town needs to be thinking about resiliency. Last fall in September, we had two major rains where (at least 16) people died. Community gardens can help absorb and retain this rainwater to produce food, a tremendous benefit to communities that have been historically marginalized and are struggling economically with disproportionately high unemployment rates within households that are rent burdened. 
How do community gardens help advance environmental justice issues in New York City?
Many of what the state Department of Environmental Conservation has identified as environmental justice communities are areas that are shouldering a disproportionate burden of pollution, whether this is via waste transfer stations or industrially zoned areas that are geographically contiguous with the residential areas where people are living. For example, in the South Bronx, major transportation infrastructure are not even 100 feet away from residential areas and public housing projects. Community gardens help address those environmental issues by vegetation that filters the air and by helping create cooling environments that address the issue of urban heat island effect. The community garden coalition is an advocate and do the commensurate community organizing in order for these initiatives to move forward, a benefit that extends from local communities to the city at large.
How vital was the role of community gardens throughout the COVID-19 pandemic in alleviating food shortages in marginalized communities?
As the pandemic was creating an eviction crisis and people were going hungry, the collective of community gardens came together to grow more intensively and aggregate the harvest to coordinate with community based organizations, faith-based organizations and distribute them to areas of concentrated poverty. We were working as frontline food security, first responders, and we think that (community gardens) ought to be recognized as locally based community resiliency hubs. One of the issues that has really insinuated itself of late as a result of the pandemic, and as a result of extreme weather is the issue of supply chain shortages, and that all speaks to the need to hyper-localize the capacity by which food is produced. We need locally produced food since we cannot depend on the industrialized food system, which is super centralized, and as a result, very vulnerable to crises. 
Given the newfound growth of community gardens, how will these spaces continue to empower this new generation of gardeners?
Community gardens started as a result of the devastation of communities back in the 60s and the 70s, particularly communities of color and Indigenous communities as a result of government policies of redlining urban renewal and plan strictness without community consent. And it is destabilizing, yet the residents that remained began to reclaim these communities. When we're talking about human dignity at the very least people have to be self-determining in terms of things and decisions that in fact impact their well-being. So that's what community gardens represent: people being able to be productively engaged in a way that is self- determination, and as such, honors this sense of human dignity.