Nonprofits
Nonprofits take action after loss of Roe v. Wade
Organizations are increasing efforts to make abortion accessible to patients beyond New York state's borders.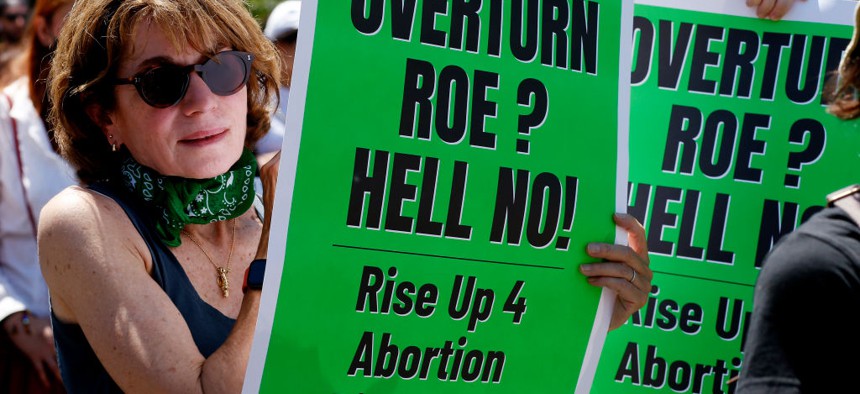 Since the U.S Supreme Court overturned Roe v. Wade last week, 26 states have enacted trigger bans rendering abortion illegal, impacting an estimated 36 million people across the country. 
As more conservative states are poised to enact restrictive laws on women's reproductive rights, others are bolstering their efforts by extending services to women in need across state borders. Among them, New York has remained one such outspoken beacon – with nonprofits and service-providers taking action to ensure access to reproductive healthcare across New York and its neighboring states. 
Many New York policymakers have long respected women's right to abortion, with NY Health Commissioner Dr. Mary T. Basset sharing her personal experience with abortion in an Elle Opinion piece, 
"Now is the moment to actively reaffirm the core value that all people must have agency over their own bodies – a medical freedom and human right … Had it not been for the abortion I received before I began my internship, I would not be New York's Health Commissioner today." 
Earlier this summer, Gov. Kathy Hochul announced a major investment of $35 Million dollars to directly support abortion providers in New York. This investment package provided $25 million to Department of Health to create an Abortion Provider Support Fund for abortion providers to both expand capacity and ensure access for patients seeking abortion care, while $10 million went to reproductive health care centers and security grants through the Division of Criminal Justice Services to help ensure the safety of the abortion providers. 
"New York has always been at the forefront of the fight for abortion rights, and as the first female Governor of New York, I will not let us go backwards. I will never stop fighting to make New York a safe harbor for all who need care and a blueprint for other states to follow."Governor Hochul said. 
As New York City anticipates to receive a higher influx of out-of-state patients seeking abortion care, veteran reproductive health nonprofits such as Planned Parenthood of Greater NY are expanding services both locally and nationwide. Planned Parenthood of Greater NY has announced a 20% increase in abortion appointment availability at all 23 health centers across the nation, in addition to initiatives like Abortion Patient Navigators that facilitates travel, lodging and secure funding for individuals who intend to travel to New York from abortion-hostile states. Planned Parenthood and the Reproductive Health Access Project are both increasing access to Telehealth Oral Medicated Abortion, for people in the early stage of pregnancy and to decriminalize and safely conduct "Self-Managed Abortions," under the virtual guidance of expert clinicians. In addition, Planned Parenthood also plans to expand local services along the southern tier of the state by including second-trimester abortion care at health centers in Ithaca and Corning. 
In addition to strengthening local abortion access, the New York Women's Foundation advocates for the investment in pro-choice BIPOC leaders, urging the need to care for "communities left out of the mainstream who typically fight to have access to safe abortion and care for their bodies." Ana Oliveira, President & CEO of the New York Women's Foundation echoed this sentiment stating: 
"This decision to overthrow Roe v. Wade will penalize and further control and oppress women, especially women of color, poorer women, women with disabilities, trans and gender expansive people, younger women, immigrant women, and survivors of gender-based violence. It [this decision] will also energize us to leverage our power." 
Organizations like The New York Abortion Access Fund, a women-of-color run New York nonprofit, are all too familiar with the disproportionate toll that Black, Latinx, LGBTQI+ individuals, among other marginalized groups, will bear by the changes brought by Friday's ruling. As these providers claim, banning abortion ultimately exacerbates a legacy of racism and discrimination in the U.S. The providers pledge to receive this growing uptake in patients, stating: "The New York Abortion Access Fund continues to provide direct financial support to people impacted by abortion bans, restrictions, economic barriers, and stigma. We're unapologetically here for people seeking abortion, and we're not going anywhere." 
As pro-choice rallies have continued across the city and nation, the National Institute for Reproductive Health, an advocacy group that works with state and local reproductive health, rights, and justice organizations held a press conference with advocates on Tuesday, pledging to increase efforts through partnerships with local grassroots programs and universities to ensure protections and funding for abortion providers in conservative states.
"Anyone who believes that they are immune from the harmful effects of the loss of Roe v. Wade is simply fooling themselves," said Andrea Miller, president of the National Institute for Reproductive Health. "This will have a dramatic impact on the health, wellbeing, and future of individuals, families, communities and our nation. It will not just be a ripple effect: it will be a Tsunami effect." 
This described 'tsunami effect' refers to the ripple effect of opportunities for abortion restrictions extending beyond stringent conservative states over to moderate ones and greater changes at the federal level, added Allison Coffman, Director ofAmplify Georgia Collaborative. Kamyon Conner, Executive Director of theTexas Equal Access Fund, added that these restrictions will further exacerbate the overall costs of abortion stating, "I think something that definitely needs to be uplifted is that abortion procedures cost more as your gestation increases. So people having longer wait times means they literally have to pay more money to have their abortions … It's a domino effect for people who have to travel for healthcare."