NYC Environmental Protection
Environmental coalition offers plan to help NYC eliminate childhood lead poisoning
A group of advocacy organizations is calling for the removal of lead service lines and stricter enforcement of lead abatement laws.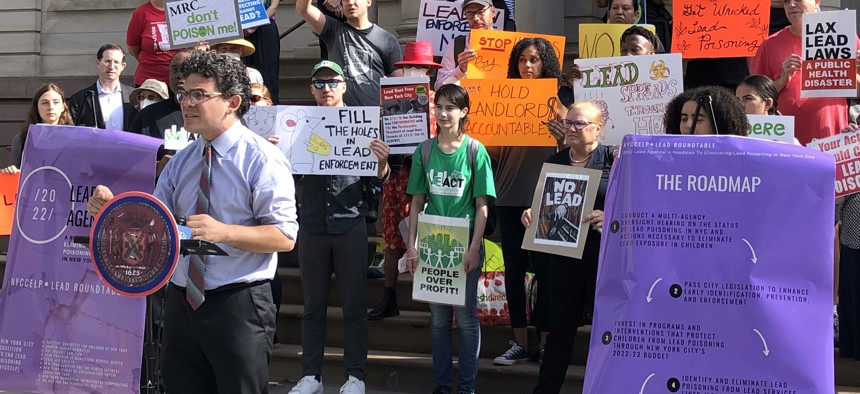 A new plan unveiled by a group of environmental advocates aims for the elimination of childhood lead poisoning in New York City.
The proposal, unveiled at a press conference Thursday by the New York City Coalition to End Lead Poisoning, calls for conducting a multi-agency oversight hearing that will help city officials examine the state of lead enforcement through data collected by various city agencies.
In addition, the 2022 Lead Agenda and roadmap proposes the additional measures of passing local legislation, identification and removal of lead services lines (pipes that carry water from the water main in the street into homes and other buildings), among other initiatives to eliminate lead poisoning. A previous multi-agency oversight hearing conducted in 2019 found that the city was not meeting its obligations to enforce lead laws. 
A spokesperson for the Citizens' Committee for Children of New York, which is a member of the coalition along with Earthjustice and the Legal Aid Society, emphasized the need to keep landlords and city officials accountable through stricter enforcement. 
"We need to ensure a deadline for landlords to permanently update public spaces [and] address the peeling paint which is still a major problem in common areas of buildings," the spokesperson said. "There should be transparency around landlords objecting to [enforcing regulations]. We need to hold landlords accountable for meaningful danger, and the City Council to pass legislation that will enhance prevention, enforcement and early identification." 
City Council member Gale Brewer, in attendance at the press conference, also stressed the enforcement of existing laws, notably Local Law 1 passed in 2004, which prohibits the use of lead-based paint.
"When Local Law 1 of 2004 was passed it was meant to be used as a tool to permanently eliminate lead paint. Yet even with legislative amendments to the law and the lowering of action thresholds, exposure to lead paint is still real in New York City," Brewer said. She pointed to a September 2021 report to the City Council showing that in 2020 there were 2,603 children under the age of 6 identified with a blood lead level of 5 mcg/dl or greater. Advocates claim that the number could be much higher, as periodical lead tests were postponed due to the COVID-19 pandemic. This was particularly the case in low-income neighborhoods where nearly 70% of lead-poisoned children were African-American, Latino and Asian-American. All three groups accounted for more than 80% of newly identified cases of lead poisoning in children under six-years-old. 
Councilmember Carmen De La Rosa, also at the conference, expressed her support of the roadmap, emphasizing the disproportionate toll of lead-poisoning on communities of color. "This is a clear issue of when negligence takes a toll on communities that are low income communities of color," she said. "Lead is one of the priority issues we hear about constantly. We know the effects of lead on children. We know that government negligence has led to a generation of children who now suffer the impact of not having laws on the books."
But we need resources to be informed that these laws are upheld," she added. "All of these things are interconnected issues of poverty and misuse of the environment." 
After the Department of Health and Mental Hygiene recently amended Articles 11 and 173 of the New York City Health Code to reduce the blood lead level threshold for mandatory investigation from 5.0 micrograms per deciliter to 3.5 mcg/dL, experts predicted that shift will reveal an increase in children with potentially harmful blood lead levels along with a significant uptake in caseloads for department nurses and investigators. A spokesperson for the department was not immediately available when NYN reached out about these changes in mandatory blood level thresholds.   
The U.S. Environmental Protection Agency found that drinking water can be the source of more than 20% of a person's total exposure to lead, with infants who consume powdered formula with contaminated water being 40% to 60% at a higher risk of exposure to lead. The city Department of Environmental Protection estimates that lead service lines are present in homes built prior to 1961, representing at least 16%, or 135,000, of the 860,000 water services lines throughout New York City, with an additional 27%, or 231,000, of those lines made of unknown materials- possibly containing lead. 
In response to this potential threat, the coalition is urging city officials to identify and remove these privately-owned lead service lines, taking inspiration from the approach Newark, New Jersey took, which was to replace nearly 23,000 lead service lines in under three years. 
"Our drinking water is contaminated from lead service lines which is the small pipe that runs from the water main in the street to the house – when it [the water] reaches the home the lead flakes off. That's how it gets into our drinking water," said Joan Leary Matthews, senior attorney at Natural Resources Defense Council, who also was at the press conference. "What we're asking the city DEP to do is develop a comprehensive program to replace all the lead service lines. And if the DEP won't do it, we're asking the City Council to require the DEP to do it. If our sister city in Newark, New Jersey, can do it, the great city of New York can too."
A spokesperson for the Department of Environmental Protection responded to the lead exposure concerns, telling New York Nonprofit Media that contaminated drinking water represents the smallest hazard of lead-poisoning in New York City, and stressed that current city protocols mitigate the threat of these lead service lines. 
"NYC takes deliberate steps to further protect NY'ers from the possibility that their home may have lead pipes," the spokesperson said. "First, we closely monitor the PH of the water supply and strive to maintain it at a neutral 7 so that the water will not corrode any pipes it flows through. Second, we add ortho-phosphate (similar to baking soda) to the water so that it coats the inside of any pipes the water flows through."
Additionally, DEP ensured that the water supply is routinely tested and that New Yorkers can request a free lead testing kit, which will be mailed to their home with instructions. Currently, the DEP is awaiting further guidance from the EPA regarding lead service line replacement. 
As city residents await the replacement of lead service lines, advocates urge enforcing current lead abatement laws while increasing education on lead exposure through inter-agency communication and publication of annual reports in publicly searchable databases. 
"We just need to enforce the law," said Council member Lincoln Restler, also at the press conference. "Yes, the City Council needs to step up and provide greater oversight. We need [the city's Department of Housing Preservation & Development] to move away from its long standing tradition of just waiting for complaints and start doing proactive enforcement. Just start doing automated enforcement and start holding landlords accountable."