Education
Expanding student outreach after COVID-19
Job Corps, which offers free educational and vocational programs to economically disadvantaged youth, looks to reach more Latino students after the onset of the coronavirus pandemic.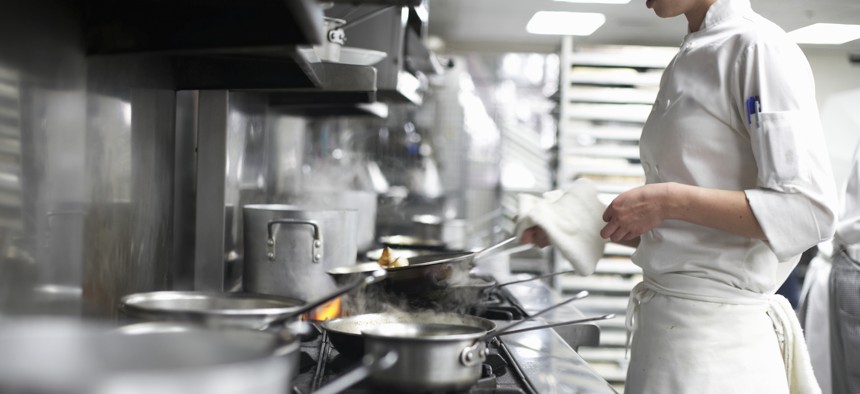 Established in 1964 by the U.S Department of Labor, Job Corps offers an 8-24 month, hands-on vocational and academic training program in over 100 career technical areas such as healthcare, construction, finance and transportation. For 58 years the program has served over 2 million individuals, offering tuition-free training to youths aged 16-24 from low-income backgrounds. 
Weathering through the coronavirus pandemic, the organization has reopened its facilities and is hoping to increase student intake. With the majority of trainees in New York City centers African American, Job Corps is focusing on boosting participation from hispanic youth. 
With over 121 Job Corps centers nationwide, as well as both residential and non-residential centers in the South Bronx and Brooklyn, students have the choice to train on campus alongside mentors, while taking advantage of wraparound services offered by Job Corps facilities. These services include wellness departments with certified mental health consultants, nurse practitioners, doctors and dentists, with some facilities offering a fully equipped dental office on site. 
"That's the residential component which is the student's social lives –  the home where they spend most of their time. In New York City, with our homeless population hitting young adults, this also allows a kind of oasis where students don't have to worry about where they'll shelter for the night." said January Johnson, Career Pathways director at the South Bronx Job Corps Academy. 
As these facilities were forced to close during the COVID-19 pandemic, this led to a major virtual shift, which led to poor participation among some students. As all eligible Job Corps students come from extremely low-income backgrounds, many students lacked access to resources such as computers or reliable internet connection.
"Our Job Corps depends on hands-on, face-to-face instruction but we ended up having to do everything virtually. This affected the Job Corps because a lot of the kids we recruited during that time had to become second providers for the household." said Isabel Ortiz, New York City Project Director of Job Corps.
Job Corps' program focuses on self-paced, individualized curriculums for each student's vocational instruction. "I think the difference in the curriculum that Job Corps offers is that we don't just offer a GED and training; a blueprint is created for each student that enrolls and as they reach each phase, we are checking on them," Ortiz explained. "We're doing evaluation panels to make sure what's the best way to get to the next level, so we're constantly monitoring their success to ensure a successful graduate." 
Throughout a two year self-paced program, students are able to build significant support systems, which are especially vital to disenfranchised youth of color. 
"We take youth who were not able to succeed in mainstream education, some have been in foster care, and probably 95% of our centers are made of Hispanic and African African American kids. These young people had no support," said Johnson. 
Johnson also stressed the importance of programs like Job Corps in helping empower disenfranchised youth of color. 
"We have students with very challenging backgrounds," she told New York Nonprofit Media. "The South Bronx is the poorest district in the country and you need places that give students a fair chance of being successful. So programs like this kind of level those playing fields for black and brown kids. But the largest part is that we allow students to flourish in their own way." 
Ortiz also dispelled misconceptions sometimes made about the candidates. 
"We want to make it clear that this is not an alternative to going to prison," she told NYN. "There's a misconception that people think this program is for kids who are really doing terribly in school or have a very difficult background behavior wise. And that's just not the case. We care about the suitability of our clients and we want to make sure that you're going to be a good fit."
The program spends nearly $35,000 to train each student. Prospective candidates must pass multiple screenings to meet eligibility requirements. 
Ortiz described Job Corps as an alternative to overcrowded high schools in economically disadvantaged neighborhoods, giving students the specialized attention that they would not otherwise receive. Job Corps reports that over 85% of its graduates receive employment placement, yet this estimate could vary depending on the location of the facility. 
Johnson also stressed the unique challenges faced by Job Corps students in New York City, as these centers are located in areas with high levels of gun-violence with increased risk of illegal activity.
"What happens on the news –  gun violence is prevalent, even riding the train is something scary, and the opioid epidemic still affects a lot of areas in the Bronx and New York City as a whole. Our students have to focus on what they want to achieve and move past those things. That's why the wraparound services are so important because you have to get students to pass all that to see a bigger vision."
Ortiz said she was enthusiastic to recruit more Latino students. 
""I'm Latina and I'm a big advocate for the Latino community to join the Job Corps," she said.
"I think part of that [reluctance] is in our culture. Oftentimes, the kids are required to stay home and help out with their families or even sometimes, they have to work," she added. "I feel like in my community there is a reluctance to send your kids away because the families are so protective, as opposed to African Americans." 
Job Corps recently appealed to the Hispanic community on WABC7's Tiempo with Joe Torres, while doubling outreach efforts. 
Regarding the future of Job Corps, Johnson stated: "these kinds of programs could make all the difference between a young person caught in a distraction of their environment and becoming a working class citizen. These programs are vital to the success of Hispanic and Black American kids."