Immigration
Migrant transfers continue, despite outcry
Advocates have called on federal officials to return 70 migrants transferred out of the Orange County Correctional Facility back to their communities.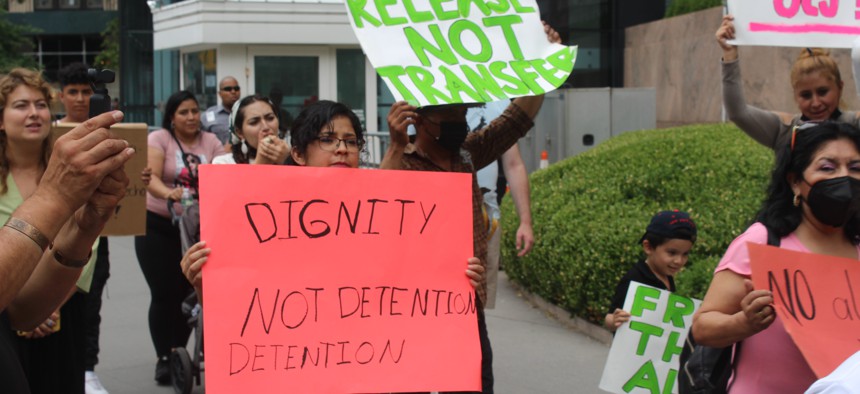 Despite protests from advocates and lawmakers, migrant transfers out of the Orange County Correctional Facility have continued, according to the Dignity not Detention working group. Four more migrant transfers were made last week from the facility, said the working group, an extension of the Abolish ICE NY NJ Coalition in a statement released on Monday. 
"The Dignity Not Detention working group continues to oppose transfers, and demand that people be released from OCCF, and that those who have been transferred be safely returned to their communities.
Outraged by what they called a covert transfer of migrants placed in detention after entering the U.S. illegally, lawmakers and advocates are calling on federal officials to release the detainees back to their communities. 
In a July 29 letter addressed to the U.S Secretary of Homeland Security Alejandro Mayorkas, Gov. Kathy Hochul, U.S. Immigration and Customs Enforcement Acting Director Tae D. Johnson, and Orange County Correctional Facility officials, more than 50 city and state officials called for the immediate release of the detainees, in addition to providing transparency about past and future transfers and the proper facilitation of detained immigrants who petition for their release. 
The letter claimed that the detention of migrants and covert transfers were "unacceptable," as well as "frightening and dehumanizing experiences for immigrant New Yorkers and their families." The letter also addressed the county's "culture of abuse, mistreatment and medical neglect," pointing to ICE transfers during the COVID-19 pandemic that threatened the overall health and safety of immigrant detainees along with all individuals in ICE detention facilities. Orange County has been at the center of allegations of abuse: ranging from sexual, physical to verbal abuse, in addition to a lack of adequate food and medical care, leading detainees to engage in hunger strikes in February. 
ICE, when reached about the letter, explained that on July 25, 65 detainees from the Orange County Jail were moved to ICE facilities: four went to a New York facility and the rest to a facility in Mississippi. The transfers were "part of a facility-wide reduction in population affecting all agencies that use the facility," an ICE spokesperson told New York Nonprofit Media.
"To accommodate various operational demands, and meet emergent requirements," the spokesperson added, "ICE routinely transfers individuals to designated facilities and locations based on available space and resources, at the needs of the agency and other partner agencies with whom the agency coordinates whole-of-government efforts."
An ICE spokesperson was not immediately available when NYN reached out about the four additional transfers reported by the Dignity Not Detention working group on Monday. 
Tania Mattos, director of advocacy and policy of Envision Freedom Fund, which participated in a rally held in Manhattan's Foley Square four days after the original ICE transfers, said the detainee moves were "a retaliation" to previous efforts to release detainees, driven by "profit, as these counties make a certain amount for each individual that comes into the facility." Hers and other immigrant advocacy organizations allege the covert transfers represent a familiar strategy used by counties to maintain profits amidst widespread ICE contract terminations and waning government support. While Orange County anticipates to collect almost $6 million this year from ICE revenue, the detention center alone has steadily contributed to the county's budget for nearly 14 years. 
Mattos said the signed letter was "part of a greater strategy" backed by advocates to organize elected officials to act on immigrant issues. The vast majority of the detained are Latino, seconded by Black immigrants from the Caribbean and African countries, plus immigrants from the Middle East, Eastern Europe and Asia representing the rest. According to Mattos, Latino and Black immigrants endure the greatest amounts of racial slurs and physical abuse, with "the likelihood of their release being lower than any other racial group". 
The New York Immigrants Family Unity Project, (NYIFUP), a joint coalition of three public-defender organizations (Bronx Defenders, Legal Aid Society, Brooklyn Defender Services) who were the first to track the transfers, separately responded to the covert transfers,  calling ICE's decision "reckless and unsafe," in an online statement.The transfers, they alleged, had "well-documented evidence that ICE's practice of transferring detained people worsened COVID-19 outbreaks within the receiving detention facilities and their surrounding communities,"in addition to the rising risk of monkeypox throughout the United States."