Nonprofits
NYC nonprofits respond to monkeypox outbreak
As members of the LGBTQ+ community seek coveted monkeypox vaccination appointments, the uptake in demand is also revealing the wider disparities in vaccination access.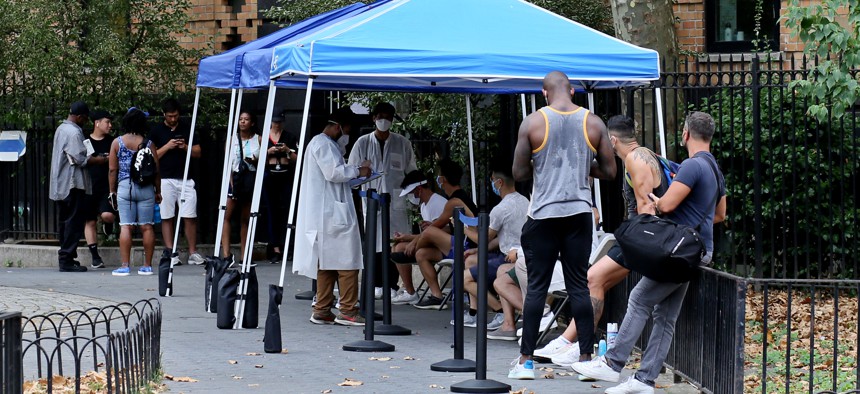 As the monkeypox outbreak has New York City on a declared state of emergency, sexual health clinics, LGBTQ+ organizations and health providers are doing educational outreach and dispelling myths regarding the virus. 
LGBTQ+ organizations such as the Callen-Lorde Community Health Center held a virtual Monkeypox panel to address common misconceptions. Among the attendees included New York City Health Commissioner Ashwin Vasan, who stressed the crucial differences between monkeypox and other Sexually Transmitted Infections, or STIs, while advising safe-sex practices with new sexual partners. 
Other efforts included Gay Men's Health Crisis periodically updating an online resources page with links to community partnerships and local health services to LGBTQ+ members in the New York City Metropolitan area, in addition to scientific articles and policy briefs on monkeypox. 
Destination Tomorrow, the first black-led LGBTQ+ organization in the Bronx, in addition to providing free health services such as HIV screenings and referrals to local primary care physicians, has engaged in weekly discussions on monkeypox with new intakes and plans to organize a town hall with community leaders and medical experts in the coming weeks. 
As members of the LGBTQ+ community seek coveted monkeypox vaccination appointments, the uptake in demand is also revealing the wider disparities in vaccination access., especially to LGBTQ+ people of color. 
"In the very beginning, the clinics that had the shots were all in Chelsea and Hell's Kitchen because that's where we're seeing the most outbreaks. But just like HIV and other viruses, it travels. And for [everyone living outside of these areas] the process to get an appointment was so draining," Sean Ebony Coleman, founder of Destination Tomorrow, told New York Nonprofit Media.
In order to ease these inequalities, Coleman suggests an integrative approach where city officials engage in greater dialogue with community leaders.
"We need to be able to go out into the community and have discussions with the community," Coleman said. "We need to make sure that the folks that are accessing the shots in our community, who are from our communities, that there are more black and brown folks that have access to it."
LGBTQ+ organizations are pointing to the similarities between the government's monkeypox response and that of the HIV/AIDS epidemic, notably in the initial messaging by city officials, which has been both polarizing and stigmatizing, with some members of the LGBTQ+ community feeling hesitant about vaccination: 
"It's very similar to how it was back then. I had someone tell me yesterday, that I'm not going to get the shot because I don't want my partner to believe that I'm being promiscuous",said Coleman. 
He continued to stress the importance of not repeating the patterns of stigmatization.
"With COVID we did the same thing and it's so infuriating to have to repeat the same song," Coleman told NYN. "Every time we have a public health crisis, one would assume that you would become aware of how the least privileged received the least, and then put stopgaps in place. We need to build cultural competency, a ground game." 
A ground game, Coleman explained, which entails diversifying panels to include more LGBTQ+ leaders of color who are not only knowledgeable of the health disparities within their boroughs but can provide solutions that are better integrated with the community. 
"Because in order to figure out innovative strategies we need new faces," he said. "And there's a whole bunch of black and brown trans, gender non-conforming and LGBTQ+ leadership just waiting to be to be tapped. And we never get that call because so many people are still gatekeeping."