Homelessness
NYC's public spaces are becoming increasingly hostile toward homeless people
Limited seating, or a lack of it, in places like Moynihan Train Hall, don't make the city's affordability problem go away.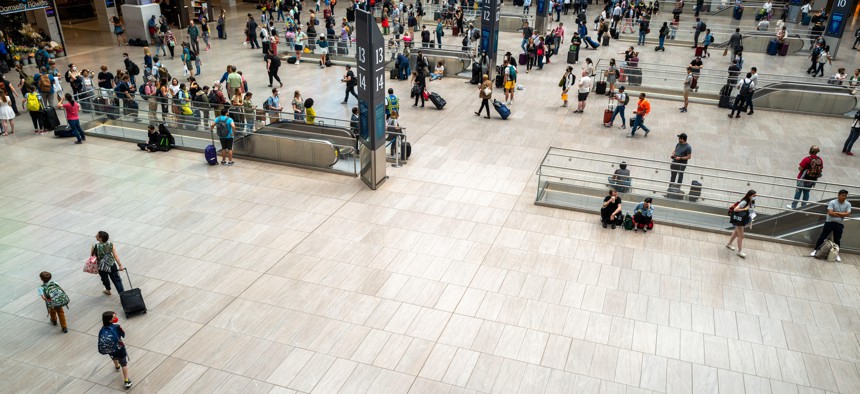 Moynihan Train Hall – the soaring new extension of Penn Station officially opened in 2021 – houses more than two dozen food and retail outlets and services Amtrak and the Long Island Rail Road. Yet, most people in the hall's glass ceiling atrium are huddled on the floor or leaning against walls and railings waiting for their trains. The problem is stark: Outside of booths in the food hall and a ticketed waiting room, seating in the $1.6 billion hall is highly limited.
The lack of seating, however, is not entirely unprecedented: Some advocates said the design of Moynihan Train Hall was another part of a multipronged effort to remove homeless people from public spaces in New York City.
While the train hall's design discouraged sitting or laying down by nearly eliminating seating altogether, subtler architectural fixtures across the city also seek to discourage people from resting for extended periods. Many subway stations feature seating but with armrests segmenting the bench to discourage laying down. Embankments are often lined with thinly veiled spikes to disallow sitting. In response over the years, social media accounts and campaigns have popped up to advocate against the influx of "hostile" architecture.
But recent efforts to remove homeless people from public spaces are not exclusively architectural. Earlier this year, New York City Mayor Eric Adams and Gov. Kathy Hochul announced a plan to deploy police officers and mental health workers to stop homeless people from sheltering in subway stations. "No more just doing whatever you want. No, those days are over. Swipe your MetroCard, ride the system, get off at your destination," Adams said at a February press conference announcing the zero-tolerance policy.
These efforts came as the state Legislature decided against renewing a tax abatement last month that provided incentives to establish affordable housing units. As homeless people in New York City have been forcibly removed from subways and encampments, are there enough housing units and shelters for them? And if not, does the rising presence of hostile architecture in train halls, parks and subways limit the places where people can shelter?
Pushed out of sight
Jacquelyn Simone, policy director at the Coalition for the Homeless, said she first began noticing hostile architecture in subway stations near her Queens home. The Metropolitan Transportation Authority had installed sets of "leaning benches," which are slanted planks that allowed straphangers to only partially lean against the wall. Simone said these architectural features only exist to target the visibility of homelessness.
"Hostile architecture operates on the premise that homeless people should not be present in a certain area, not that homelessness should not exist," Simone said. "So making benches and seating areas less comfortable for homeless people does not actually address the root causes of why homeless people feel the need to sleep on these benches in the first place."
Simone said addressing the root causes would ultimately entail a comprehensive effort to expand housing options for homeless people. The city has reported about 50,000 New Yorkers sleeping in its shelter system daily, with thousands more sleeping on the streets. Under the city's Subway Safety Plan, it plans to relocate those sheltering in the subways to "short- and longer-term destinations of care, support and housing."
Simone said she and other advocates shared these goals of providing more long-term options for people currently living on the streets – but the solutions touted in the plan do not exist right now. As part of the plan, Adams announced in March that an effort was underway to create 500 additional low-barrier shelter beds across the city. However, Simone said while the city has offered to transport homeless people to these beds, the large "dorm-style" housing option was unappealing to many.
Ideally, Simone added, city workers would be able to offer homeless people longer-term options with fewer restrictions like curfews. Many people experiencing homelessness prefer to relocate to more permanent situations instead of a temporary shelter bed.
"In such a wealthy city, it is completely indefensible that thousands of our neighbors feel that they have no better option than the streets," she said. "But rather than just trying to police our way out of homelessness, we need to actually connect people to the housing and support that they need, which will actually be much more effective in the long run than just pushing people out of sight."
Adam Roberts, policy director for the American Institute of Architects New York, said the airy Moynihan Train Hall design mimics European designs: large, open spaces designed to keep people moving through the transit hub. Limited seating allows for more flow through these spaces, he said, which was likely the thought behind the Moynihan Train Hall's design.
"People should be able to sit down, and especially people who don't have a home, they need a place to rest. But frankly, it shouldn't be a train station, it should be housing," he added. "The fact that we're even talking about benches as alternatives to housing shows how bad our policies are right now."
Beyond shelter beds, some people may also require housing with more comprehensive and regular support. The city's 15/15 Supportive Housing Initiative – established by then-New York City Mayor Bill de Blasio – was supposed to establish 15,000 supportive housing units by 2030. Adams committed to moving that deadline up to 2028, which Simone said was a positive indicator, though she and other advocates hoped to see the timeline further accelerated.
In 2019, the New York City Council passed a bill mandating that 15% of the city-funded housing be set aside for homeless populations. Simone said that was also encouraging and likely more effective than other policies seeking to incentivize affordable housing.
One such policy was the 421-a tax abatement: the city's most lucrative tax incentive to establish affordable housing. The abatement expired last month after the state Legislature did not renew it. The newly opened Brooklyn Tower – the first supertall building outside Manhattan – obtained a sizable tax break through the program. But, like many developments supported by 421-a, Brooklyn Tower's 120 affordable housing units were targeted toward "median-income" renters. Though the development has not yet released its rental prices, the units will almost certainly be inaccessible to the homeless population being pushed out of the subways.
When it comes to supportive and widely affordable housing, Roberts added, there's still a lack of political will.
"We need officials to say, 'We need to have better designed shelters. We need to have more supportive housing. We need to have psychiatric facilities,' and that's what architects can do," Roberts said. "We can design and build – we can't provide the services themselves, but it's impossible for the social services to be provided if we don't have the spaces to provide them."
Less welcoming
Although new developments like the Moynihan Train Hall have renewed attention on hostile architecture, the pattern is not new, according to City University of New York professor Setha Low. A researcher of urban anthropology, Low is also the director of the Public Space Research Group, founded in 1995 to evaluate the accessibility and inclusion of public spaces. As early as the 1980s, urbanists like William Whyte were documenting ledges with small spikes and benches with extra armrests across the city, Low said.
"I don't see it as something new," Low said of hostile architecture. "I really see it as a continuation of other things that we're seeing, which is an increase in the regulation and control of public space to make it comfortable for some people and less desirable for others."
Regulation can extend beyond tangible fixtures of hostile architecture, Low said. In addition to increased policing through measures like the Subway Safety Plan, the city has ramped up its public surveillance in recent years. The Public Space Research Group has logged how these myriad forms of hostile architecture – from heavy surveillance to spikes on surfaces –  disproportionately target racial minorities.
"Large numbers of regulations and lots of policing and surveillance will keep young youth of color, particularly male, out of an area," Low said. "But that same kind of surveillance and large numbers of rules, maybe even a guard or a gate when you walk into a public space, tend to make a tourist who is unfamiliar with a place and sometimes women, middle-aged and middle-income women, feel more comfortable."
Limited or uncomfortable seating also inconveniences people with disabilities, according to Sharon McLennon-Wier, executive director of New York's Center for Independence of the Disabled. Under a settlement announced in June, the MTA will make 95% of its stations that do not currently have elevators or ramps accessible by 2055. Even though the settlement was a major victory for disability advocates, McLennon-Wier said significant accessibility barriers remain.
McLennon-Wier, who is blind, said she has struggled with the lack of railings barring people from falling onto subway tracks as well as limited seating. Sparse seating options can also affect people who may not necessarily identify as disabled, she added – particularly pregnant people, the elderly and people using crutches or a walking aid.
"To live in the New York City area, where you have a vast public transportation system, you need to also have an accessible public system," McLennon-Wier said, "so that people regardless of their age, and how their bodies are, they will still be able to get in the subway."
Low said the pandemic changes like street restaurant seating seemed promising at first by creating a more "lively public realm" across the city. In the early months of the pandemic, the city Department of Transportation also launched an Open Streets program to open up more public spaces. Yet, Low said this progress seemed to be counteracted by increasingly hostile design in the other major developments.
Beyond "leaning benches," spaces that were clearly targeted toward a certain group of people become hostile to others, Low added. Just blocks from Moynihan Train Hall, the recently opened Hudson Yards development features a mall chock full of luxury brands and units listed at a minimum of $5 million.
"You want a certain kind of person socially and economically, and I would say even racially, to feel comfortable," Low said of the development. "And so suddenly the space is less welcoming for all."