Nonprofits
Damon Runyon cancer research 5k race coming to Yankee Stadium on its first-ever weeknight
The charitable event hopes to raise funds for cancer research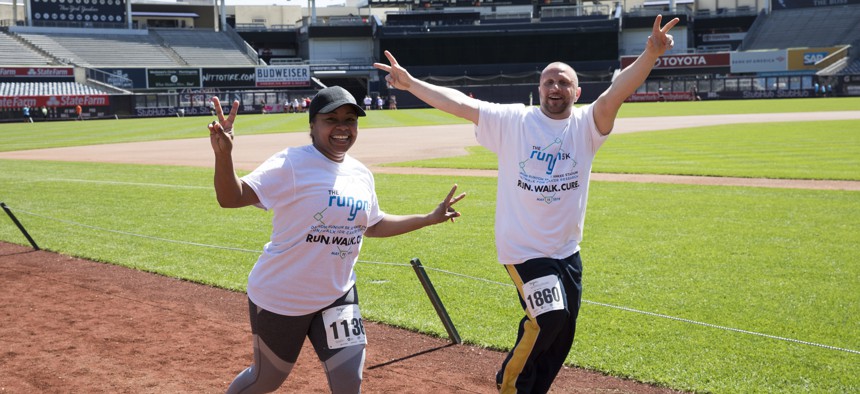 For the first time since the pandemic, the Damon Runyon Cancer Research Foundation will be holding its 5K charitable run/walk on the grounds of Yankee Stadium. This will be the first charitable event the foundation has held in nearly three years and it is going to be held on Sept. 29th at 6:30pm, a weeknight, which the Foundation has not done before.
"We've been holding the 5K for over a decade," Meghan McCurdy, director of communications and marketing at the Damon Runyon Cancer Research Foundation told New York Nonprofit Media. "We've held it ever since with the exception of 2020 and 2021 when it was unfortunately a virtual event. So, this is our big return to an in-person event at Yankee Stadium."
Scheduling the event meant having to squeeze time between baseball and soccer game schedules at the stadium, hence why it is happening this year on a weeknight. McCurdy said the foundation hopes people would see it as a happy hour event with co-workers, which could inspire workers all over New York to get their colleagues to join them for this 5K, with beer and burgers after the event. 
The foundation holds its run/walk events at Yankee Stadium because of its iconic New York City status. Damon Runyon had been a popular sportswriter, and journalist who died of throat cancer in 1946. His friend, radio personality Walter Mitchell, created the cancer research foundation in his name shortly thereafter. Its mission has been to fund cancer research for early-career scientists who are seeking innovative ways to make strides in the field. Over the last 75 years, the foundation has raised $420 million for nearly 4,000 scientists. Thirteen of them have gone on to win Nobel prizes for their work. The foundation gives 100% of funds raised to cancer research.
This year, the 5K will begin after brief opening remarks by Jessica Cunnington from News 4 New York. Heats will begin at 10-minute intervals and participants will be running or walking through concourses, ramps, and stairs on multiple levels; there will also be three laps around the warning track circling the stadium field. McCurdy says the stadium lights will be on to give everyone an outdoor baseball game feel.
McCurdy noted that the participants who attend are the most exciting part of the 5K, many of whom have survived or have a friend or family member in mind. Not only do these participants get to help raise money for cancer research, but they will also get to meet the very scientists supported by the Damon Runyon Cancer Research Foundation.
"We've heard from our scientists that," McCurdy said. "It really reminds them why they've chosen to focus on the research that they do, what the motivation really is. So I would say that our goal is after a couple of years of more isolation that most of us would probably have expected. The goal is really to bring together our scientists and our supporters once again."