Education
New York City teachers: Why we stayed and why we left
With a new school year just around the corner, these New Yorkers who've been at the forefront of all this share what's next.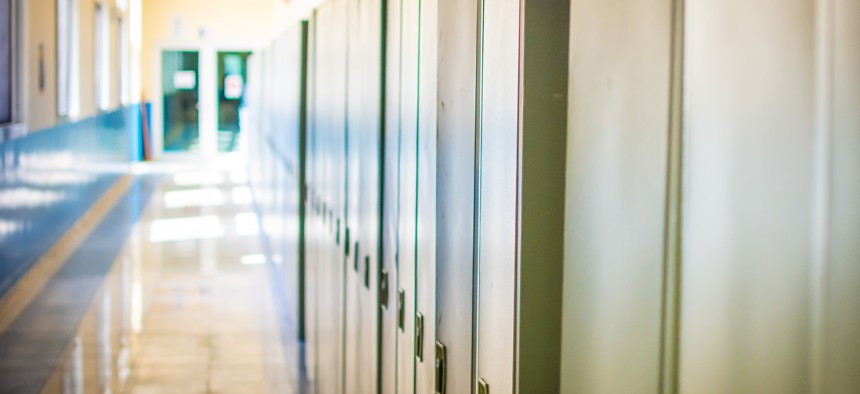 On Sept. 8, nearly a million New York City public school students pushed supplies into their bags, slung backpacks over their shoulders and boarded buses, trains and cars that carried them toward a new school year. Though many have faced a challenging two and a half years during the COVID-19 pandemic, they and their families can be sure of at least one constant: teachers were waiting to welcome them back.
New York City's educators have been at the forefront of the many changes that have swept through the nation's largest school district during the pandemic. They've presided over prolonged classroom closures, implemented remote instruction and pivoted back to in-person, navigated staffing shortages, supported vulnerable students and have put their own mental and physical health on the line to do so. Some have even lost colleagues and friends to the virus.
A new school year is beginning – one that poses new and long-standing difficulties. A battle over school budget cuts has persisted through the summer, complicating principals' ability to make plans for the year. New York City schools have also rolled back many pandemic-era policies, such as ending random COVID-19 testing and mandating masks. Student enrollment at K-12 schools, as reported by Chalkbeat New York, has also declined about 9.5% in the past two and a half years, which has prompted questions about how funding should be tied to the number of students in the future. Some of the children returning to class may have experienced the loss of loved ones, food insecurity and mental health challenges during the pandemic.
During a Thursday morning press conference outside of P.S. 51 in Hell's Kitchen, United Federation of Teachers President Michael Mulgrew acknowledged that New York City wasn't exempt from the teacher shortage currently impacting parts of the country as it has become increasingly difficult to attract and retain enough teachers, especially those who work in special education and English-language learner programs. As for the educators who've been "excessed" – a term for being let go and placed into a districtwide hiring pool – due to decreased school funding, Mulgrew said about 1,000 teachers are currently without school placements. The teachers union will start connecting those educators with open positions in the next couple of weeks.
"But it's not what should be happening right now," Mulgrew said. "We are finally back to some sort of normal and there's a lot of work that has to be done. We know from the last two years, and especially from last year, how much damage has happened. Yet, again we've left every school to come up with their own plan."
New York City teachers are certainly not a monolith, and many of their feelings heading into the new year are complex. They've experienced a myriad of grief, determination, burnout, hope, frustration, fear and, perhaps above all else, an unbowed belief in public education at its best. Some teachers have left their posts to pursue other jobs, heal or attend to other matters. Other educators have forged ahead, doing as they always have; adapting, pivoting – making the best of the cards they've been handed.
City & State New York spoke with three New York City teachers about how their recent experiences have shaped their choices and perspectives.
Liat Olenick, former Park Slope second grade teacher
Regardless of whether school was held remotely or in-person, Fridays were for dancing in Liat Olenick's classroom. Nearly every week in the previous school year, the 36-year-old Park Slope teacher would play Kidz Bop renditions of popular songs in hopes of building community and her second graders' social skills.
These two things were recurring themes she pulled from her teaching arsenal throughout the pandemic, whether it was incorporating dancing, talking about ecology on walks to the parks, or leading art projects and science experiments over Zoom while teaching pre-K during the 2020-2021 school year. The remote teaching experience, she said, was especially rewarding because it gave her the chance to introduce young children to education in a positive way despite the stressful and scary time.
"Ultimately the most important thing is relationships and making learning meaningful and joyful for kids," she said. "In every context I worked in throughout COVID, I felt like the experience of this roller coaster reaffirmed that for me."
But after about 11 years of teaching, Olenick was not among the ranks of teachers returning to school this fall. She decided to take a leave of absence. It was a very difficult decision to step away – one she made this summer after giving birth and considering her own health. Olenick received an emergency liver transplant when she was 19. As an immunocompromised transplant recipient and new parent, she said the risk felt too great given the rolled back COVID-19 rules and class sizes that have returned to pre-pandemic sizes.
"I don't want to be scared at work," she said, adding that she wished there were more exceptions this year for high-risk teachers, students and their families.
As for what comes next, Olenick said she was excited to spend time with her baby and have more time to work on climate organizing – another one of her passions. Still, she acknowledged that the classroom will likely always call to her in some capacity.
"I'm a lifelong educator. Once an educator, always an educator," Olenick said. "I definitely think that in some capacity, I'll work in education again. … I hope I can return to my school next year but I will just need to see how things are. Maybe they'll come up with a universal vaccine. Wouldn't that be amazing?"
Deirdre Levy, a Brooklyn elementary school special education teacher
After schools went remote in the spring of 2020, Deirdre Levy worked to develop a coloring book about hope and recovery so she could deliver it to her students and other members of her community in Brooklyn. This is one of the things that the special education teacher said she did to feel more in control as she battled feelings of intense isolation during those early months.
She described it as a tumultuous time. Levy and her partner, who she was set to marry, had broken up before they realized the pandemic was serious, and she had just declared her candidacy for City Council District 35. Her colleague and longtime mentor was also the first Department of Education teacher to die from the virus. Still, she pushed forward, doing her best to balance helping others with self care.
In the months leading up to this school year, Levy – now entering her 10th year of teaching – said the city's millions of dollars in budget cuts have challenged planning. At least 10 of her colleagues, including the principal and school guidance counselor were either excessed or resigned last month. As a special education teacher, Levy said her biggest concern was about class sizes, as it seemed that hers may go up, but she'll have to wait and see.
"I came from District 75, so I'm used to working with nothing," Levy said. "I don't depend on anyone whatsoever. I don't think other teachers do either. I think they know better than to depend on anyone to help them."
Levy said growing up she had never really wanted to be a teacher – she wanted to work in policy. That's what initially pushed her to become a teacher. Back then, Levy said she thought becoming one would help her understand how the system works and she wanted to have that background if she was going to one day make decisions that impacted schools. Her experiences as a City Council candidate only reiterated that belief and while she loves her school and current work, she would consider pivoting to policy if the timing was right.
"I'm grateful for the position I do have, I just worry about the kind of things that we're going to have to deal with when we get back to school," Levy said. "Things change so quickly. All the things that happen in school are a direct reflection of what choices are made in the City Council or the mayor's office or whomever controls the (Department of Education), so I never hold on to anything. I take things day by day."
Annie Tan, former Sunset Park fourth and fifth grade special education teacher
Annie Tan remembers being shaken to her very core when she heard that fellow New York City teacher Kimarlee Nguyen had died from COVID-19. It was April 2020 – a time where fear and uncertainty sweltered the city like a bed of smoke – and Tan saw strong parallels between herself and Nguyen. Though they hadn't been personally acquainted, they were both Asian American women in their early 30s, writers and teachers trying to maintain as much security as they could for their students, even as the world changed around them.
Tan – then a special education teacher in Sunset Park – said she realized that could have been her; she could die from the virus. She began working on her book in earnest, pumping out 1,000 or so words each day on top of her lengthy teaching hours. But then the omicron variant swept through schools in December 2021, bringing new challenges and exacerbating all the difficulties Tan had endured the previous year.
"When that despair utterly hit, I stopped writing, and I did not write for the rest of the school year because my creativity was gone," she said. "I was just in complete survival and despair mode – and that was a combination of why I realized I had to quit."
Tan said the loss of her creativity was a symptom – a sign that something deeper was going on. This realization was part of the reason she decided to quit after 10 years of teaching.
From worrying about the safety of her poorly ventilated classroom, supporting students who reeled from loss and battled brain fog, explaining the ever-changing guidelines to kids and their families, watching as people got sick around her, and advocating for safer school conditions, Tan knew her mental health was suffering. Her identity as an educator of color had also taken on additional emotional weight as she tried to gently refute students' misunderstandings that China was responsible for COVID-19. Tan said she'd made it through all this by telling herself that things would get better, but as time went on she no longer believed the system would protect teachers and students.
"Teachers have to go in and teach right? We have to do what we do and I was doing it, but I was on autopilot," Tan said. "I've always been a teacher to help kids feel like they can do things and now I'm leaving because I just know that if I continue like this and being retraumatized without focusing on my healing first, I will just leave teaching altogether and I want to be back."
Tan applauded her colleagues who are continuing to teach and she's hopeful that with time, she'll be able to rejoin them. Until then, she'll reflect as she reconnects with her creative spirit – and finishes her book.