Nonprofits
NYC Community School District 1 to offer mental health services to all district families this fall
University Settlement's Families Thriving program will partner with Trinity Church Wall Street in a pilot expansion of comprehensive mental health services.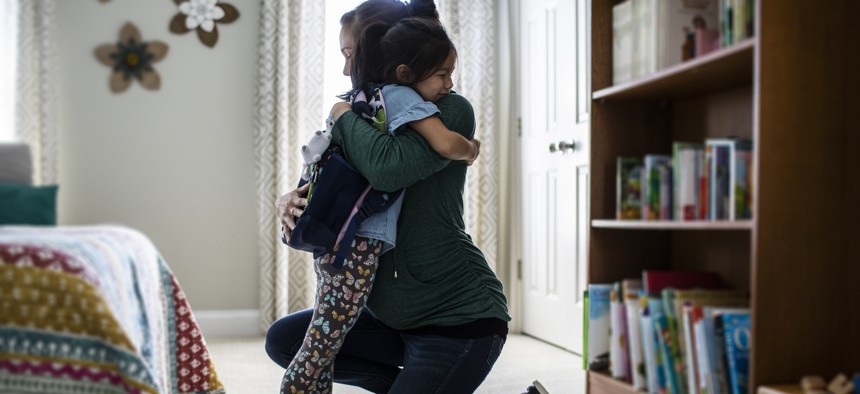 New York City Community School District 1 will offer mental health services to all district families this fall as part of a three-month pilot expansion of University Settlement's Families Thriving program partnered with Trinity Church Wall Street.  
Launched in 2017 with seed funding from the Manhattan District Attorney's Office, University Settlement's Families Thriving program is a comprehensive mental health care system serving low-income families, particularly those constrained by health care plans such as Medicaid. By partnering with educators, Families Thriving collaborates with families and organizations to create a reliable and responsive community-based mental health care network, having served over 500 individuals over a five-year period.  
The program's pilot expansion will provide community-based, multi-tiered mental health and wellness support along with wraparound services to 11 additional schools in District 1 on the Lower East Side, ranging from healing workshops to clinical referrals.  
Based on the integrative Triple P (Positive Parenting Program) model which equips parents with parenting strategies in self-efficacy and behavior management, Families Thriving utilizes this model to foster positive reinforcement and address escalated behaviors in children.   
"We work with parents with Triple P, in terms of intergenerational work. So helping parents unpack their own parenting style and maybe how they were parented," said Barbara DiGangi, director of Families Thriving. "And then in schools, we foster building relationships between teachers and students. We help put a social, emotional, trauma-informed and healing-centered lens to behavior in classrooms, which makes the connection between home and school stronger."
In response to the 2020 Black Lives Matter movement, University Settlement also launched Connection Circles, a group processing model, as part of their Families Thriving program to promote community care and civic engagement among youth and their families. These models aim to identify and tackle common issues faced by students, from intergenerational racism and poverty among other traumatic stressors to ultimately reduce involvement in the juvenile justice system and foster care. 
"Families Thriving sits on our weekly attendance, school-based support, and Planning and Placement Team (PPT) team meetings so that they're at the table when social emotional needs arise that need to be supported or discussed," said Carry Chan-Howard, superintendent of Community School District 1. "Families Thriving is providing us consultations and care in real time, ensuring rapid access to support – which is critical for children." 
As such, Families Thriving effectiveness is fostered by its close collaborations within the school district but unlike school counselors and social workers, the program's flexible services extends beyond to skill-building workshops and clinical referrals – as part of the continuum of University Settlement mental health network.  
As the expansion plan aims to provide mental health support to an additional 2,675 students, with partner organizations anticipating an additional 75 district families receiving clinical engagement with Families Thriving services, hundreds more will receive "light touch" social and emotional support, and opportunities. 
"We call them social emotional light touches because we're becoming a familiar face and we're building relationships, hyperlocally," said DiGangi. "So our social workers and our team members are really built and integrated into schools, which makes them more accessible, more approachable." 
As schools will be able to outsource mental health services, the expansion will significantly lessen the strain on educators and school counselors, who grapple with the current city budget cuts. Trinity Church Wall Street's partnership with Families Thriving offers a solution to these gaps in funding for mental health services, which the nonprofit identified following a comprehensive needs assessment, which indicated a high demand for mental health services among residents of lower Manhattan. 
"The assessment identified a main causal loop, where the family income leads to education then to employment, which then leads to family income," said Lorelei Atalie Vargas, chief community impact officer of Trinity Church Wall Street. "This generational loop can either be vicious, or vicarious. It can be vicarious when you have a lot of income, or it can be vicious when you don't have a lot of income and access to quality education and employment. Which ultimately leads to low income." 
In order to break the vicious cycle of the causal loop, Vargas stated that the assessment identified mental health as a key factor determining a family's success. 
"Mental health essentially impacts every stage of that cycle," said Vargas. "Families face daily stressors of poverty, children are experiencing unprecedented amounts of anxiety and depression. So that, coupled with barriers to access to a spectrum of services, creates a challenge at every stage of the cycle," 
Hence, the program's relational approach to mental health care, where parents and children are addressed holistically when addressing problems offers a potentially effective solution that shortcuts financial limitations.  
"Mental health care is very relational. Unfortunately, our mental health system, particularly for low-income individuals who are relying on Medicaid, has a lot of restrictions and barriers that are all driven by the funding," said Vargas. "At Trinity, we're trying to figure out how to lift up programs that really take advantage of a relational model. It became clear to us that Families Thriving takes the type of approach that is needed right now, making it extremely accessible where you don't have to come to the clinic, and it doesn't have to happen in the school."
As the program witnessed a significant spike in demand during the COVID-19 pandemic, Families Thriving served as a model and thought partner for city institutions such the New York City School Health office, the New York State Coalition for Children's Behavioral Health and the New York City Department of Health and Mental Hygiene in helping strategize ways to respond to a growing national need for mental health services. 
"We have been talking with the New York City Office of School Health about the Medicaid service, how it looks and what the service can do in schools," said DiGangi. "This project that we're doing with Trinity Church, expands on that. We've also been in conversations leveraging this model to fill in the gaps in the education system when it comes to mental health."
As the integrative approaches are built into the familiar ecosystems of school communities, Families Thriving ultimately aims to destigmatize mental health issues, largely initiated by the widespread mental wellness dialogues of the COVID-19 pandemic:  
"I think that what I've seen is that there is certainly less stigma that we've had around mental health," said Vargas. "I think it's a combination of greater discussion about stress and mental health, and the media that people access, which is helping to normalize mental health. I think the pandemic itself has helped to move that conversation along,"