affordable housing
Hunter students question fate of affordable campus housing with dorm slated for demolition
Student government representatives are seeking answers about the Brookdale Campus Residence, known as the Brookdale dorms.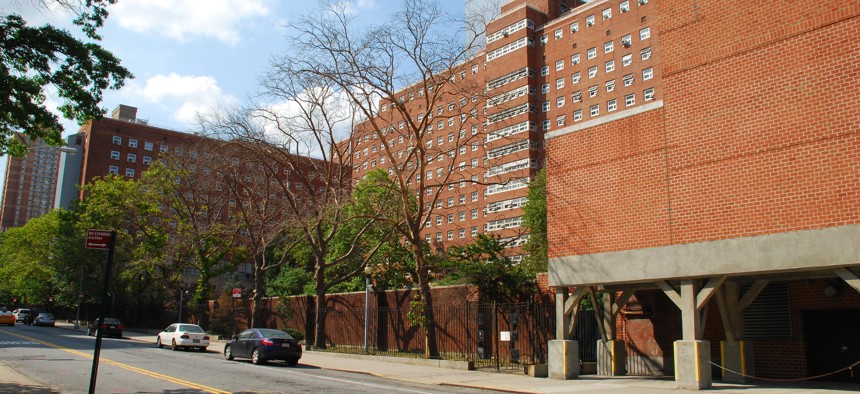 Hunter College's most affordable dormitory is slated for demolition to make way for the new Kips Bay life sciences campus that Gov. Kathy Hochul and New York City Mayor Eric Adams announced last week – and students are asking why there doesn't seem to be a plan to maintain a cheap housing option for some 700 undergraduates.
Hunter's Undergraduate Student Government is seeking answers about the Brookdale Campus Residence, known as the Brookdale dorms, citing the "hundreds of low-income, out-of-borough, out-of-state, and out-of-country students (who) rely on the affordability of Brookdale dorms to pursue their college education" at the school, which is part of the public City University of New York.  
"CUNY has released no information on the timeline of this project OR how they plan to make up for the potential loss of a home for hundreds of students," read an open letter from Hunter USG. "Where will these students go? What other alternative and affordable solutions are there? When will dorms stop being available? Nothing has been clarified with the main stakeholders here: Hunter College students."
The students planned to attend the CUNY Board of Trustees meeting Monday afternoon, prepared with testimony and questions about future access to affordable housing and a nursing school facility. In the USG's communication to the Hunter community, they encouraged students to share testimony regarding how Brookdale's demolition would impact their lives as students. 
Hochul and Adams announced plans Thursday morning for the Science Park and Research Campus, or SPARC, in Kips Bay, an "innovation hub" of science and public health. Scheduled to break ground in 2026, the plan is projected to create 2,000 new permanent jobs by its expected completion in 2031. It would all be built at East 25th Street and 1st Avenue in Manhattan – the site of Hunter's Brookdale Campus, including the dorms and the Hunter-Bellevue School of Nursing. The estimated $1.6 billion SPARC would be anchored, in part, by a rebuilt school of nursing, but the press conference and the release didn't make any mention of new dorms or housing. 
Housing nearly 700 students a year, the Brookdale dorms provide students with single-occupancy rooms, library facilities, and recreation areas for $6,625- $9,385 per academic year. Other dormitory options cost from $13,000 to $16,000 for the academic year.
CUNY says current students have little to worry about. "The Brookdale dorms will not be impacted until at least 2024 and potentially later depending on the final timetable for the construction so certainly no current resident will be affected during this academic year," a university spokesperson wrote in an email to City & State. "We are working to give students information as soon as possible so they can start planning once a time is set for any relocations."
But rebuilding the dorms isn't a part of the SPARC plan, and CUNY doesn't seem interested in building its own affordable student housing elsewhere to replace it "CUNY has other dorm agreements in the city, and campuses, with CUNY support, contract with third party vendors to secure dorm space when needed," the spokesperson said. "We are committed to doing everything we can to help students secure affordable housing."
But students are already fearing the loss of an affordable dorm option for Hunter. "I think it is very interesting to do this without providing an alternative solution to low income students, which makes up CUNY's central audience and student body," USG President Ariana Ahmed told City & State.
Students were pushed out of the Brookdale dorms once before. In March 2020, in the early days of the COVID-19 pandemic, residents were given three days' notice to move out, so the housing – located near many hospitals – could be used as medical space. There's little concern about short notice with SPARC – construction isn't expected to begin for years – but those in the Hunter community felt the poor communication then and now was the same. 
"I was pretty shocked that no other communication was given to student government," Ahmed told City & State. Ahmed recounts being invited to the press conferences, stating, "I was given the communication that it was about a new campus, a new science building for Hunter and BMCC (Borough of Manhattan Community College). Nothing else." 
And the dorms aren't the only part of the SPARC plan that's raised some real estate questions. Relocating the public college's nursing school has been a top issue for Hunter College President Jennifer Raab. But after site work began at East 73rd Street and York Avenue, progress was halted for years. The Post reported it costs CUNY $1 million a year just to maintain the vacant site. CUNY is now canceling plans for the school of the nursing on the Upper East Side, and are moving forward with plans to include it at SPARC. A Friday email to the CUNY community from Chancellor Félix V. Matos Rodríguez said development of the 73rd Street lot will be taken over by the city's Economic Development Corporation, taking the university system off the hook for maintenance. "Hunter will get space as part of that project when plans are finalized," a CUNY spokesperson said.
But it's not just students that aren't entirely pleased with the plan. Some in leadership at Hunter College felt that CUNY threw out years of planning by Hunter for the Upper East Side nursing school, according to a source, and pushed forward with a lack of regard for nearly 700 beds of relatively affordable student housing. As the location of Hunter's nursing school for over fifty years, Brookdale's proposed closure has left Hunter's students and administrators in a state of limbo.