Healthcare
Nonprofit uses trauma-informed architecture to serve vulnerable families
The architectural designs were incorporated into the reopening of the Genovese Family Life Center run by SCO Family of Services in Jamaica, Queens.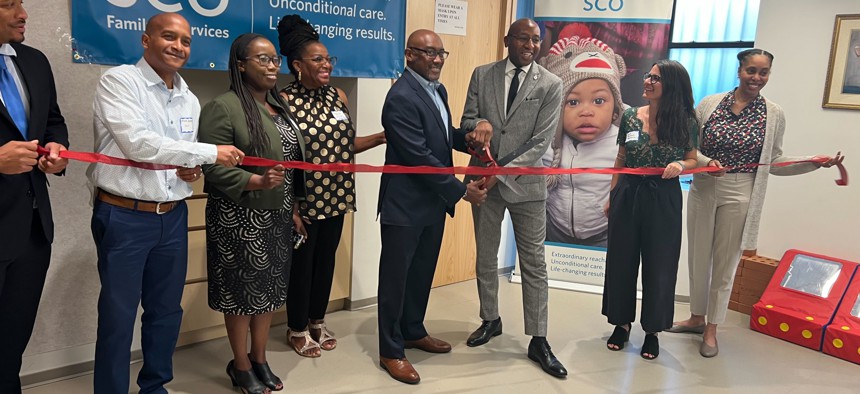 SCO Family of Services reopened the Genovese Family Life Center last week, unveiling its unique trauma informed architecture and brand new medical facilities. The Genovese Family Life Center is home to a myriad of family services and the Center for Professional Development, the training and educational arm of the agency. 
"This is an exciting time at SCO as we unveil the newly reimagined Genovese Family Life Center," said Keith Little, president & CEO at SCO. "This project brings together the best of trauma-informed design with innovative, flexible administrative space that will support our organization well into the future. Every detail of this new space will have a
meaningful impact on our clients and staff while realizing financial efficiencies in the process."
The children and families served by SCO have traditionally been exposed to high levels of stress and trauma. That's why the center incorporates principles of trauma-informed design to ensure families served have an easier time through their process of healing. Spacesmith, an architecture firm, renovated the 30,000-square-foot facility and used studies performed by environmental psychologists as their guide to creating the space.
The space is surrounded by colors that have a calming effect on visitors. Doors have circular shaped windows at different levels for different age groups to make it more equitable and allow children to feel safe and comfortable. Biophilic-themed wall prints are scattered throughout that remind visitors of nature that are found to reduce stress and improve mood.
"The number one way our youth and families can succeed is through investment…we have to invest into the things that are important." said Queens Borough President Donovan Richards, who was on hand for the reopening of the center.
SCO Family of Services has been serving the New York City and Long Island areas for the last 125 years, providing essential services, such as mental health services, substance abuse recovery, foster care services and much more. SCO helps families build a strong foundation for the future, stabilizing and strengthening families to unlock their potential.