Accessibility
Why have New York's ADA lawsuits increased to No. 1 in the country?
The state has surpassed California in ADA lawsuits with 1,819 filings within the first half of 2022.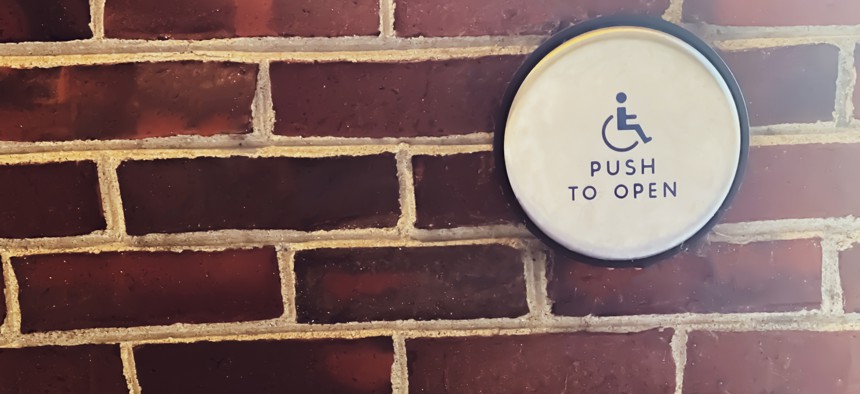 In July, the international law firm Seyfarth Shaw LLP, noted for its work in advising private businesses on Title III of the Americans with Disabilities Act, published a survey on a blog in which partners Minh Vu and Kristina Launey, and firm librarian Susan Ryan, found national litigation regarding the Americans with Disabilities Act fell 22% during the first half of 2022. Nationwide, federal court filings are at their lowest since 2017. 
But despite declining filings in the country, New York itself leads the country with ADA lawsuits for the first time with 1,819 filings during the first six months of the year. The state surpassed California which is seeing a crackdown on serial litigation filers.
The figures may seem contradictory to how the state has been making efforts to improve the daily lives of disabled people. In February, Gov. Kathy Hochul created the Office of the Chief Disability Officer to make the state more integrated, inclusive and accessible. In late July, on the 32nd anniversary of the signing of the ADA, the governor signed a new legislative package meant to strengthen the rights of those with disabilities. 
Why then would the Empire State have so many ADA lawsuits?
Having a large urban area like New York City is a factor. Sharon McLennon-Wier, the executive director of the Center for Independence of the Disabled New York wasn't surprised to hear the state is leading the country with ADA litigation.
"New York is one of the oldest cities in the country," said McLennon-Wier, whose organization has worked to make sure traffic signals are automated and has settled with the Metropolitan Transportation Authority regarding elevator access. "It has a lot of old infrastructure that was not maintained over the course of many years. If you have inaccessible infrastructure, it does not equal the playing field for each individual."
In 2019, the center sued the Queens Public Library after its then-newly built Hunters Point Library lacked accessibility for the handicapped. It had no elevators in the library's three fiction sections. 
Another example of recent ADA violations was the Four Freedoms Park Conservancy, which opened in 2012 but without accessibility issues. A federal lawsuit brought by Disability Rights Advocates led to an installation of a lift in 2017 at the front steps of the park's state memorial to Franklin D. Roosevelt, along with other ADA accommodations that were needed. Examples like these appear to be one of many across the state. 
"New York is a pretty big state," said Beth Haroules, a senior staff attorney at the New York Civil Liberties Union. "You still hear about people can't get into courthouses, they can't get into polling places if they're in wheelchairs. They can't read websites for government agencies. There's not a lot of transportation in suburban areas, like Access-A-Ride. We're in 2022, and there's still so much resistance to knowing what the law provides and what the accommodation means." 
Marc Fliedner is the director of two advisory councils at the Disability Rights New York, a federal and state-authorized protection and advocacy system and client assistance program for people with disabilities. He explained that some parts of the state, particularly the less populated areas, are not as accommodating for the disabled as more populated places. 
"New York state has very rural areas and all different kinds of areas," Fliedner told New York Nonprofit Media. "(T)he ability of the local community to meet the needs of folks in terms of accessibility, whether it be accessible streets and sidewalks, or the ability to communicate for emergency services … (t)he infrastructure may not be in place and sometimes the lawsuits end up being a source of education for the entire community and policymakers."
But one reason why there is an increase could be because of the increased need for workplace accommodations. Joe Ranni, the co-chair of the New York State Bar Association Disability Rights Committee and also a disability rights litigator for nearly 35 years, said that since the pandemic, more could be requesting to work remotely due to their disabilities. Pre-coronavirus, it was like "pulling teeth," as Ranni described, to get accommodations heard since ADA cases tend to be the most challenging due to the many elements that go into proving discrimination is happening. 
"I think there are a number of different factors," said Ranni. "These are the same issues we've been fighting for decades. The plethora of ADA cases, let me tell you, there is a huge need out there. There is still discrimination."
When asked which specific disability groups pursue litigation more than others, Ranni clarified it is not possible to break down each group since the ADA is a "very broad statute."
"The biggest conceptual difficulty I find people have is lumping all disabilities together or believing they are so segmented as to be devoid of similarity in approach and analysis," he said.
What can be done to reduce the discrimination, which could also take New York state off the top of the list of the most ADA litigation nationwide? Those that NYN Media spoke to explained that not all ADA-violation claims lead to litigation. Fliedner explained that Disability Rights New York tries to solve the problems directly, though litigation would be taken if that proves to be the best route. McLennon-Wier said settlements occur when both parties agree it is better to do so than go to trial, which is more expensive. Ranni agreed that the needs of the disabled have to be addressed before they go to court, but also believes possible plaintiffs should look at previous cases because some of them are dismissed or are resolved before trial due to frivolity, which he says can happen among ADA lawsuits.
"Just because there's lots of them doesn't mean they're frivolous," Ranni said. "I think it demonstrates there's a lot of unaddressed need or a lack of information to people to understand what is or is it not protected. We have to educate people with disabilities as to what their rights are."
Haroules believes that despite the ADA being celebrated each year, society has back slipped when it comes to promising to fulfill the rights of disabled people.
"Every year, on the anniversary, it becomes a thing and there are proclamations," she said. "There needs to be a more aggressive government for action to comply. I think there needs to be a recommitment to the fundamental rights and principles about why the ADA exists and what the standard of compliance is. But until (people) acknowledge and respect people with disabilities as valuable members of our communities and not people who cost too much to accommodate, I don't know if we're going to get there."
In a statement to NYN Media, the state Chief Disability Officer Kimberly T. Hill said, "As the state's first chief disability officer, I am fully committed to advocating on the behalf of the entire disability community and further strengthening our comprehensive approach toward improving diversity, equity, and inclusion across New York. As such, we take compliance with the Americans with Disabilities and issues concerning accessibility of public accommodations very seriously. While there is still more work to be done in this regard, we continue to implement this important federal law and make strides toward ensuring all New Yorkers can live as independently as possible within the community of their choice."