Here is what Hochul's win means for nonprofits
The governor pledged to address affordable housing, education and reproductive care and has already some of her initiatives in the early stages of implementation.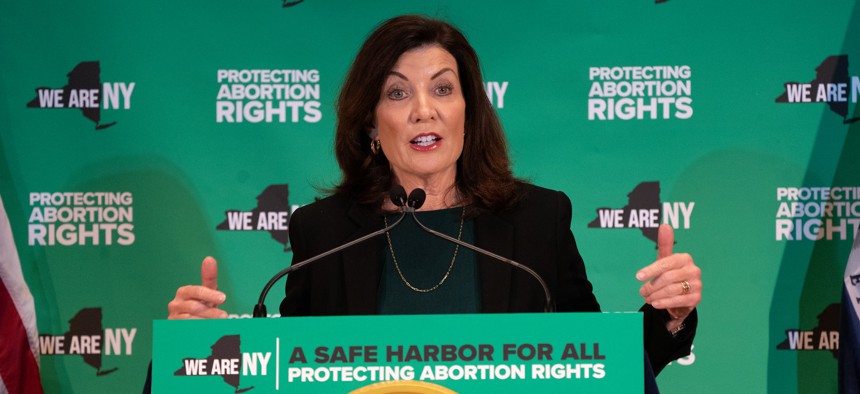 On the campaign trail for her historic election, Gov. Kathy Hochul made numerous campaign promises to support New York's nonprofits, some of which include policy decisions that are in the early stages of implementation. 
Now that Hochul has secured her victory as the first woman elected governor, here's a look at where she stands on the commitments she's made. 
Among initiatives her administration has announced are two sizable financial support packages for eligible nonprofit organizations supporting veterans and at-risk communities. 
Earlier this month, Hochul announced a newly formed Veterans' Nonprofit Capital Program, allowing nonprofits serving veteran communities to apply for funding that will improve their services. Pledging $5 million in financial support, the program enables nonprofits serving veterans grants between $25,000 and $75,000, according to the state's announcement.
This came after Hochul announced a $96 million commitment to nonprofits serving minority communities through the State's Securing Communities Against Hate Crimes Program. Hochul pledged $50 million in available funds for grants to nonprofits and community-based organizations to curb rising rates of hate crimes against minority communities. 
Since the 2019 inception of the Office for the Prevention of Hate Crimes, New York City officials have worked closely with community-based organizations in a "holistic, comprehensive approach" to preventing hate-crime-related violence, according to their official website. Hochul's grant program adds to the preexisting OPHC Hate Crime Prevention Innovation Grants, issuing grants of up to $20,000.
"We are thankful for Hochul's recent announcement of funding, as well as the doubling of the AAPI Equity Budget funding from $10 million to $20 million," said Wayne Ho, CEO of the Chinese-American Planning Council. 
However, delays in fund disbursement has left them at a loss. "The coalition that fought for the funding has faced unclear delays on fund allocation, and we are already more than halfway through this current fiscal year," said Ho, who also is a member of the New York Nonprofit Media Advisory Board. "The AAPI organizations that have been on the front lines of addressing the triple pandemics of anti-Asian hate crimes, COVID-19 and economic devastation, are not getting the resources we need to do the work that's critical to our community members."
Before her election, Hochul addressed New York's affordable housing crisis by announcing new developments in Brownsville, Brooklyn, and Ithica, and even including commercial space for nonprofits. But more works needs to be done.
According to the New York City Housing and Vacancy Survey, the vacancy rate for apartments with a monthly rent between $801 and $1,499 is 0.9%, leaving New Yorkers in crisis. While Hochul's financial commitments and new developments are essential contributions, nonprofits working in other sectors across New York City await their share of support. 
Alongside New York's affordable housing crisis, Hochul pledged her support for reproductive care following the unraveling of federal abortion protections. "This is a great first step," Zachariah Hennessy, executive vice president of Public Health Solutions told NYN Media. "Yet we believe the election win provides an additional opportunity to grow and improve these initiatives, and we stand ready to increase access across our centers that are providing sexual and reproductive health care across the city."
After the overturning of Roe v Wade, Hochul announced an Abortion Provider Support Fund stating, "Under my watch, New York will always be a safe harbor for those seeking reproductive health care, and I am committed to working with providers across the state to ensure they have the support and resources they need," according to a New York State press release.
While this addresses federal threats to reproductive care, local organizations working to increase access to reproductive care are questioning whether the state will take quantitative steps to expand care, echoing sentiments expressed by other sectors.
"Hochul's win is certainly great news for public health efforts, but there's still a lot of work to be done to improve access to sexual and reproductive health care, particularly for low-income communities of color," says Hennessy, "in a post-Roe v Wade world, while we will see an increased need for services, there's been little done actually to grow and expand access."