Nonprofits
2022 NYN Media Tech Con explores innovation
Key issues discussed at the event included nonprofits' adoption of automated services, addressing technology resistance and data collection.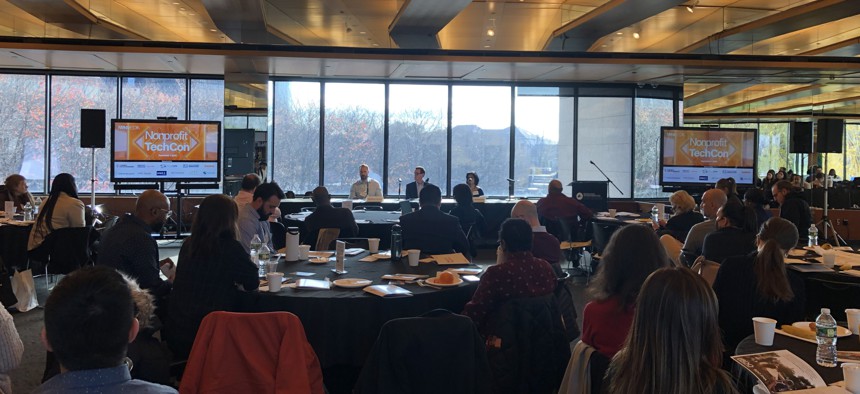 The 2022 NYN Media TechCon gathered nonprofit leaders and industry experts who explored the various innovative benefits of technological development in nonprofits. The conference held Thursday at the Museum of Jewish Heritage underlined nonprofits' receptiveness  to automated services, the importance of increasing technology 'buy-ins' at all levels of leadership and data collection methods. 
Panelists Faith Ann Butcher, chief impact officer of United Way Westchester and Putnam and Anthony Fullington, chief financial officer of the Chinese-American Planning Council spoke on the importance of streamlining with automation, such as unified payroll systems, to break down silos. 
"Thinking in terms of payroll systems, how do you integrate payroll systems effectively so that you can reduce the amount of manual hours that are spent on not only allocating expenses for the purpose of government funding, but also when recording basic payroll journal entries?" asked Fullington. 
Butcher noted that these inefficacies can be addressed through automating systems which lead to significant cost-saving benefits. "We found that by going out to RFP and finding the right systems, we were able to save a tremendous amount of money and then by automating we actually integrated our website, our QuickBooks, Bloomerang, which has saved us a lot of time and let's use the full picture to do a better analysis. So it has broken down silos in that way." 
Butcher identified worker resistance as one of the key obstacles when introducing new technology, recommending an integrated approach to tackle these issues: "What we found is people do not like change, which was the hardest thing to overcome. The best way to have them overcome that is to have them involved in the process, to be able to see what they can get out of it […] and actually make them feel attached to what they can do. That's how you get them to buy in," Butcher said. 
Panelists also highlighted the importance of technology 'buy-in' at all levels of leadership, from improving training to pitching funding increases to board members. In order to ease nonprofits' receptiveness, or 'buy-in' to new technology, panelists recommended initiating a digital-first culture within organizations to shift the perception of technology and IT into priorities within the organization's management. Keith A. Howey, director of impact and operations at PENCIL, highlighted the importance of communication when implementing this shift:
"Part of the hardship of implementing a data culture is the change of management. There's a couple things that were effective for our organization: the first is talking to staff and figuring out what's being done repetitively, and how these things can be automated. The other thing is onboarding […] empower everyone at every level, and then overall, looking at the feedback loops." 
Regarding information collection within nonprofits, Panelist Triana Urraca, CEO of Data Systems Simplified, recommended proactive methods when analyzing data: "I would recommend going through a process starting with the basics, your website, your board reports, your annual reports, any reports you have to junior funders, to find what is the information you're using, and what is the most often used? […] That way, you can actually start to prioritize the data that's most important, and that will give you the most impact." 
Panelist Garri Rivkin, founder and executive director of nonprofit The City Tutors, warned of the importance of judicious data collection when dealing with vulnerable populations. "One thing that we have to remember, especially as many are working in service of very vulnerable populations, is that the more data that we collect the more impediments to service we are potentially creating. So we have to always be mindful of that balance. Collect only enough data to identify if you're making an impact. Don't just collect data for no purpose," Rivkin told attendees. 
As panelists discussed data collection methods to enable simplified and accessible systems within nonprofits, Panelist Michael Thatcher, president and CEO of Charity Navigator, maintained the importance of retaining an iterative approach to data collection through consistent engagement with constituents. 
"It's not the answers they give you every day," he said. "It's the processes that change in what's going on and how you're actually incorporating their feedback to be more effective with your use of data and program delivery."