Nonprofits
New York City's first safe injection sites avert 633 drug overdoses on anniversary
OnPoint NYC's two overdose prevention centers have served more than 2,100 people in their first year.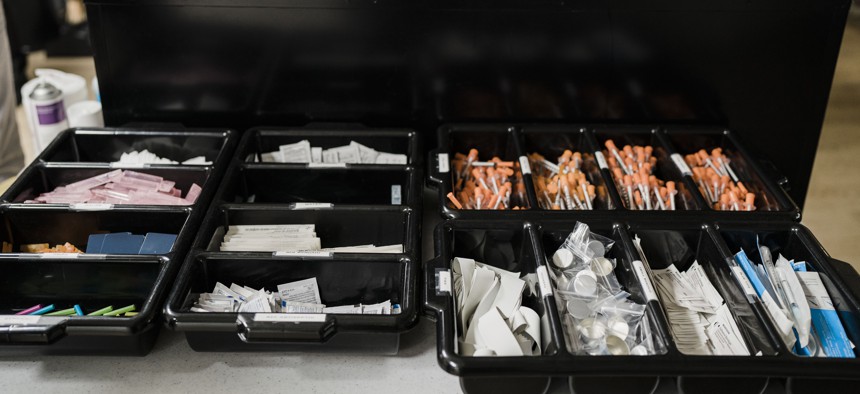 As New York City battles a drug overdose crisis, OnPoint NYC, the nonprofit operator of the city's first safe injection sites, also known as Overdose Prevention Centers, announced that it has averted 633 drug overdoses since opening in November 2021. 
The OPCs co-located with Syringe Service Programs are privately operated drug consumption centers that dispose of all forms of drug paraphernalia for its participants, providing a clean, supervised environment for safe drug use.OnPoint NYC reported that its centers in East Harlem and Washington Heights, the first of their kind in the country, have been utilized 48,284 times by 2,147 people as of November 29. In addition to operating consumption sites, the nonprofit employs teams dedicated to collecting discarded drug paraphernalia in public areas and parks, having safely disposed of over 1.4 million syringes and other hazardous waste material since opening last year. 
"Supervised consumption is a lifesaving health intervention that meets our beautiful people
where they are with love, compassion, no judgment and a commitment to helping them heal and live their best lives," said Sam Rivera, OnPoint NYC's executive director. "Today, we celebrate every participant that has walked through our doors, and we applaud their commitment to heal and thrive," 
These OPCs come as part of the city's push to employ realistic harm-reduction methods against the drug epidemic, with recent actions that included Mayor Eric Adams' signing of legislation Intro 56 earlier this fall, which will provide free naloxone kits (a safe medication that can be used to reverse the effects of an opioid overdose) to nightlife establishments throughout the city to administer in the case of emergency. "The overdose crisis has been inflicting pain and heartache on our city for too long, so now is the time to take action," said Mayor Eric Adams. 
As many city and state officials remain supportive of these programs, some are advocating for the expansion of OPCs across New York through passage of bills like the Safer Consumption Services Act, which would authorize OPCs through a state-regulated program. Although the bill has failed to move since 2018, sponsors, such as state Sen. Gustavo Rivera said they remain hopeful, stressing that ongoing resistance to harm reduction policy "stems from the fact that there's still a deep internalized stigma for drug use." 
Nonprofits like OnPoint NYC aim to dispel this stigma through its safe consumption centers and wraparound services that meet its underserved participants, from medical and mental health care, onsite access to buprenorphine and other addiction treatment options, Hepatitis C and HIV testing and treatment and other critical support.
"As the overdose crisis reaches record highs, it is critical that we embrace realistic approaches that give people a fighting chance to survive," said Rivera. "As we celebrate and acknowledge the success of the country's first safe consumption program, I encourage government leaders and health officials across the country to consider implementing this lifesaving approach."
"In the three decades of practice, there has never been a recorded fatal overdose in a safe consumption program anywhere in the world," he added. "People don't have to die. We just need leaders that are committed to saving lives."