Nonprofits
Advocates call for the passage of Daniel's Law in Albany
The legislation if passed would remove police officers as first responders to mental health crises.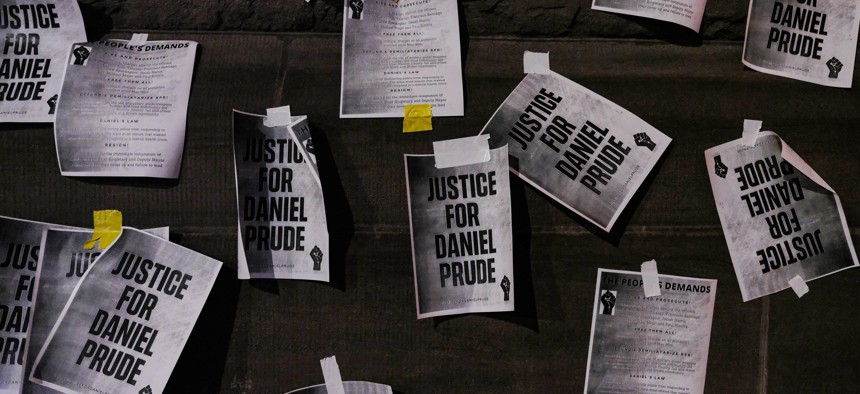 Organizations, such as VOCAL-NY, will rally in Albany on Jan. 25 to advocate for the passage of Daniel's Law (Senate Bill S4814), a law that will remove police officers as first responders to mental health crises and instead allowing mental health professionals to be the first on the scene. Daniel's Law is named after Daniel Prude, a 41-year-old Black man  from Rochester, New York, who was experiencing a mental health crisis and died after he was physically restrained by police on March 23, 2020.
"We know from Daniel Prude's death and the experiences of many New Yorkers living with a mental health diagnosis, that we must immediately create safer alternatives for our communities," said Stanley Martin, parole & reentry coordinator at VOCAL-NY. 
"This bill is a step towards ending the criminalization of people living with a mental illness and substance use, and instead treats these human conditions as a public health issue, deserving of a health care response," Martin explained. "Studies show that up to half of people who become victims of police violence have a disability – and overwhelmingly, a mental health disability."
"For many New Yorkers, 911 has become the only option for people looking for mental health crisis intervention," he added. "And police often arrive at the scene armed with deadly weapons, a lack of mental health training, and a total inability to de-escalate the personal crises they are so often assigned to handle. The results are devastating."
Currently, the law allows police to intervene once someone poses a "mental hygiene risk" to themselves, even if there is on public safety risk. Daniel's Law states that police can only respond when there's a risk to another person's safety.
More specifically, Daniel's Law will center on consensual, community-informed care and de-escalating crises. Health professionals will make up a State Emergency & Crisis Response Council that oversee regional councils. These councils will ensure that those living with mental health disorders have access to resources to make a recovery. Councils will also develop training and protocols for all calls to dispatch and all responses to mental health crises. These training and protocols will be fully integrated with 911 and other emergency dispatch services.
Advocates argue that there is an over reliance on police officers to handle mental health crises, yet they are not trained to handle these crises. For years, advocates have been calling for mental health counselors, peers and other health workers to respond to mental health crises. 
This bill would ultimately help fund infrastructure to support communities while in transition, at the same time, it will allow the study of the long term effects of transforming how society responds to crises.
"Ultimately, the goal of this bill is to save lives and get people the help they need," said Martin. 
"We believe that the passage of Daniel's Law will significantly reduce deaths of people with disabilities during police interaction," he said. "In the next 10 years we hope that every single New Yorker experiencing a crisis receives culturally competent, person-centered, consensual care, focused on de-escalation and creating a wide array of resources available to ensure the best possible path to recovery."