Nonprofits
Nonprofit focused on after school success holds symposium to address NYC youth needs during COVID-19 recovery
The half-day event held by the Partnership for After School Education brought together 60 education stakeholders from across the city and state.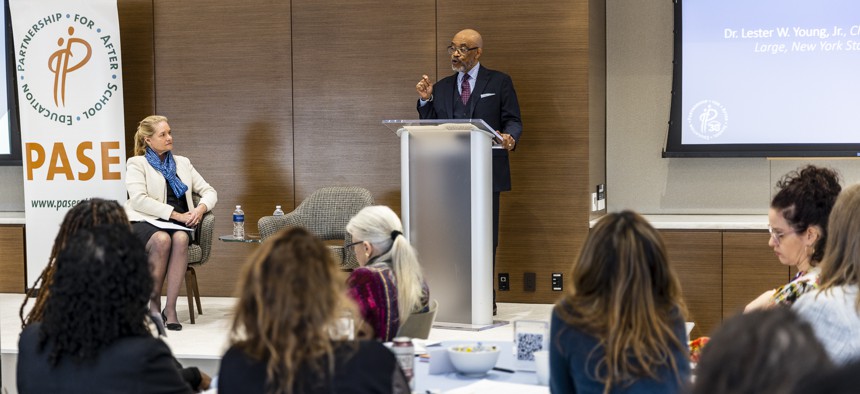 The Partnership for After School Education held a symposium centered on the science of learning to formulate a recovery agenda for K-12 students that addresses learning losses young people have experienced in New York City.
The half-day event held Wednesday entitled (Re)imagining a Recovery Agenda: Leveraging the Science of Learning for Youth Success gathered 60 education stakeholders from across New York City and state at Neuberger Berman's headquarters.
"As we considered the science of learning we knew that we need consider COVID-recovery at multiple levels, and it was an all-hands-on-deck situation. What we heard today from this incredible group of expert researchers and practitioners is that the science of learning – the vital role of strong relationships with adults and peers, caring environments that create a sense of belonging —is consistent with best practices of youth development programs," said Alison Overseth, the Partnership's CEO.
Attendees included educators, representatives from nonprofit organizations and philanthropy, and higher education professionals. Speakers at the event called for more support that fosters strong relationships, responds to mental health needs and promotes active engagement.
Some common themes that were addressed were the interest in working across sectors to support youth during the recovery phase of COVID-19. Other themes included looking further than academic markers of success when thinking of a student's well being, positive connections, educator training and support and the desire for more flexibility in systems and funding structures. 
"Adult mindsets and beliefs have always been critical to schools where young people thrive," said Dr. Edward Fergus, Professor of Urban Education at Rutgers University. "In this moment we have an opportunity to promote excellence and equity if adults come together to create environments that are culturally responsive."