Brooklyn nonprofit marks 10 years of teaching young men how to dress well
That Suits You also provides guidance on how to navigate the professional world.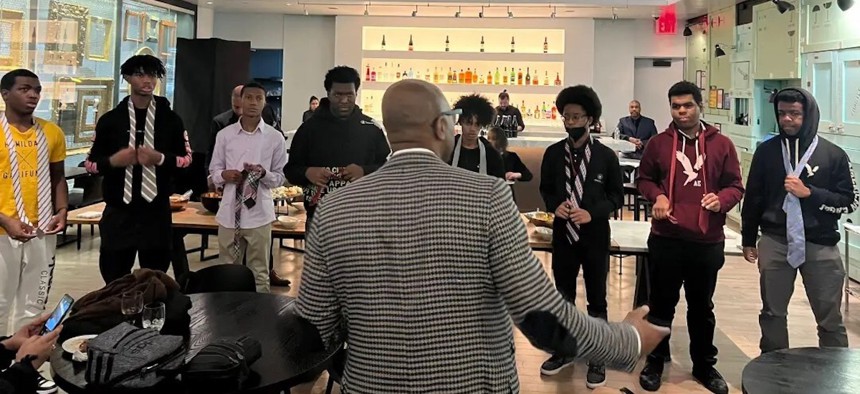 That Suits You, a Brooklyn-based nonprofit providing professional suits to young men going on job interviews, as well as attending graduations and proms, is marking 10 years since its founder PK Kersey formed the organization. Since its establishment, the nonprofit has expanded its mission to help young men navigate the professional world.
"Initially, it was just something like I'm filling the need," Kersey told New York Nonprofit Media.. "But then I saw how important it was, I wanted it to go and continue. Maybe after a year or two, I said, 'Wow,' this is something that's really needed."
The idea of creating That Suits You began when Kersey was 20-years-old, living in Brooklyn and did not have a suit to wear for a job interview at the DMV. He told his pastor this, and Kersey was given a suit, shirt, and tie. Kersey went on to get the job. Over the years, as Kersey made his way up to management, he noticed many of the men he interviewed were not prepared for the interview. With that, he started That Suits You with his brother, Jamael Thompson. 
They began by collecting suits from local churches, which helped them partner with Christian Cultural Center. Eventually, Kersey and Thompson would partner and collaborate with Dress for Success, Bottomless Closet, ASA College, and FEDCAP. They have also worked with CUNY, St. John's University, Seton Hall University, and Howard University. They even began receiving suits from attorneys, businessmen and even high-end designers, such as Alison Mangaroo, the Creative Director of Paisley & Gray. She wanted to donate the numerous samples of suits made per season so she can do something more meaningful with the products.
"When you just sell your samples off," Mangaroo explains. "There's no gratification, you just make back a minimum amount of money. That's why I wanted to find someone who could make a difference. It takes a big person to do so much good. I'm sure he's made a difference in a lot of lives in the last 10 years."
That Suits You has spread to all five boroughs and beyond these days. The organization has helped young men in New Jersey, Philadelphia, Detroit, and sent clothing to California. During the coronavirus pandemic, Kersey and his brother gave a Zoom lesson to a school in Atlanta and provided their own lessons through workshops meant to teach young men about networking, finance, self-image, and even how to tie a tie. More so, Kersey has gone to elementary schools to read to students the book, That Suits You, Kid!, which he wrote with his brother. It is one of several books Kersey wrote regarding successful dressing.
Kersey admits the past decade went by fast, but he is also satisfied with the impact he and his brother have made on other men's lives. He said he is also grateful for all the partners who have donated suits and looks forward to the future.
"In 10 years, I expect that we should be not just in New York City, but having more of an impact in other areas," Kersey said. "We just don't want to train them, give them a suit, and have them go out. We also encourage them to be a part of a men's organization with other men [where you're] thriving and networking and that's really how you grow as an individual not just for yourself, but for your community."