Nonprofits
Adrienne Adams calls for pay parity and other support for nonprofits
The New York City Council speaker kicked off a gathering of nonprofit professionals and government leaders to discuss bold new ideas for the sector.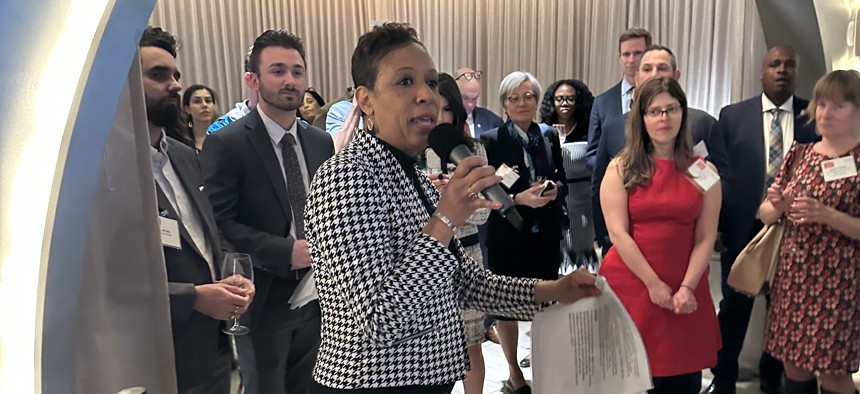 "We must continue to push for real pay parity for this sector's workforce!" New York City Council Speaker Adrienne Adams proclaimed to nonprofit professionals and fellow City Council members attending a first-of-its-kind nonprofit summit in Manhattan Tuesday.
The "Nonprofit Thought Leader Reception" hosted by City & State and government relations firm Kasirer drew 115 attendees representing more than 40 nonprofits to S Bar in Hudson Yards to brainstorm ideas for how they and the city could best serve New Yorkers. Suri Kasirer, the firm's founder and president, introduced Adams before her opening remarks, which touched on how nonprofits across the city continue to execute services despite minimal resources. 
"In times of calm and crisis, we've seen nonprofits across our city step up. You all have stepped up to deliver the essential services New Yorkers need," Adams told the crowd. "On the many days in between, our community partners provide lifelines to New Yorkers facing the daily emergencies of housing instability, food scarcity, mental health crises and so much more. Yet, time and time again, our city's nonprofits are asked to do so much with so little time and time again."
She underscored the importance of the city's support and funding. "Too often, our nonprofits are not adequately funded to do their important work," Adams said. "This piecemeal approach, which lacks planning and vision, is not sustainable. New Yorkers deserve more than this dysfunctional status quo."
Adams reflected on forming relationships and partnerships with nonprofits over the last few months to understand the sector's current challenges and how the council "can be a strong partner in charting a sustainable, equitable path forward."
"We must deliver investments that uplift the human services workforce, including advocating for the removal of administrative hurdles that affect the pace at which organizations receive payments. How painful is that?" Adams asked to applause. "The city has a moral responsibility to invest in the services that keep our communities safe and healthy."
Adams promised that the council, which was represented by 17 members at the event, including Gale Brewer, Justin Brannan, Joseph Borelli, Diana Ayala, Keith Powers, Althea Stevens, Erik Bottcher, Selvena Brooks-Powers, Amanda Farías, Oswald Feliz and Julie Menin, would continue to push back against cuts to funding that threaten and weaken New York City. 
"We will continue to be partners to serve all New Yorkers," Adams vowed. "Now there's a lot more work to be done. I believe we can accomplish great things together. Look at what the first session did. We did accomplish great things and we did it together. We want to do more." 
Following Adams' address, attendees split into groups to discuss prompts regarding the state of the nonprofit sector and how to resolve its most pressing issues. These questions covered the staffing crisis in New York City government, contracting delays for nonprofits and a lack of space for these organizations, which is especially critical for helping asylum-seekers. 
The night opened and closed with opportunities to network and learn more about New York's nonprofits. Among the organizations represented were City Meals on Wheels, Community Service Society, Safe Horizon, Nontraditional Employment for Women, Special Olympics, the UJA-Federation of New York, Volunteers of America, Catholic Charities, Children's Village, JASA, Family Legal Care, New York Legal Assistance Group, Hot Bread Kitchen, Rethink Food, the Jewish Child Care Association, 92NY, Lincoln Center, the Solomon R. Guggenheim Museum and Ballet Hispanico.