Education
Construction career day draws hundreds of Hudson Valley students
Students from the Lower Hudson Valley participated in skill-building activities and met with labor professionals to learn about career opportunities in construction.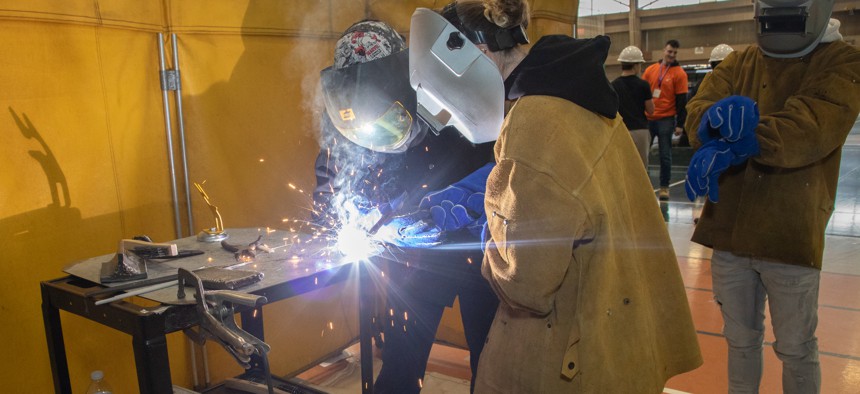 Over 700 high school students from the Hudson Valley participated in a Construction Career Day at Rockland Community College Fieldhouse in Suffern last week. Hosted by the Construction Industry Council of Westchester & Hudson Valley, Inc. and the Building Contractors Association of Westchester & Mid-Hudson, Inc., the event sought to inform students looking to pursue careers in the trades about career options. High school sophomores, juniors and seniors from Westchester, Putnam, Orange, Duchess and Rockland school districts attended. 
Students had a chance to speak with business and labor professionals to learn about job opportunities in the area. They gained hands-on experience by partaking in demonstrations for welding, carpentry and soldering with representatives from unions and private-sector companies. Jackhammer and confined space rescue demonstrations also took place. 
The event educated students on training, career paths, and potential salaries and benefits. There was a focus on apprenticeship programs and how they offer experience and nationally recognized credentials. Students also learned about the financial advantages of apprenticeship training.
"The demand for skilled labor is increasing, and we're seeing infrastructure investments at the state and federal levels, so there is clearly a need for these critical skills," said Matthew Pepe, executive director of the BCA. "Apprenticeships offer young people the opportunity to learn and earn as they prepare for good-paying jobs right in their communities. We're proud to be a part of this important effort to enhance our workforce, invest in our communities and strengthen our overall economy." 
Mary Jane Bertram, Hudson Valley regional director for the Workforce Development Institute, continued on this note regarding the need to invest in technical training 
"Providing our youth with a variety of options to good-paying, family sustaining wages is an important mission and one that we are happy to assist with," Bertram said. "These are careers that are local careers that provide a way for people to raise a family, buy a house and to retire – it is a beautiful thing to have those benefits that continue for a lifetime." 
The event included a press conference with trades professionals from the local, state, and federal level. Speakers included officials from the state Department of Labor and Public Works of Westchester, Rockland, Putnam and Orange counties. Donna Chiapperino, district representative for U.S. Rep. Mike Lawler; Victoria Cafarelli, representative for Assembly Member Dana Levenberg; and Westchester County Legislators James Nolan and David Tubiolo all attended. 
Construction Career Day showed students a future that doesn't involve attending college. 
"There are so many different opportunities for our young people to pursue in New York, in Putnam County and the Hudson Valley. And, those opportunities aren't just out of higher education, but through apprenticeship programs and through our friends in the labor community," said Putnam County Executive Kevin Byrne. "You have an opportunity to not only learn from groups like this, but to work with them and stay in New York, stay in the Hudson Valley."