Nonprofits
Legal service nonprofits step up to help tenants facing eviction
Lawyers from The Legal Aid Society and Legal Services NYC are helping New Yorkers with rental assistance applications amidst payment delays and voucher termination.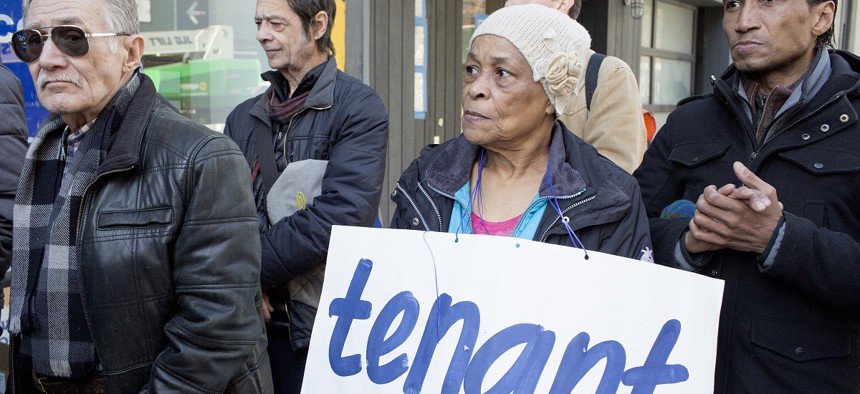 There were more than 170,000 eviction filings in New York in 2022, with over 110,000 coming from New York City. With the end of the COVID-19 eviction moratorium in January 2022 and rising rent costs, tenants face significant challenges to accessing and remaining in housing. Issues with rent assistance applications also plague citizens trying to stay in their homes. 
The city's Family Homelessness and Eviction Prevention Supplement, a rental assistance supplement managed by the Department of Social Services known as CityFHEPS, is charged with helping individuals find housing. However, because of delays surrounding payment and program recertification, tenants still face eviction and end up in housing court. 
To mitigate this crisis, dozens of lawyers across the city are helping residents process CityFHEPS applications. Attorneys Susan Bahn from The Legal Society and Jack Newton from Legal Services NYC led a virtual training session earlier this month that helped prepare lawyers from both organizations to begin working with tenants who use CityFHEPS. More than 200 lawyers and paralegals participated in the training program, which included informational materials from the Human Resources Administration, a department within DSS. 
The same movement of attorneys also is working to support the city's Homebases – resource centers that help people emerge from homelessness that have been understaffed, underfunded and underpaid, leaving phone calls unanswered and a limited availability for appointments. Newton points to DHS for not funding Homebases sufficiently, resulting in their inability to meet the needs of tenants. 
"The very real consequence is that low income individuals and families are struggling to just get in the front door to start the process of applying, much less getting the actual application in since that first intake is just really an intake. They don't take significant steps towards CityFHEPS or any other subsidy at that initial meeting," Newton said. "It's led to brinkmanship and quite frankly, a severe amount of anxiety for the individuals and families who are terrified of being evicted for the simple reason that they can't access this public benefit."
When asked to comment, a DSS spokesperson said, "DSS-HRA's Homebase locations offer a lifeline to New Yorkers experiencing housing instability by providing access to critical homelessness prevention services, including rental assistance. These services overwhelmingly keep vulnerable New Yorkers in their communities and out of shelters. DSS-HRA works closely and collaboratively with our provide-partners to address any issues which may impact the delivery of these vital services."
Bahn, too, "would prefer that the city give raises to the Homebase so that they can hire more people because the legal services providers are having problems with attrition and hiring." 
The Legal Aid Society faces staff shortages and a 30% attrition rate because of inadequate pay, significant caseloads, and increasing rent among other factors. LSNYC is experiencing similar problems with a 39% attrition rate. 
These challenges prompted several actions from the nonprofits and others in the last few weeks, such as a lawsuit against the city and demands for increasing funding. On April 5th, The Legal Aid Society ​and ​Hughes Hubbard & Reed LLP filed a class action lawsuit in support of eight tenants who receive support from FHEPS and CityFHEPS. They represent all low-income households across New York City. 
The lawsuit aims to prevent the agency from unlawfully invalidating current recipients' FHEPS and CityFHEPS vouchers. The DSS regularly renews individuals' and families' CityFHEPS subsidies too late and annuls state-funded FHEPS vouchers despite recertification efforts by households. 
"We have been asking for years for the city to fix this, but they ignored us and kept saying it wasn't a problem," Bahn said. "For CityFHEPS you have to recertify once a year. It's a simple application. However, the city seems to be months behind in renewing people's CityFHEPS applications and people are getting sued and therefore are at risk of eviction. We decided to sue on behalf of both subclasses." 
When asked to comment, a DSS spokesperson said that any New Yorker using a CityFHEPS voucher "should be able to rely on it." 
"In addition to cutting red tape so more New Yorkers can easily access our rental assistance programs, our teams respond to all concerns raised by voucher recipients," the spokesperson explained. "CityFHEPS voucher-holders are required to complete an annual recertification and we have systems in place to ensure that they receive timely reminders."
The spokesperson said that DSS-HRA "promptly" investigates and addresses issues with annual recertifications when discovered by the agency. "This administration has implemented a wide range of reforms to reduce administrative burdens for vulnerable New Yorkers while strengthening and expanding access to CityFHEPS, the only city-funded rental assistance in the country," the spokesperson said. 
Just a few days after the lawsuit was filed, The Legal Aid Society, LSNYC, New York Legal Assistance Group (NYLAG) and others asked that the City increase funding in the next budget by $351 million so that all low-income tenants could have an attorney in housing court. 
"An attorney representing you in housing court on an eviction case is one of the biggest indicators of success in housing court proceeding," Newton said. "Without it, your likelihood of being evicted is extremely high. Even if you aren't evicted, you may end up paying a rent that is actually illegal or too high. You may not be getting the repairs you need and deserve in your apartment." 
While Newton understands that the $351 million may come across as costly, he emphasizes that it doesn't just cover attorneys but public benefits paralegals and others working behind the scenes. 
"It's an investment in our future, it's a decrease in shelter, and it's providing dignity to all low income New Yorkers who face eviction in our housing court," he said. 
Tenants facing eviction are guaranteed legal representation through the Right to Counsel (RTC) law, which has allowed 84% of tenants who received support to remain in their homes since implementation. Yet, because of limited capacity at legal nonprofits and the quick pace of the eviction process, RTC providers have declined more than 10,000 court cases since March of 2022. Aware of this crisis, the New York City Council recommended that legal services providers receive $195 million in the Fiscal 2024 Preliminary Budget. The Legal Aid Society also called for the passing of Bill S305 so that tenants can't be evicted without good cause and landlords can't increase rent to an unreasonable price based on the Consumer Price Index. 
With rent prices and eviction rates continuing to rise, dedicating funding to legal services is crucial to ensuring safe futures for low income New Yorkers.