Kathy Hochul
At 'Unity Summit,' Hochul touts gun laws, hate crime prevention
Almost a year after the Tops shooting in Buffalo, the governor said she's taking action to prevent future racist violence.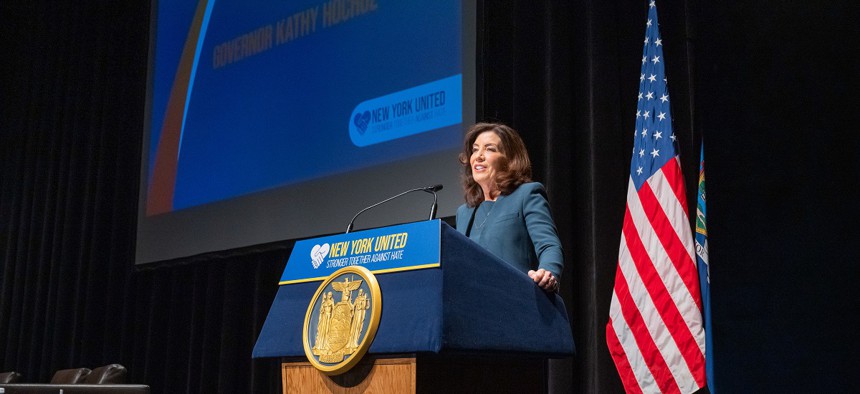 Close to the one-year anniversary of the mass shooting at a Buffalo grocery store that left 10 Black New Yorkers dead, Gov. Kathy Hochul convened the first Unity Summit at John Jay College in Manhattan to discuss how to combat hate crimes. "It's the first time in our state's history that we brought together elected leaders, survivors, community and faith leaders, with one purpose," Hochul said. "And that is to stand unified against hate."
Before Hochul's opening remarks, she played a video that featured survivors of hate crimes, as well as family members of those who have been killed. Among them was Zeneta Everheart, the mother of one of the survivors of the Buffalo massacre that specifically targeted a Black neighborhood in Buffalo. "No one should ever live in fear of being targeted because of the color of their skin, their ethnicity, their religious beliefs, disabilities, how they identify or who they pray to," Hochul said, adding that the Wednesday summit is a continuation of efforts to protect marginalized communities. 
Hochul touted the launch of the Hate and Bias Prevention Unit in the state Division of Human Rights last December. It was tasked with public education and outreach about hate crimes and preventing them across the state. "And that is reflected by more than 400 people joining us today," Hochul said. The unit was tasked with convening 10 regional councils to focus on issues specific to different communities, which Hochul said it has now done and expects them to begin work in the coming weeks.
She also spoke about the state's red flag gun laws, which legislators strengthened in the wake of the Buffalo shooting. "That has made a profound difference in keeping the guns out of (the hands of) thousands and thousands of people," Hochul said. Under the law, police can file an "extreme risk protection order" to remove guns from those deemed to pose significant risk to themselves or others. Since the changes made last year, use of the protection orders has increased dramatically.