Cultural nonprofits
Bronx Fashion Week helps celebrate Pride with designer Victor Lopez at the New York Botanical Garden
The nonprofit hosted the event with an all-LGBTQ+ and all-BIPOC production team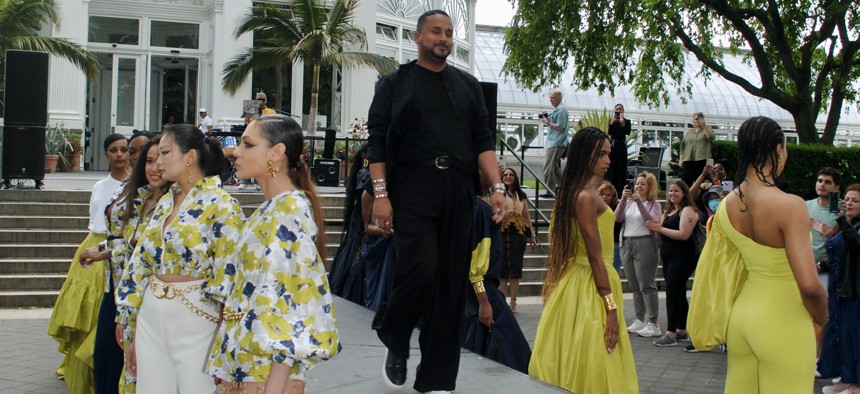 Designer Victor Lopez took the stage at the New York Botanical Garden's pride celebration this past weekend with something unexpected: a fashion show. And the event was hosted by Bronx Fashion Week, a Bronx-based nonprofit focused on offering resources and mentorship to people who aspire to become part of the fashion world.  
The show on Saturday was historic in several ways: Lopez, who hails from Santo Domingo, is the first Dominican designer to ever show at the Botanical Garden. Everyone involved in the production team, from stagehands to models, was a member of the LGBTQ+ community. This was also the first all-BIPOC production team, and Flora Montes, the founder and CEO of Bronx Fashion Week, is the first Puerto Rican woman to bring a fashion show to the Botanical Garden. 
For a celebration of firsts and inclusion, the event felt appropriately community-oriented. Music started thumping through the garden shortly after 4 pm, and soon, a large crowd had gathered around the catwalk in front of the steps of Enid A. Haupt Conservatory. When the DJ introduced Lopez, everyone snapped to attention and pushed forward, with some people whooping at the shout-out to the Dominican Republic. 
Lopez showed 20 looks, all riffing on a combination of navy, lime, and white – he is known for his color-forward designs. The models had on dramatic winged eyeliner, big, gold jewelry, and dangerously-tall stilettos. The crowd was very appreciative, with most people holding up their cell phone to film, and everyone bobbing their heads along to the beat. Overall, the event was a microcosm of the Bronx: a collection of diverse, creative people, excited about sharing a passion. 
That's exactly what Flora Montes imagined when she founded Bronx Fashion Week, or BXFW, in 2014. It was meant to be a way for her community to come together. Before coming to the nonprofit world, she was a chef by trade. Fashion wasn't even on her radar until she attended Latin Fashion Week as a caterer, and fell in love with the glamor of it all. 
"I don't fit the fashion norm," Montes said, gesturing to her prior lack of fashion experience or a degree, and her history as a chef. She said, "​​I'm not what you expect, but I'm here to stay and this is what I've built. And now no one can tell me anything. Because now I know the fashion industry in and out."
BXFW was founded with a mission of inclusion, from platforming models of all genders, ages, and sizes, to subsidizing the dreams of would-be designers without access to resources. Montes is from the South Bronx herself, and wanted to draw on the wealth of untapped creativity that she saw during her childhood. "We're a fashion house that's built on stories," she explained. "We're working with Bronx kids and Bronx adults that are dealing with barriers, the same barriers I dealt with growing up. And we're giving them an opportunity to shine … There's no one that I've never said no to. We've done it all."
Besides shows in the Botanical Garden, BXFW also goes into smaller communities and organizations and helps them put on their own programming. Many through BXFW, from students to older persons, have walked the catwalk. 
"We do the fashion show with the seniors and they feel good about themselves," Montes said. "When I'm leaving, I've had them say, 'I wanna do this next year. You made me feel pretty.'"
Aside from smaller initiatives like senior shows and prom dress drives, Montes dreams of someday opening a fashion-centric charter school to serve students' creative needs. "That will be the catalyst to be a pipeline to make the fashion industry more diverse and more inclusive. We want to open doors for these kids, even if they don't wanna get into fashion," she said.
"Back in the day when I was a kid, you were told what you were gonna be and that was it. And you were not taught you could be more," Montes said. "I know this in my heart: there's a kid out there, sitting in a project just the way I was, and that's the next CEO. It's my responsibility to bring that next CEO in."