New York State
'The pain still lingers.' Officials break ground on I-81 replacement, acknowledging environmental racism of the past
Gov. Kathy Hochul joined Syracuse Mayor Ben Walsh and Sens. Chuck Schumer and Kirsten Gillibrand to break ground on the project.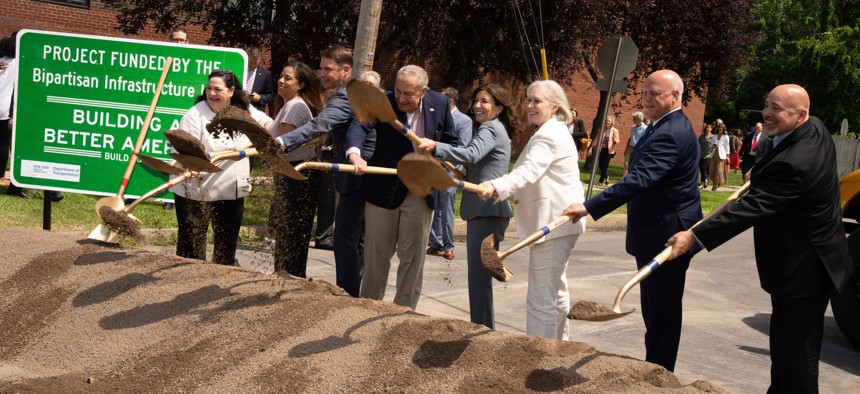 The dilapidated I-81 viaduct bisecting Syracuse is six years past its structural expiration date, and the state has studied alternatives to the elevated highway that runs through a Black neighborhood since at least 2008. Now, after years of study, debate and community input, New York has finally broken ground on the viaduct's replacement – running the highway traffic through the city grid and demolishing the viaduct.
"There are times during the history of this project that I felt like the little kid in the back of the car, whether it was to the governor or to any one of the other leaders that are here, just saying 'Are we there yet? Are we there yet?'" Syracuse Mayor Ben Walsh said at the groundbreaking announcement. Sen. Chuck Schumer, who also attended the event, said he recalled talking about I-81 years ago with Walsh's father, former Rep. Jim Walsh. "I worked closely with his father when I-81 was just being talked about, and now we're continuing to work with him," Schumer said. 
The massive $2.25 billion project is more than simply replacing crumbling infrastructure; it's meant to fix the wrongs of the original viaduct project and the negative impact it has had on Syracuse's Black communities. When it was first built in the 1960s, it destroyed the historic 15th Ward, and split the city in half, cutting off many Black residents from the hubs of economic activity on the other side of the elevated highway.
"Didn't see too many of these go into white neighborhoods at the time because I don't think they felt Black communities had the power or clout to stop a project," Gov. Kathy Hochul said. "They kicked people out of their homes, they bulldozed businesses… Half a century later, the pain still lingers."
Today, residents living near the viaduct still experience the environmental racism of living next to a highway built through their community, and the negative health impacts that come with it. But the hope is that the new project will relieve the community of those problems, offering it a healthier future.