New York City
What needs to change at Rikers? Everything.
We asked more than a dozen criminal justice experts. They urged staying the course on borough-based jails – and many called for a federal takeover of Rikers in the meantime.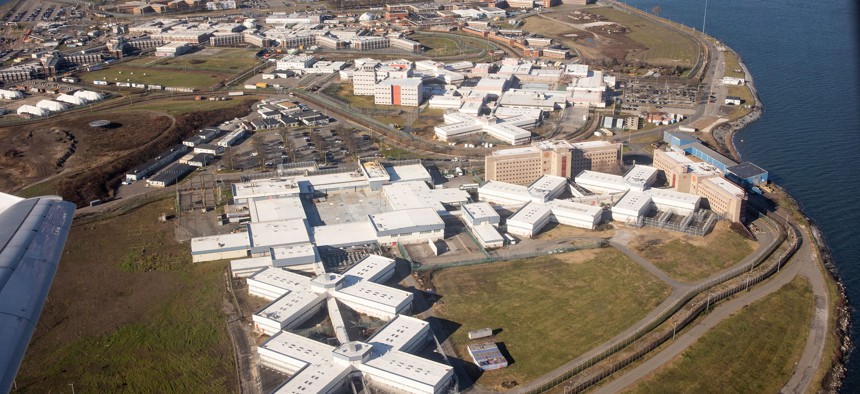 It's been said for years by elected officials, criminal justice advocates and families of individuals detained: The conditions at the Rikers Island jail complex in New York City are dire. 
"Our current system is a disaster. People are not safe at Rikers. People are traumatized at Rikers," said JoAnne Page, president and CEO of The Fortune Society, a nonprofit dedicated to reentry from incarceration and promoting alternatives to incarceration. "That applies to all people – including the staff there."
This year, there have been seven deaths in city jails to date. In 2022, there were 19 deaths – the deadliest year in almost a decade. 
Recent reports have highlighted the cruel jail conditions detainees, the vast majority of whom have not been convicted of a crime, are subjected to. Gothamist found that detainees were locked in caged showers and left in soiled clothes in crowded intake cells for hours, and that they had limited access to medical care. A court-appointed federal monitor, Steve Martin, has released damning reports, giving an account of the alarming conditions, use of force and violence at the jail complex and questioning city Correction Commissioner Louis Molina's ability to make substantial changes.
Where's the recall of Rikers Island?
– Sarena Townsend, criminal defense attorney
Manhattan's top federal prosecutor Damian Williams on Monday called for federal receivership of the jail complex – a major blow for the city as it attempts to control Rikers. When asked by reporters about calls from the U.S. attorney at an unrelated press conference, Adams said he has been hands-on concerning the jail island. "I was on Rikers Island probably more than any other mayor in the history of the city."
Sarena Townsend, a criminal defense attorney and former deputy commissioner of the Intelligence, Investigation and Trials Division at the city Department of Correction, warned the alarming reports that come out about the jail complex are too often met with a lack of urgency for fixing the problem.
"Where's the recall of Rikers Island? There's a recall of cars, car parts and car seats. But there's no recall of Rikers Island when we know that it's operating in a deadly fashion," Townsend said. 
With that question in mind, City & State spoke with over a dozen criminal justice experts about what needs to be done at Rikers. They made one thing clear: There is no silver bullet to fixing the jail complex. But some consensus emerged on the best course of action to address the issues on Rikers Island: Most experts agree the jail complex needs to be replaced, the population reduced and the culture changed. Many have also called for a federal takeover of the complex. Here's what we heard. 
Borough-Based Jails
The most popular proposal to fix Rikers Island is completely shutting down the dilapidated jail complex and replacing it with borough-based jails across the city. In 2017, the Independent Commission on New York City Criminal Justice and Incarceration Reform released a landmark report recommending the city build borough-based jails. In 2019, under then-Mayor Bill de Blasio's administration, the New York City Council voted to pass a proposal to close Rikers and replace the jail complex with four borough-based jails. Under the legislation, all detainees are to leave the island by August 2027.
"The problem with Rikers is so deep it takes dismantling it and building smaller and more decent facilities in the boroughs where people can be close to their loved ones and affirmatively fighting for a smaller population," Page said.
Supporters of the borough-based jails plan said it will allow detainees to be closer to their families as well as provide better access to attorneys, courts, medical and mental health care and community organizations – which they assert will ultimately help to prevent reincarceration.
The trip from the far-flung island to city courts is a grueling experience for detainees that starts before dawn, involves long hours in a cramped, often violent court holding cell and ends late at night. Advocates say it's so bad people plead guilty to crimes they didn't commit to get out of the Rikers to court cycle. Staffing issues with the Department of Correction have left officers stretched far too thin trying to get inmates to court appearances, and 1 in 4 detainees aren't able to make it to court on time. When asked about the staffing issues faced by the department, a spokesperson for the DOC asserted staffing levels are on the rise. They added that the average number of officers calling out sick is down 57% this year compared to last year and rates of timely court appearances are up.
Experts have also cautioned that plans to build borough-based jails could run the risk of transferring some of the same issues plaguing the current unfavorable jail complex – among them is Elizabeth Glazer, former director of the Mayor's Office of Criminal Justice and founder of the public safety think tank Vital City. "What is the point of moving into beautiful humane spaces if the issues and all of the structural things that make the conditions inside (Rikers) so horrific continue? … Then all you've done is created a bunch of mini Rikers," Glazer warned while calling for major changes in the "operating and management systems" and increased training for correction officers. 
Whether the city will meet the 2027 deadline remains to be seen. The capacity of the borough-based jails planned to replace the jail complex is 3,300 detainees, but the current population of detainees on Rikers Island remains steadily above that threshold. In April, New York City Council Members Lincoln Restler and Kevin Riley put forward a plan including measures – like increased supervised release and alternatives to incarceration – to reduce the population to meet the 2027 deadline for closure. However, many pundits continue to question whether or not the goal to close the jail complex will become a reality because of its large population. Community opposition, especially to a planned new jail in Chinatown, is also an obstacle. Adams has publicly pointed to the increasing jail population as the reason a "Plan B" option is needed. 
Population Reduction
At the heart of all proposals to address the long-standing issues at Rikers Island is the concern over the jail's large population. The September 2022 Mayor's Management Report from Adams showed the average daily inmate population in fiscal year 2022 was 5,559 – up from the previous year's average of 4,921 – and the average length of stay was about 120 days. 
Though the population of Rikers is down from extreme highs in the 1980s and 1990s, when the jail swelled to more than 20,000 inmates, several experts who spoke with City & State agree decreasing the jail population is vital to improving jail safety, reducing strain on correction officers and improving the overall conditions. "There needs to be a commitment at the highest level of government that population reduction is a strategy," said Stanley Richards, former first deputy commissioner of programs and operations at the New York City Department of Correction who was incarcerated at Rikers Island for about two years in the 1980s. "Once that commitment happens, then someone has to own it."
According to Richards, the current system of the Department of Correction, the city court systems and the Mayor's Office of Criminal Justice working independently to address the issues of population overflow at the jail complex is counterproductive. "If everybody owns it, then nobody owns it. There's a real question of who owns it," Richards said while asserting one way to do this would be through the appointment of a Rikers "czar" or first deputy mayor of population reduction for Rikers Island.
Several experts who spoke to City & State also named rollbacks to the state's bail reform law as a contributing factor to the issues plaguing the jail complex. It's a sentiment that several lawmakers underscored as bail reform rollbacks became a sticking point in budget negotiations between the governor and legislative leaders earlier this year. In April, lawmakers made a surprise visit to the jail complex led by Assembly Member Latrice Walker – an architect of the 2019 bail reform laws who has been vehemently opposed to rollbacks – where they asserted additional rollbacks would lead to worsening conditions at Rikers.
There needs to be a commitment at the highest level of government that population reduction is a strategy.
– Stanley Richards, former first deputy commissioner of programs and operations at the New York City Department of Correction
"One way to address the problem is to decarcerate as much as possible. There's data consistently showing that the 2019 bail reform laws were actually working; the negative publicity and the fear-mongering actually had no basis," said Yung-Mi Lee, legal director of criminal defense at Brooklyn Defender Services.
According to Lee, rollbacks to the state's bail reform laws encourage judges to send more accused individuals to pretrial detention. "The clear signal to judges whenever there's a rollback with the bail laws, is to incarcerate more than to set bail, higher bail, in many instances, making it more difficult for people to post bail in some instances. And that's really problematic," Lee said.
Federal Receivership
Eight years after the court-appointed federal monitor, Martin, was appointed to oversee conditions at the Rikers, the latest report from Martin describes a "disturbing level of regression" in the conditions at the jail complex. According to the monitor, jail leaders have failed to address the dysfunction, and conditions have worsened under the Adams administration. Martin also  threatened to hold city correction officials, including DOC Commissioner Louis Molina, in contempt of court for failing to obey orders from the court. 
"The current state of affairs and rates of use of force, stabbings and slashings, fights, assaults on staff, and in-custody deaths remain extraordinarily high – they are not typical, they are not expected, they are not normal," Martin wrote.
When asked about the calls for federal receivership and the damning reports by the federal monitor, a spokesperson for the mayor said there have been improvements in a statement to City & State. "Over the last six months, our efforts have led to double-digit reductions in a number of areas, and just three months ago, the federal monitor stated that 'real change has occurred' on Rikers Island. So, what's changed?" the spokesperson wrote.
The reports from the monitor have left criminal justice advocates and observers of the conditions at Rikers Island to sound the alarm. Several elected officials have also called for federal receivership – including New York City Council Members Crystal Hudson, Lincoln Restler, Keith Powers, Shekar Krishnan, Carmen De La Rosa, Amanda Farías and Chi Ossé – who all urged for federal receivership in an open letter last year. After touring the jail complex in June, New York City Public Advocate Jumaane Williams and New York City Comptroller Brad Lander cited the report by the monitor while asserting that the city can no longer be trusted to control conditions at the jail complex. And the recent call for receivership from the Southern District of New York federal prosecutor has further amplified the concerns of the monitor.
The problem with Rikers is so deep it takes dismantling it.
– JoAnne Page, president and CEO of The Fortune Society
Experts who spoke with City & State have asserted putting the jail complex under federal control may be the best solution for addressing the long-standing issues. "The city has shown very clearly that it cannot manage its own jail. If the system is not working, the only alternative is to have federal receivership," Lee said, adding that closing Rikers cannot happen immediately because there are no borough-based jails equipped to open up at this time. 
Nicole Gelinas, a senior fellow at the conservative think tank, the Manhattan Institute, questioned why the federal monitor has stopped short of calling for receivership after releasing several damning reports. "The federal government is way too slow about this. It's hard to square the monitor's comments over the last few months with just not asking for outright receivership," Gelinas said.
When asked about the calls for federal receivership, City Correction Officers' Benevolent Association President Benny Boscio said receivership is far from the right solution and instead asserted the importance of investing in correction officers in a statement to City & State. "Any Federal control of our jails would still require our boots on the ground to provide care, custody, and control," Boscio wrote.
Earlier this month, the chief district judge for the U.S. District Court for the Southern District of New York Laura Taylor Swain ruled that Manhattan federal prosecutors and lawyers from The Legal Aid Society could argue for federal control of the jail complex. Swain cited the monitor's recent reports while asserting her faith in the city's control of Rikers was "shaken." The court proceedings are set to begin this summer.
Jail-based programs 
All eyes have been on Adams since getting elected to see how the mayor approaches the issues at the jail complex. Shortly after becoming mayor, Adams created an interagency task force to address the conditions and issues at the jail complex. But one year later, as reported by The City, the task force has not issued a single report or worked with the federal monitor on major policy changes to improve the jail complex.
As part of the 2024 budget, Adams proposed $17 million in cuts to programming on Rikers Island. City elected officials – including Williams and City Council Criminal Justice Committee Chair Carlina Rivera – and criminal justice advocates condemned the cuts ahead of the final city budget, asserting the decades-old jail-based programming helps to reintegrate detainees into society and aids jail safety. But Adams and the City Council ultimately approved a $107 billion budget that included cuts to programming at Rikers Island. 
When asked about the budget cuts by City & State, a spokesperson for the DOC confirmed that the department will assume the responsibilities previously carried out by the contracted providers and will offer additional programs to people in custody – including educational programming, career and technical education, fine/performing arts and other enrichment activities.
"Idle time and lack of access to programming are where violence and danger and all of the things we hear about what happens on Rikers Island – that's where those opportunities start from," Richards said.
Criminal justice advocates warned of the impact of those cuts. "The programs are essential to running a safe correctional facility," Page said. "We're going to see an upsurge in violence, a tremendous increase in idleness and much more trauma."
Page also warned that cuts to programming are detrimental not only because of inmates' access to activities to improve their behavior but also the loss of nonjail officials to monitor the conditions at the jail complex at a time when officials have been condemned for mismanagement. "We've lost civilian eyes on what happens on Rikers. That is a terrible consequence in and of itself. What we're seeing is a ratcheting back of transparency," Page said.