Education
YMCA of Greater New York and Bank of America announce $1M gift that will send more teens to college
The money will be invested into the Rowe Scholars program, a comprehensive college and career access program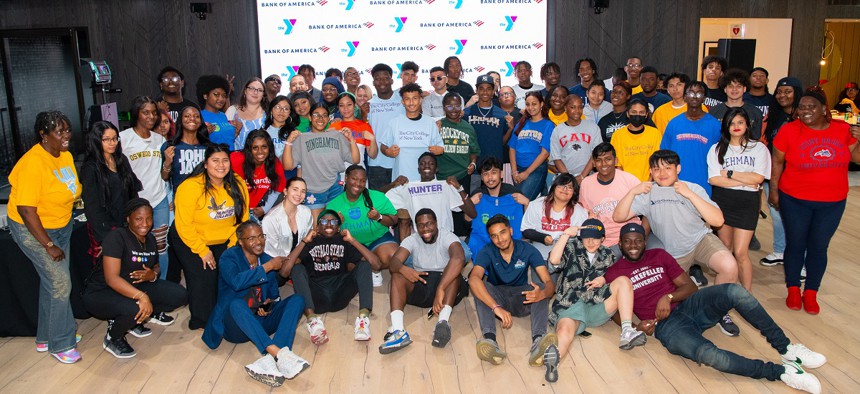 The YMCA of Greater New York and Bank of America came together on Friday to celebrate the latest graduating class from the Rowe Scholars program, which provides career development and college access to New York City high school students in public and charter schools. Alongside the graduation ceremony was the announcement of a $1 million commitment over four years to expand the program, allowing more young people to enroll in college. 
The program was founded in 2009 to decrease the academic achievement gap and provide support throughout high school, college and beyond. The program currently serves over 1,200 public and charter school students enrolled in grades 9-12 throughout the five boroughs. Due to the program's success, 97% of Rowe Scholar students have graduated on time and 94% have gone on to a college or university, compared to the citywide average of 84% and 66% respectively. 
"Bank of America is one of the YMCA's most critical partners in preparing New York City students for success in college and beyond," said Sharon Greenberger, president and CEO of YMCA of Greater New York. "With their support, hundreds of students in New York City will have access to the Rowe Scholars program and alumni services, helping teens develop a plan for post-secondary success. We are proud of our longstanding partnership with Bank of America to increase equity and build pathways to wealth and economic mobility."
One scholar, Ryan La Barrie, has been able to attend his dream college of Vanderbuilt University thanks to the Rowe Scholars program.
"Going into the program, I had no clue of what I would expect. In my prior schooling experiences, I often scored within the lower echelon and risked missing being promoted to the next grade," said La Barrie. "Upon joining Rowe Scholars, I gradually began to discard my passive 'I can do it if I tried' notion, and began to actively apply myself in both my education and my extracurricular experience. Instead of going home and watching television, I went to the Rowe Scholars program and strengthened my writing abilities while also learning how to draft resumes and quality emails. All these learned traits and skills have led to me having a successful college admission process and ultimately accepting an offer from Vanderbilt University."
Another scholar, Zakhro Kakhramonova, said the scholarship program has allowed him to realize that eventually, hard work and determination will be acknowledged and rewarded. Kakhramonova plans to attend Adelphi University to earn a bachelor's degree in criminal justice. 
"Being a member of the Rowe Scholars program has taught me about the different types of resources available to help me succeed, the value of being an assertive individual, and the importance of networking with people who work in different fields" said Kakhramonova. "To me, being a Rowe Scholar means becoming a lifelong learner who constantly seeks opportunities to achieve my long-term goals, discover my passions, and explore  a meaningful career for my future."