New York City
Adams: plan to close Rikers was 'flawed from the beginning'
The mayor cited ballooning costs and more incarcerated people as reasons the complex may not close by the 2027 deadline.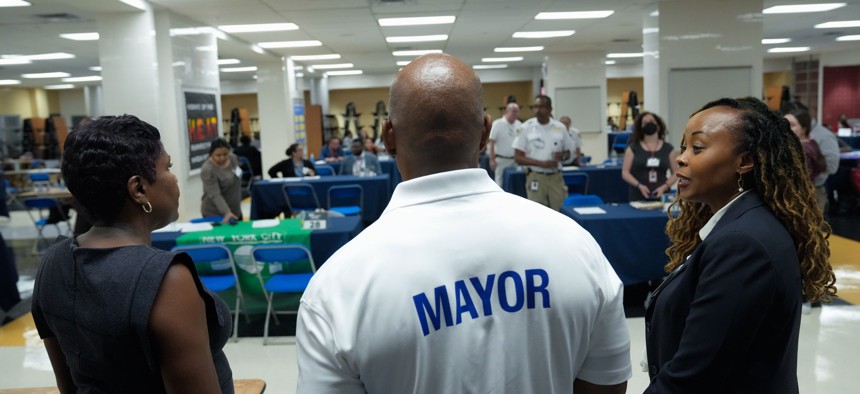 Mayor Eric Adams hasn't hesitated to cast doubt on the city's ability to close Rikers Island by 2027 – as the city is legally mandated to do. But at a fireside chat at New York Law School Tuesday morning, Adams suggested that the City Council needs to revisit the plan it approved in 2019 to close the troubled jails complex and replace it with four borough-based jails in the next four years. 
"It was a flawed plan from the beginning," Adams said in a conversation with Ross Sandler, former Department of Transportation commissioner and director of the Center of New York City Law. "Now we're stuck with something that started at one price tag, and now it has ballooned beyond belief – the cost of what it takes, and the population." Adams noted that the population in city jails – now over 6,000 – is far greater than what the borough-based jails are intended to hold. 
"We must sit down with the City Council and lay out the facts. Here's what it's going to cost. Here's how we can do this. You're our partners, let's resolve this issue," Adams added, mentioning that the council has the authority to "reexamine and come up with some new ways of how to resolve this."
While the council could pass new legislation or extend the 2027 deadline, there doesn't seem to be much interest from the body in doing so. "Rikers must close by 2027 and we cannot allow it to continue undermining public safety issues across our city," Speaker Adrienne Adams said back in March. 
A council spokesperson reiterated in an emailed statement today that the law is clear that Rikers must close by 2027. "The mayor is correct that the population on Rikers is too large and unnecessarily, because roughly half of those detained have a mental health diagnosis and could be better served elsewhere," the spokesperson wrote. "Successful implementation to close Rikers requires contributions from various stakeholders, including the Administration and courts. The Council remains a partner to achieve this outcome that will make New York City safer and will continue advancing solutions to realize it."
Later in the afternoon, at an unrelated press conference, Mayor Adams was asked about his earlier comments on Rikers, and reiterated that he wants the council to revisit the plan. Still, he said he's "never going to break the law."
"I think we all as leaders need to come back and say, how do we deal with this issue that we are faced with in a few years," Mayor Adams said. "And based on my partners, I have to go with whatever the outcome is. I'm not going to get my way on everything."