Advocates rally for "How Many Stops" act
The bill comes amidst a 40% increase in police misconduct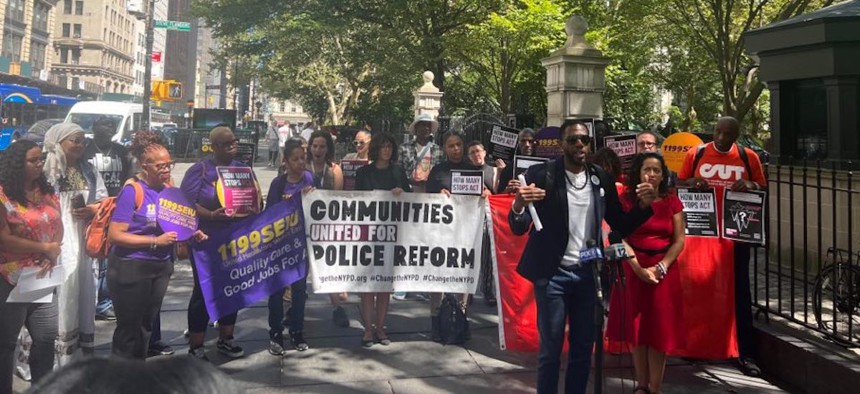 Communities United for Police Reform, 1199 SEIU, The Bronx Defenders and Legal Aid Society of New York City, among other advocates, rallied at New York City Hall to push for the passage of the How Many Stops Act. The two-part bill will require police to report all street stops and ensures the "Right to Know Act" is protected. Public Advocate Jumaane Williams, Brooklyn Borough President Antonio Reynoso, and City Council Members Alexa Aviles and Carmen De La Rosa were on hand for the demonstration.;
"We are trying to make sure that when we are dealing with law enforcement, we have the information to make sure we have a transparent and accountable law enforcement. We also know regardless of what is said there is bias-based policing in policing and in law enforcement, period…What this is is law enforcement doing what they do, not wanting more accountability and not wanting more transparency." Williams said at the rally.
In 2013, The Community Safety Act was passed after New York City was still experiencing the long-lasting effects of stop-and-frisk. The legislation expanded a ban on racial and other discriminatory profiling and established independent oversight of the New York Police Department. Now, the advocates and elected officials hope to take it one step further by requiring documentation and data on stops NYPD officers make. 
The bill comes during a time where police misconduct allegations filed with the Civilian Complaint Review Board increased about 40% in the first half of 2023. So far, police have made about 20% more arrests than last year and issued about 20% more summonses. 
"This is allowing us to get information…The cops are perfect? Then let them show it on paper. That is all we are asking, is for more data. And this legislation will do that job" said Reynoso.
Advocates during the rally noted Black and Brown communities were often then ones targeted during stops by the police. The bill hopes to collect data to visualize any trends happening in certain demographics or neighborhoods.