New York City
'Why are they not working with us?': advocates decry language barriers for African migrants
Many asylum-seekers from African countries have arrived in New York City in recent months, and advocates worry that the city isn't addressing language barrier issues for non-Spanish-speaking migrants.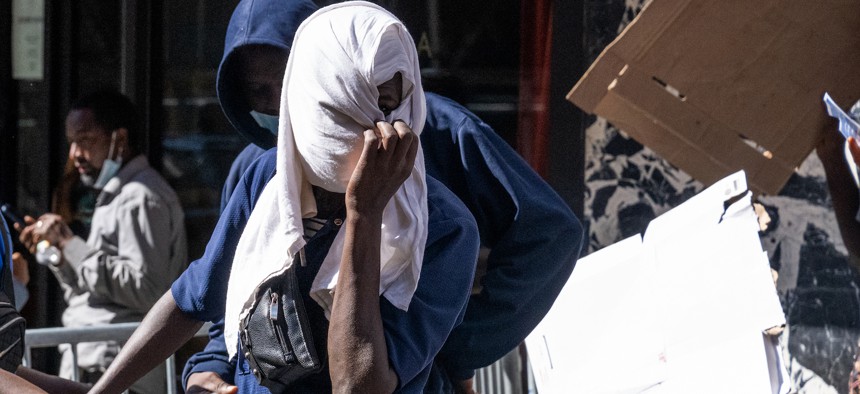 A growing number of asylum-seekers from countries in Africa have arrived in New York City in recent months, many of whom endured perilous journeys to make it to the United States. Like other ethnic groups who've come to the city to seek asylum, such as those from Latin American countries, some have been bused to the city by Texas Gov. Greg Abbott as part of a political ploy. Others have come on their own after hearing that the city was a welcoming place for migrants. But while the city has unfurled shelter, legal aid and a host of other services for new arrivals, advocates worry that African migrants are facing additional barriers amid what is already a deeply challenging situation.
Long before the city, which has the largest number of Black immigrants in the country since 2000, began seeing a historic influx of asylum-seekers starting last spring, nonprofit African Communities Together has worked to connect African migrants with legal services, job opportunities and governmental services. Still, the scale has never been this all encompassing. As the city has scrambled to meet new arrivals' needs with little support from the federal and state government, Sophie Kouyate, the group's community coordinator, said she has concerns that non-Spanish-speaking migrants – many of whom have come from Senegal, Gambia and other African countries – aren't being helped to the same degree as Hispanic migrants. From language access to halal food to a lack of cultural understanding, she and other advocates say there have been some gaps and that city leaders aren't putting enough emphasis on coordinating with the local organizations who they say are better equipped to provide those services.
"People applying for asylum have often survived unimaginable atrocities leading them to flee their homes and have undergone harrowing journeys to arrive in our city. Many recent arrivals in New York City are of African descent who face additional racial disparities in accessing city services," New York City Council Immigration Committee Chair Shahana Hanif said during an oversight hearing last week.
"We must encourage and ensure language access to our city's social and legal services, including Indigenous and African dialects relevant to the incoming groups," New York City Public Advocate Jumaane Williams added during the same hearing. "Black immigrants tend to get left out – in particular places like Africa and Haiti."
Many of the city's newest arrivals were pushed front and center earlier this month when dozens of asylum-seekers spent several nights on the streets outside of the Roosevelt Hotel arrival center in midtown Manhattan, waiting in line for a shelter placement in the severely overburdened system.
Having received little response from the city about how they can help migrants, African Communities Together has largely relied on word of mouth and social media to locate asylum-seekers within the city's system. In one example, Kouyate said she and several others from the nonprofit went to an emergency shelter, hoping to inform African migrants in their preferred languages about their rights as asylum-seekers, how they can help themselves and how to navigate the city, but upon their arrival, the shelter's manager told them that they didn't need anything because they have Google Translator. While the group tried to persuade the manager otherwise, an asylum-seeker approached the manager to ask a question. The two struggled to communicate until Kouyate interceded.
Kouyate's experience at the shelter was far from an isolated one. She said African Communities Together have encountered similar situations at other hotels and emergency shelters where they've been told to send an email and fill out paperwork – something she said doesn't make sense especially during urgent situations.
"Why are they not working with us? We have this expertise," Kouyate said. "We said we are here to help, let's work together, but let's have an easy process to work together. We all have to come together and find the solution."
Theodore Moore, New York Immigration Coalition, vice president of policy and programs, said that most of the people he spoke with outside of the arrival center were West African and Senegalese, having come to New York by way of the southern border. While the city has since found places for the people to stay, Moore said it didn't escape his notice that most of the new arrivals had been Black and spoke languages other than Spanish and English. He said language access has also been an issue at an emergency respite center serving migrant men in Bushwick. A number of Black migrants, many of whom are also Muslim, were placed at that particular shelter, which residents and advocates have said lacked showers, enough bathrooms and has had sporadic access to air conditioning. 
"It definitely appears that once you get away from English and Spanish, the services that the city is able to offer in a way that is prepared for those individuals drastically reduces," he said. "There's definitely a correlation currently between the housing problems that the city has been having with the individuals outside of the Roosevelt Hotel, the respite center in Brooklyn, and their nation of origin and the language that they speak." 
Black and African asylum-seekers often face unique, disproportionate challenges even before they arrive in New York City. Immigration advocacy groups say that Black and African migrants face higher rates of detention and deportation than other immigrant populations and are more often more likely to face higher bail amounts than others seeking asylum. There is also already a massive backlog within New York City immigration courts and advocates have voiced concerns that language barriers may exacerbate already long wait times for African migrants to have their asylum applications processed. New York City Mayor Eric Adams launched a center called the Asylum Application Help Center in June to help people file their claims, emphasizing that interpreters will be on site. The city also invested $5 million towards supporting nonprofit legal providers, including the African Services Committee. 
It's been a year since the first bus carrying migrants sent by Abbott arrived in New York City. Today, more than 57,000 new arrivals remain in the city's care in homeless shelters, many awaiting pending asylum applications and permission to work. Much has evolved since that first bus arrived, including the city's understanding of who exactly is coming and from where.  
"I just can't believe the Adams administration is in the middle of a global crisis," said Anne Williams-Isom, the New York City deputy mayor for health and human services, at a briefing on Aug. 4., adding that the federal government should be at the forefront of the issue.
Adams has painted an increasingly dire picture about the city's ability to continue sheltering asylum-seekers. Last week, he said the city's shelter system is well past its breaking point, citing a new $12 billion cost estimate for how much the city will likely spend providing shelter and other services by 2025.
"We are past our breaking point," Adams said in a speech on Aug. 9. "New Yorkers' compassion may be limitless, but our resources are not."