New York City
Intrepid hosts largest service food project in memory of Sept. 11
The retired aircraft carrier hosted the New York City Meal Pack for 9/11 Day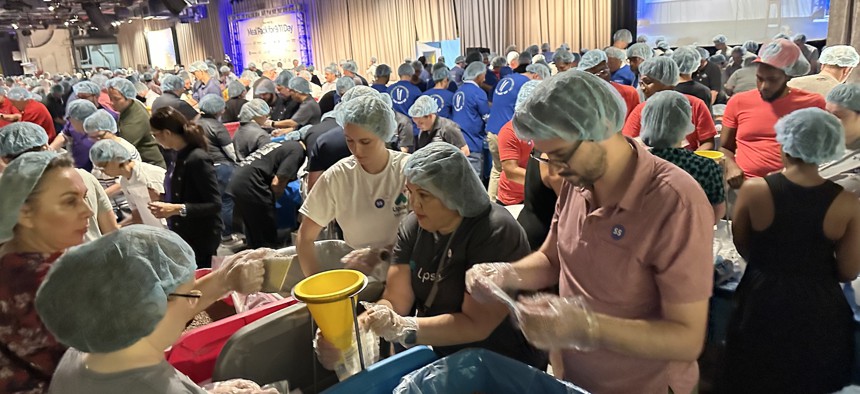 Sept. 11th marked a day of remembrance on Monday for those lost during the terrorist attacks on America 22 years ago. In addition to the memorial services at Ground Zero, and other observances across the country, millions also chose to do service.
That included 2,900 volunteers gathered aboard the Intrepid Sea, Air & Space Museum who went to work packing 1.5 million healthy, non-perishable meals to be distributed by the nonprofit 9/11 Day to City Harvest and Food Bank For New York City. The food was to go to individuals and families at risk of hunger across New York. The event was billed as the largest food service project held in observance of Sept. 11th.
"The energy in the room is contagious," said New York City Deputy Mayor for Strategic Initiatives Anna Almanzar, standing inside the main hull of the Intrepid, a retired aircraft carrier docked on the west side of Manhattan that was packed with volunteers who sorted dry foods into distribution packages while a high-energy music was played to keep everyone motivated.
 "It reminds you of why we live in New York City and why we do what we do on a daily basis … Doing good for those who need it the most. It's an inspiration to be here" Almanzar told New York Nonprofit Media, City & State's sister news site devoted to the nonprofit sector.
Launched in 2016, the New York City Meal Pack for 9/11 Day recruited volunteers from more than 120 companies from the tri-state area, including from JPMorgan Chase, Citi and Fox Corp., among others. 
Nationally, the 9/11 Day Meal Pack program includes 18 large-scale volunteer service projects supported by AmeriCorps and sponsors, to gather nearly 20,000 volunteers from 400 companies to pack more than 6 million meals nationwide. All meals will be donated to local food banks, many of them affiliated with Feeding America. Tens of thousands more volunteers are expected to participate on a second day of service scheduled for Tuesday.
The effort is billed as the nation's largest day of service. "The reason [for getting involved] that seems to be growing year over year, has more to do with people's desire to want to do good in their lives. And, that feeling is innate. 9/11 provides that opportunity for people to bring out the best in themselves," David Paine, co-founder of 9/11 Day told NYN. 
People motivated to help, according to Payne, were compelled by a desire to take a "day of tragedy," and turn it into of "doing good."
"That seems to resonate with people naturally. It doesn't really surprise me because when you think about so many other types of tragic events, whether it's Katrina or mass shootings, you always see service as an outcome of it," he said. "People just naturally help."
Volunteer Michael Thomas, who works in finance and lives in Manhattan, learned about the meal pack program day of service through his connections to the volunteer network New York Cares. He didn't know anyone lost in the attacks. But he befriended firefighters over the years who had suffered their own losses, he said. 
"It's wonderful, especially on a day like today, to see something positive come out of this. It's a wonderful feeling," he said, standing across from a row of volunteers filtering rice into funnels for packaging.
"I still think about that day, about the sadness," he added. "Two or three weeks later, when people started the hustle and bustle again of coming back, it was like yeah, the city is back. But  we can never forget."