Nonprofits
The Brotherhood-Sister Sol grows with demand in West Harlem community
The organization's new home is one of the few nonprofit spaces in New York City to be one hundred percent dedicated to "community-educational use."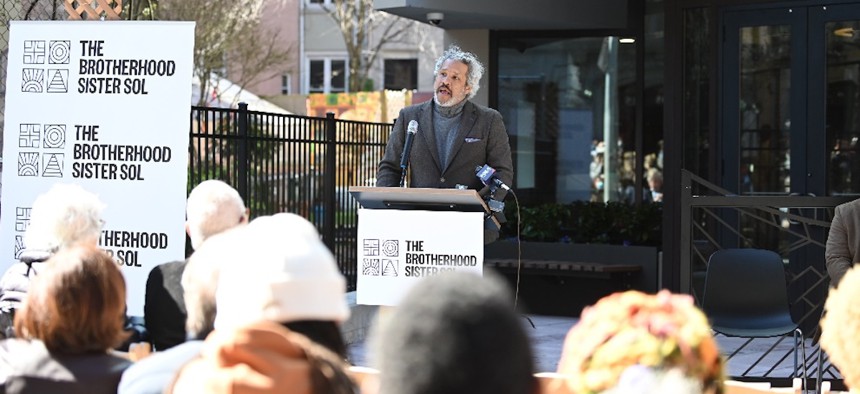 The Brotherhood-Sister Sol, a Harlem-based, youth-centered organization with deep roots in the local community, moved into its impressive new space in the heart of West Harlem in June, 2022, receiving a positive response from local community members and architectural critics alike.
What necessitated the move to the 22,000 square foot, state-of-the-art facility from its more modest former home around the corner was that the demand for its educational and youth services had increased to the point that the organization found itself in need of a bigger home to accommodate its growing footprint in the community. The new building is now home to one of the few nonprofit spaces in the city, the organization likes to boast, to be 100% dedicated to "community-educational use" (i.e., with no portion of the space carved out for retail, residential, or other purposes). 
Rooted in a nationally recognized social justice model, the mission of The Brotherhood-Sister Sol, on the other hand, has remained fundamentally unchanged since its founding in 1995. The history of the organization mirrors the community in which it is rooted, while reflecting its core mission and unique development model. Many of its staffers are former members and beneficiaries of its youth programming. A green youth market, in which youth participants operate a fully functioning farmers market in an area considered to be an urban food desert, as well as a creative collaboration with the influential contemporary American artist Carrie Mae Weems, are just a few of the projects facilitated by the organization. Celebrities from Oprah Winfrey to Danny Glover to Harry Belafonte have praised, and been inspired to support, their "theory of change," a transformative youth development model which provides "multi-layered support, guidance and education to develop youth into empowered critical thinkers and community leaders," according to the organization's mission statement. With an emphasis on Black and Latinx youth, it does this by offering "long-term, intensive involvement with participants over the course of their secondary school careers, providing unique scaffolded and wrap-around services in their personal development and academic achievement, and by offering opportunities and access so that they may develop agency."
By seeking to help young people break cycles of poverty and to create stable lives, The Brotherhood-Sister Sol has achieved an enviable track record of success, with rates of success far above national and city averages for nonprofits with a similar mission. About 94% of program alumni have graduated from high school or received their GED; 95% are working full time or enrolled in college, whereas the surrounding population in West Harlem, aged 18-25, has a 40% rate of either working full time or being enrolled in college, according to The Brotherhood Sister Sol. 
With their expanded reach, to say nothing of their expansive new space, comes a set of new challenges for The Brotherhood-Sister Sol, including fundraising and development, in order to maintain levels of giving on a par with the organization's larger scope in the years to come. To meet the funding need, a robust influx of grant money has been recently awarded to the organization. 
On July 31st, Manhattan District Attorney Alvin Bragg named the Harlem youth development and social justice organization as one of the recipients to receive a $20,000 grant for youth programs aimed at tamping down gun violence. As well as adding five new board members in September, The Brotherhood Sister Sol received a transformative community-funded project grant of $1,000,000 from Rep. Adriano Espaillat. This grant was made possible through the U.S. House Appropriations Committee, on which Espaillat is a member, and was allocated through the U.S. Department of Education as part of the Appropriations Fiscal Year 2023 process. The award marks a significant milestone for the organization's efforts and will enhance its afterschool programming benefiting nearly 600 elementary, middle, and high school youth from over 50 schools across New York City.
"We are deeply thankful to Congressman Espaillat for his long-time advocacy and unwavering support of The Brotherhood Sister Sol," said Khary Lazarre-White, the organization's co-founder and executive director. "This grant provides invaluable support to our mission of empowering young people, fostering leadership, and advocating for justice - making lasting impacts on our community."