Opinion
Revamping how we teach reading must be fundamental to NYC DOE reforms
Mayor Eric Adams and Schools Chancellor David Banks took promising first steps by proposing a shift to an evidence-based reading curriculum and comprehensive dyslexia screenings.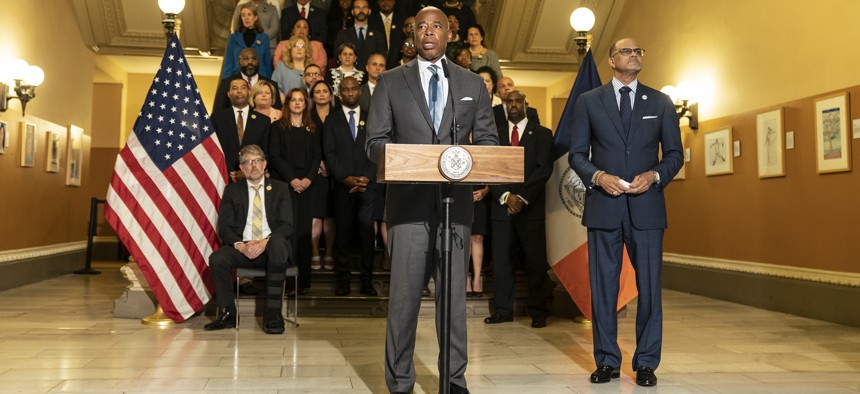 New York City Mayor Eric Adams has vowed to rewrite the book for teaching our children to read. 
In doing so, he's providing long-overdue hope that we can systematically address stark challenges faced by an astounding 73% of New York City public school students who read below proficiency for their grade level – a number which rises to 83% for Black students and 82% for Latino students, according to The Nation's Report Card assessment for New York City students.
Adams and New York City Schools Chancellor David Banks in May announced sweeping changes to the Department of Education, ranging from implementing universal reading screenings to adopting a phonics-based approach to reading instruction. The proposed reforms also include establishing programs for dyslexic students in each borough, backed by training for all teachers to recognize the signs of reading failure.
Mayor Adams brings a powerful personal perspective to this effort. He has frequently discussed his own struggles with undiagnosed dyslexia as a child, and how it affected his academic career. 
It's our hope that the mayor's deep understanding of the frustrations and unnecessary shame associated with reading difficulties will add urgency to the push for meaningful education reform. We believe there are three essential pillars that will significantly improve students reading attainment, and, ultimately, put more children on the path to success. 
First, as Adams' plan emphasizes, it's essential to screen all our children for reading difficulties. Universal screening will go a long way toward identifying students who are not achieving specific benchmarks in reading, as well as revealing where their skills deficits lie. Ideally, the screenings data can inform instruction in real time, determining both instructional groupings and specific skills to target for improvement. 
When data-based insights are layered onto a proven, evidence-based core reading program, there are dramatic gains in student achievement across the board. The current approach of allowing children to fail again and again before meaningful remediation begins is not only cruel, but it can also severely stunt a child's future academic success and emotional well-being. Dyslexia exists, and all schools should acknowledge, identify, and remediate it. With early intervention, a child's academic potential can be limitless. 
Second, we must adopt an effective core reading program that addresses not only explicit phonics instruction, but also other key areas identified by the National Reading Panel (fluency, vocabulary, and comprehension). 
Public Schools in New York and across the country have for too long clung to a Balanced Literacy curriculum (or Whole Language approach), which wrongly adheres to the notion that reading comes naturally, as a product of repeated exposure to high-interest literature. It does not, and the reading outcomes of schools who rely on this "balanced" approach to instruction have poorer results because of it. 
What does move the needle is a literacy curriculum based in considerable research that has been proven to help all children become proficient readers. That curriculum should be evidence based, drawn from the mountain of studies that show which programs are most effective in teaching children how to read. The curriculum should be structured, sequential, cumulative, and multisensory. 
Third, we need to train our teachers not only to teach in ways proven to create stronger readers, but also to identify and understand the dyslexic students and other diverse learners in their midst. 
None of these reforms are revolutionary but are far from standard. There are schools and programs throughout New York and our country that have successfully employed these approaches. For instance, The Windward School on Manhattan's Upper East Side and in White Plains has consistently demonstrated that a dyslexia diagnosis does not have to lead to a lifetime of academic or professional struggle. Windward's model, which aligns with the three priorities we have highlighted, delivers measurable results. Now it's time to scale it – and democratize it. 
The reality is that the vast majority of students currently getting this much-needed educational support to overcome their dyslexia have come from disproportionately, well-resourced white families. A child's ability to become a strong reader should not depend on a ZIP code, public school number, or socioeconomic status. Every child in our city should have equal access to the resources and support necessary to excel academically. 
Adams and Banks have taken promising first steps by proposing a shift to an evidence-based reading curriculum and comprehensive dyslexia screenings. And New York State has begun to act with the recent passage of a bill creating a statewide Dyslexia Taskforce, sponsored by Assembly member Robert Carroll and state Senator Brad Hoylman. 
Now it's time for all city, state, and federal leaders to come together and implement dyslexia screeners, evidence-based curriculum, and teacher training that will help all our children thrive. Further, Adams should embrace and not bristle at lowering class sizes as the Legislature mandated in June of this year when the body extended his mayoral control of schools and provided New York City with record funding.  
New York City is the financial and cultural capital of the world. The opportunities for our young people to thrive are vast, but can only be reached if students are equipped with the reading skills necessary to succeed.  
It's long past time to disrupt the current status quo of reading instruction. Together, we can rewrite the book in ways that make effective reading a fundamental right for all our students. 
Jamie Williamson is the Head of the Windward School. Robert Carroll is an alumnus of The Windward School and a member of the New York State Assembly.
NEXT STORY: The equitable dilemma of NYC's potholes