The fight for Just Pay
Why human service workers deserve our continued investment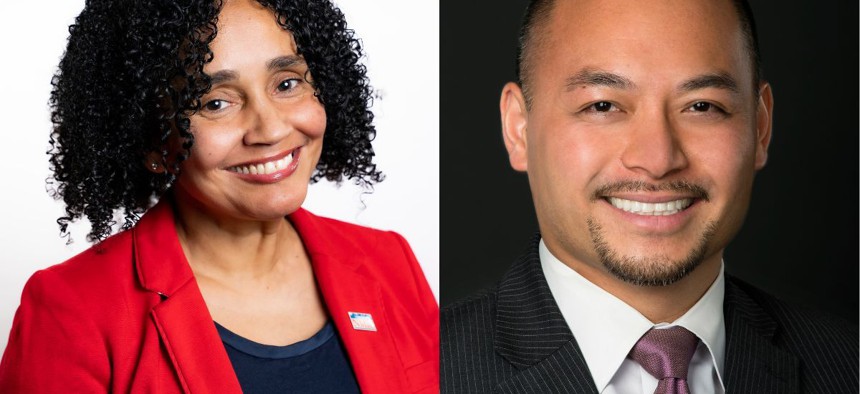 New York is a state defined by a longstanding legacy of diversity and a spirit of determination – underscored by its motto "excelsior," meaning ever-upward. Amid this flourishing and unique environment, however, lies a hard truth: Currently, the state of New York is facing a human services crisis, with compensation discrepancies that are putting unsustainable pressure on the people who work tirelessly to keep their communities afloat. Unfortunately, if we don't act fast, we risk putting the entire human services system in New York and the New Yorkers who rely on this system in jeopardy. 
As two nonprofit organizations that have been serving communities within New York for more than 100 years combined, one thing that is abundantly clear in our everyday work is that these services are critical and fully appreciated by seniors, youth, and everyone in between. Oscar Zheng, for example, has said that the Chinese-American Planning Council's childcare services are essential because it is a place for children in his community to learn and be themselves. Others who rely on CPC's services have said our home care workers truly do treat elderly patients like family – and, for the Northern Manhattan Improvement Corporation, "Working at a nonprofit for a little over a decade now has taught me that the need in our communities for an organization like NMIC is vital. Our community members depend on us to be their advocates and provide them with resources and information that will better their livelihoods, but we can't support their needs if our own needs aren't met," Brendy Iglesias, legal, organizing, & advocacy department program manager. Joanel Sassone, operations assistant, noted how "NMIC is a beacon of hope for residents in Upper Manhattan and the Bronx. NMIC afforded my family the opportunity to acquire American citizenship. During my time here, I have assisted clients with the same issues I faced during my upbringing such as food and housing insecurity. As human services workers, we will confront the long-term ramifications of the pandemic head on. Our community members must know that there are still people advocating for their well-being,"
Today, the human services workforce, consisting of over 800,000 workers in New York state alone, earns between 20-35% less in median annual wages than workers in comparable positions – a fact predominantly attributable to city and state officials who determine compensation for their workers. In New York City, roughly two-thirds of all full-time human services employees, 75% of whom are people of color and 70% of whom are women, are near the poverty line, with as many as 15% qualifying for food stamps. As our country veers ever closer to a full-blown economic recession – one exacerbated by inflation, a housing crisis, the ongoing COVID-19 pandemic, and more – these disparities will only further threaten the stability of this critical workforce. 
While New York City legislators made historic headway over the past few weeks by investing $60 million in the human services workforce, these investments unfortunately still fall short of what's required to sufficiently support those who do so much to help our neighbors. As part of the FY2022-FY2023 approved budget for New York City, human services workers will only receive a modest workforce investment, rather than the 5.4% that was advocated for by CPC, NMIC, and other human services agencies and advocates. Without increasing overall wages to no less than $21 per hour for all city and state funded human services workers, these investments will not be enough to create the systemic changes so desperately needed, leaving many home care workers, child caregivers, and others to suffer financially as a result. 
So, what can we do now that the budget has already been passed and approved? To begin, we must ensure that New York City actually releases the $60 million human services investment to those who need it, when they need it most – in other words, we are working to ensure that the city implements the $60 million workforce investment quickly, so human services agencies like CPC and NMIC can receive the funds to pay workers. Particularly as job vacancies for human services work reach all-time highs, it's clear that these resources will only become more critical in alleviating strains created by high turnover rates. Make no mistake: Budget-setting is certainly important, but government action is really what makes the difference. Additionally, we will keep advocating for additional government investment that will close longstanding wage gaps and ensure that human services workers are being fairly compensated for their efforts. From an annual Cost-of-Living Adjustment (COLA) to a $21/hour wage floor, the fight for "just pay" is far from over. On the contrary, there is a lot more that we can do right now to support human services workers and ensure that this sector doesn't fall by the wayside. Thankfully, as we speak, a new bill introduced by Council Member Althea Stevens, Int 0510-2022, is working its way through the New York City Council that would require the city to fund prevailing wages to human services workers. Specifically, the proposed bill would provide necessary financial assurances to human services workers so that they can, in turn, support themselves and their families. If we hope to turn this bill into law, we all have a role to play, requiring that we each stand up with one collective voice and unequivocally demand action – not tomorrow or next week, but immediately. 
We have seen firsthand the incredible pressure and strain that the government's wage restrictions have put on essential workers from our own communities. Human services workers are our neighbors, our friends, and our family members. No longer should we sit by and allow them to keep bearing the weight created by a broken compensation system perpetuated for too long by our city and state governments. As the economy continues its expected downward trend, and New York City faces continued COVID-19 waves, our communities are seemingly always bracing for increased pressure on the human services sector. If we continue straining this sector and the many New Yorkers who uphold it, the dam will eventually break. While we look forward to working with the mayoral administration and City Council to ensure the $60 million workforce investment is implemented quickly following the recent budget approval, we will continue to call on the mayor and Council to provide greater support to New York City's human service workers, who spend their days working tirelessly to support us. The fight for a just and equitable system for all human service workers doesn't end here. In fact, it's just getting started – let's get to work.
Editor's Note: Wayne Ho is a member of New York Nonprofit Media's advisory board.