Opinion
Opinion: The power of the AAPI vote in 2022 and beyond
Here's why the Asian American Pacific Islander community needs to be counted going into the midterm elections.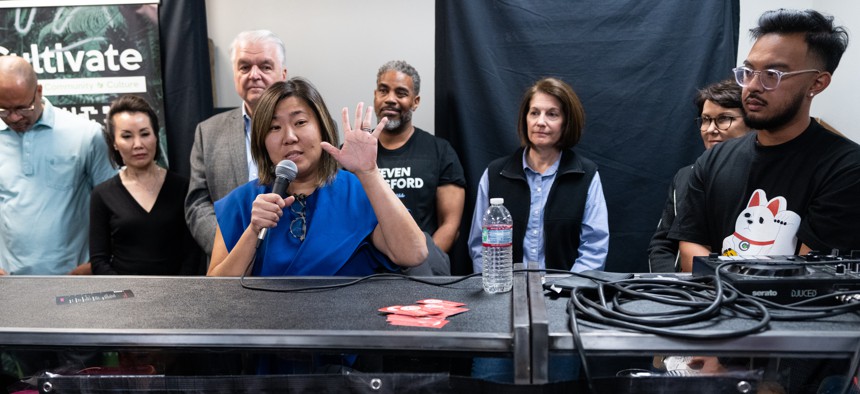 Historically, voter turnout for the Asian American Pacific Islander community has been among the lowest in the United States. For far too long, many of us who identify as such didn't fulfill our civic duty to vote because we believed we had no voice, no influence or political clout. But that all changed in 2020. Amid a year of violence and fear, when hate crimes against Asian Americans rose an alarming 339% nationally, the AAPI community finally became visible to the political world.
Although revolting, the hatred that permeated 2020 served as a tipping point for how we look at ourselves, our country and the politics that shape society. And because of that, the 2020 elections saw a 47% increase in AAPI voter turnout – the highest growth of any racial group that year. Some even feel the AAPI surge helped determine the outcome of some of the closest presidential contests at the state level, including Georgia, where the AAPI turnout increased by almost 62,000 votes over 2016. Considering that President Joe Biden and Vice President Kamala Harris won the state by less than 12,000 votes, the AAPI surge undoubtedly had an impact.
It took an unimaginable spark to ignite the AAPI community's civic flame. However, the fuel that it burns from has been built over generations. The rise of the AAPI community's voice and visibility results from decades of population growth, community organizing and investments to encourage people to vote. And those investments continue thanks to organizations like the Asian Pacific American Institute for Congressional Studies, National Council of Asian Pacific Americans, Laotian American National Alliance and the Asian American Power Network, which recently launched a $10 million effort to turn out Asian American voters ahead of the midterms.
With these investments, the AAPI community is proving to be a formidable player in the world of politics. We now have the power to shape and influence elections at all levels. Jay Caspian Kang highlights this point beautifully in his February 2022 opinion piece, What Happens When Angry Asian Americans Parents Get Organized, where he wrote about parents in San Francisco who organized and took action to remove school board members they didn't agree with.
This is great progress. And Asian American voters need to look at this community of parents in San Francisco as an example of what can happen when we take action. However, much more work needs to be done. Our voices must get louder if we are to have true representation, experience inclusiveness and see real change. I say this because there is already an alarming trend forming. According to Asian and Pacific Islander American Vote, more than two-thirds of registered Asian American voters surveyed say they plan to vote. However, many of these voters say they haven't been contacted by either of the major parties this year. About 52% of the Asian Americans surveyed said they had not been contacted by the Democratic Party in the past year, and 60% said they had not been contacted by the Republican.
This is troubling news, especially considering that nearly 24 million Americans now identify as belonging to the AAPI community. And according to former President Barack Obama's White House Initiative on Asian Americans and Pacific Islanders, the AAPI community is expected to nearly double to over 47 million by 2060. If our politicians aren't talking to us now, when will they? That's one reason why AAPI voters must engage in the electoral process this November.
To quote Congress Member Grace Meng's Nov. 4, 2021 tweet, "Pending paper ballot counts, the assembly districts of @nily, @edbraunstein, @Barnwell30, @Rontkim and @Stacey23AD all went Republican. Our party better start giving more of a sh*t about #aapi (Asian American-Pacific Island) voters and communities. No other community turned out at a faster pace than AAPIs in 2020."
Another reason AAPI voters must get involved in the midterm elections is to ensure we are equally represented in office. The AAPI candidates that represent our beliefs and values deserve our support. As of 2020, only 0.9% of federal, state and local elected officials were people identifying as AAPI. As such, we remain one of the most underrepresented racial groups in the country when it comes to political leadership.
For this to change on Election Day, we need far more than 66% of the registered AAPI voters to cast their ballots. Imagine if 80% or more of our people voted. Think of how this could instill confidence in our community and improve our capacity for equal representation. This representation is vital because it is the only way to ensure the AAPI community's needs are addressed with cultural understanding and that our democracy includes our best interests.
This isn't asking for too much, either. We've quite literally earned our seat at the table. Census data shows that in 2019 alone, the AAPI community earned more than $783.7 billion in income, paid more than $167.9 billion in federal income taxes and almost $72.5 billion in state and local taxes. Neilson even estimated that the collective buying power of Asian Americans is $1.3 trillion.
We need to harness this power and raise our voices because the decisions made by policymakers at all levels of government impact everything in our lives, from how much funding local schools get to policies around crime prevention. If the AAPI community isn't at the table or in positions where it can influence policy decisions, our needs and voices will soon be ignored again or completely forgotten. So, this Election Day, I encourage my fellow AAPI community members to get out and vote. It's our civic duty and we've worked too hard and come too far just to simply let others make important decisions for us.
April Somboun is a nonprofit professional and serves on the board of the Laotian American National Alliance. She resides in Brooklyn, New York.