Opinion: Hospitals that get tax breaks without fully reinvesting in communities hurt all New Yorkers
New legislation would create an office of health care accountability to reverse this trend and provide more affordable, accessible and transparent services.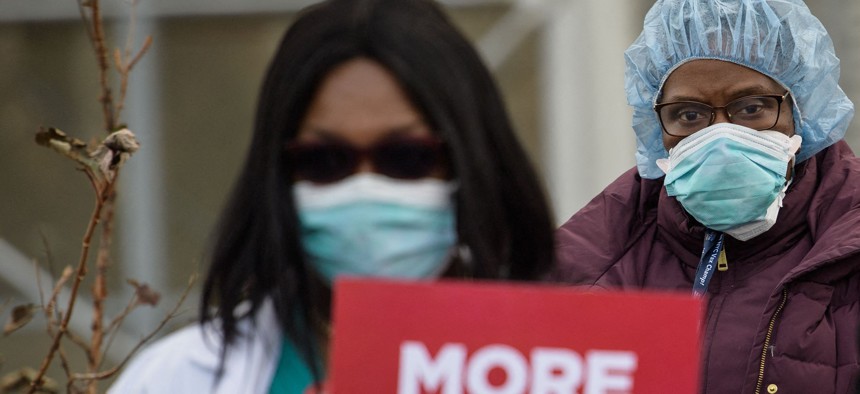 As a pediatric emergency room nurse, my job is to give sick kids the care they need and comfort worried parents during their most terrifying moments. During the height of the coronavirus pandemic, when so many pediatric nurses like me were assigned to the adult COVID-19 units, I made it my mission to hold the hands of as many dying patients as possible, so that no one had to die alone. 
We do what we do because we love our communities. That's why it's so disheartening that many of the city's private biggest hospitals that are supposed to be functioning as charitable organizations, take in billions in tax breaks without spending nearly as much on our communities while the cost of care continues to skyrocket.
A recent report by the Lown Institute showed how far from the spirit of charity some of our hospitals have deviated. The study, which looked at 21 private nonprofit hospitals in New York City, found that they collectively received approximately $1.5 billion in tax exemptions yet there was a negative $435 million gap between what they received in tax breaks and what they spent on local community benefits. Even worse, just nine hospitals combined had a deficit of $727 million between what they got in tax breaks and what they spent on community benefits. 
NewYork-Presbyterian Hospital topped the list of worst offenders for having the biggest difference - nearly $360 million - between tax dollars taken and money spent on community benefits. In 2020 the hospital's CEO of raked in nearly $12 million in salary, bonuses and perks, while nurses fought for enough staffing and PPE. 
To justify the massive tax breaks they're receiving, nonprofit hospitals are supposed to function as charitable organizations, giving back to their communities through free and discounted health care and investments to improve community health. But these hospitals, all of whom are making a sizable profit, have failed to act in good faith and adequately invest in the communities they call home. This has a direct and negative impact on charity care such as access to free medical clinics, addiction treatment centers and other health care resources. 
Adding insult to injury, these same hospitals are charging outrageously unfair and unjustifiably high hospital prices that threaten the access to care and financial security of working people across the city. Another recent study showed that the city of New York, which has hundreds of thousands of employees under their health plan, could be overpaying private hospitals by billions of dollars each year. 
At the same time, nurses are fighting to maintain our own health care, with our hospitals draining our union benefits fund with inflated fees when we turn to them for care, which is especially harmful after so many nurses got sick during the COVID-19 pandemic. Hospitals profited from our illness and now some of them are looking to cut our health care benefits. 
So for a nurse like me, it's sad but unsurprising to see many of these same hospitals take hundreds of millions of dollars more in tax breaks than they spend on local community benefits, while inflating prices 3-4 times higher than the Medicare standard. That doesn't sound much like a charity to me. But thankfully, we are seeing a growing movement to shine some light on the lack of pricing transparency and less-than charitable actions of these hospitals.
New legislation introduced in the New York City Council would finally bring real transparency and accountability to our health care system by creating a first-in-the-nation office of health care accountability. Armed with the authority to publish hospital prices and variations, audit city expenditures on employee-related health care costs, and grade hospitals on their compliance with pricing transparency measures, this bill would give us a powerful tool to help city government make health care more affordable, accessible and transparent.
We've seen firsthand how patients can suffer when hospitals fail to invest in recruiting and retaining nurses, from staffing shortages to longer wait times, delays in treatment and medications, and worse. Now, nurses are calling on these hospitals to bargain fair contracts that prioritize community care, safe staffing, and maintain the health care benefits nurses need to care for New Yorkers. And we are urging all city lawmakers to support this new legislation to hold hospitals accountable for the pricing decisions.
As someone who's spent her career helping save lives, I'm appalled and angry but mostly I'm motivated to hold these hospitals and the executives that are behind them accountable for breaching public trust. I hope anyone reading this will join me.