affordable housing
Opinion: Racial Equity Reports are a new and valuable resource for developing affordable housing
These disclosure statements offer important neighborhood and project data that can assist community members and stakeholders in evaluating development and land use proposals.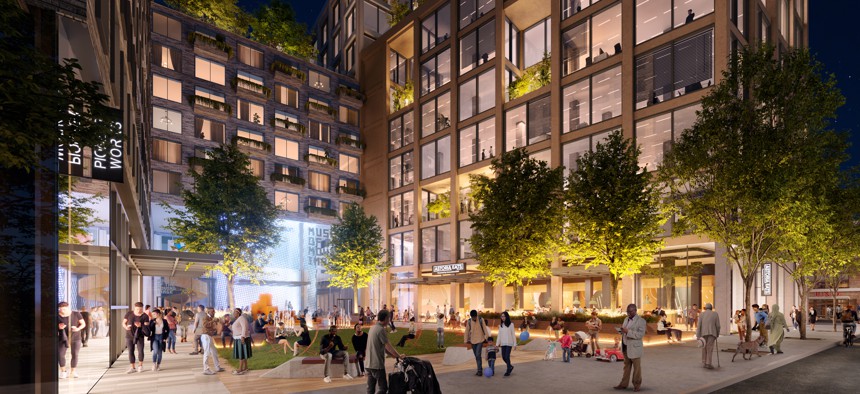 With the adoption of Local Law 78 of 2021, as of June 1, 2022, the New York City Council requires the preparation of Racial Equity Reports for select public and private land use applications coming before the New York City Department of City Planning.The need to prepare a Racial Equity Report is triggered by thresholds pertaining to certain zoning and land use actions. 
For example, projects that increase permitted residential floor area by at least 50,000 zoning square feet or permitted non-residential floor area by at least 200,000 zoning square feet are required to prepare Racial Equity Reports. The report must be posted publicly online and provided to the affected community board and elected officials within nine days of a land use application certifying into the Uniform Land Use Review Procedure.
The Racial Equity Report is separate from environmental review and aligns with the ULURP application process, though some non-ULURP actions are subject to the legislation, such as certain zoning text amendments and historic district designations.
The Racial Equity Report is a disclosure document intended to provide communities and elected officials with valuable information regarding a neighborhood's racial and ethnic demographics, housing affordability and production, and other factors that may make a population vulnerable to displacement. 
The Racial Equity Report consists of four main components: 
An executive summary
A project profile that discloses the anticipated rents for market-rate and affordable units, the anticipated jobs created for any non-residential use with a specific tenant and the average income, educational attainment, and racial composition of the specified industry
A community profile with demographic, housing, and economic data at the community district level
A narrative that evaluates the project's alignment with the City's goals to affirmatively further fair housing, as outlined in the City's fair housing plan, Where We Live NYC. 
The Racial Equity Report relies on data gathered from the New York City Department of City Planning's Equitable Development Data Explorer, which provides a displacement risk index for neighborhoods on a scale of lowest to highest. Factors that contribute to displacement risk are population vulnerability factors such as racial demographics and percentage of the population in poverty; housing vulnerability factors such as the existing affordable housing stock and levels of rent burden; and finally, market pressure – how rent and housing prices are increasing as compared to New York City overall. 
The displacement risk index is a measure of a neighborhood's current displacement vulnerability and is not a determination about the project being evaluated. According to the Equitable Development Data Explorer displacement risk index, neighborhoods such as Mott Haven-Port Morris in the Bronx and Bensonhurst in Brooklyn have the highest displacement risk, while neighborhoods such as Midtown Manhattan and Carroll Gardens in Brooklyn have the lowest displacement risk.
New York City Public Advocate Jumaane Williams led the effort to include racial equity reporting in the land use review process. His office's 2021 Legislative Report pointed out that neither the ULURP process nor the City Environmental Quality Review process require the presentation of racial and ethnic data and do not require an analysis of how a proposed project may impact the racial and ethnic composition of a study area. Williams' legislative report stated that rezonings in New York City have disproportionately displaced brown and Black residents, citing the findings from the 2015 Churches United for Fair Housing study that found the Hispanic/Latino population of Brooklyn Community District 1 fell by nearly 15,000 residents between 2000 and 2010 while the white population increased by nearly 30,000 residents following the Greenpoint Williamsburg Rezoning in 2005.
As a first step toward formalizing Racial Equity Reports, the City Council commissioned a racial equity report for the Gowanus Neighborhood Plan rezoning which was completed by Columbia University professor Lance Freeman in 2021. The Gowanus Neighborhood Plan Racial Equity Report on Housing and Opportunity served as an example of what a racial equity report could look like and explored several potential methodologies for data analysis. After significant community and stakeholder engagement, the New York City Department of City Planning developed a standardized methodology for Racial Equity Reports and provided a data tool to ensure consistent and accurate analysis of demographic, housing production and affordability, and quality of life indicators.
Innovation QNS, a planned mixed-use development in Astoria Queens, recently completed one of the first accepted Racial Equity Reports using the new guidance and data tool. The project entered into ULURP prior to June 1, 2022, but the applicant voluntarily completed a Racial Equity Report, which was prepared by AKRF, Inc. The report provided the applicant, the community, and elected officials with valuable information during the project's ULURP public review. The Racial Equity Report found that fewer than 500 income-restricted units had been built in Queens Community District 1 between 2014 and 2021 and of those units, only 247 were set at income levels for low-income residents (80% Area Median Income [AMI] or less). The report also identified racial disparities in income levels in Community District 1. For example, Black and Hispanic/Latino households had lower household incomes as compared to white and Asian households. Overall, 19% of the population was extremely low-income (less than 30%  AMI), while 28.5% of Hispanic/Latino households and 37.1% of Black households were extremely low-income (2015-2019 American Community Survey).
The findings of the Innovation QNS Racial Equity Report advanced discussions about the need for more overall housing, more affordable housing, and what level of affordability would best meet the needs of the Community District and the local neighborhood. On November 21, the New York City Council approved the Innovation QNS project after the applicant agreed to increase the project affordability beyond the requirements of Mandatory Inclusionary Housing in response to requests from Borough President Donovan Richards and local councilperson Julie Won. The modified project increased the overall unit count to nearly 3,200 units (up from approximately 2,800 units), increased the affordability to 45% of units (up from 25%) to create 1,436 permanently affordable units, and deepened the affordability by reserving over 600 units for formerly homeless and extremely low-income households (30% AMI or below).
Racial Equity Reports disclose important neighborhood and project data that can assist community members and stakeholders in evaluating development and land use proposals. As housing production is a policy priority for Mayor Eric Adams and Gov. Kathy Hochul, New York City communities will continue to have conversations about how much and what type of housing is needed and where that housing should go. Racial Equity Reports can facilitate these conversations and provide a mutual understanding of a neighborhood's existing conditions and the factors that make communities more vulnerable to displacement.