Opinion: AAPI groups are in need of support to combat hate
Here's why the state needs to allocate $66.5 million in funding for Asian-led and Asian-serving organizations statewide through the AAPI Equity Budget Coalition.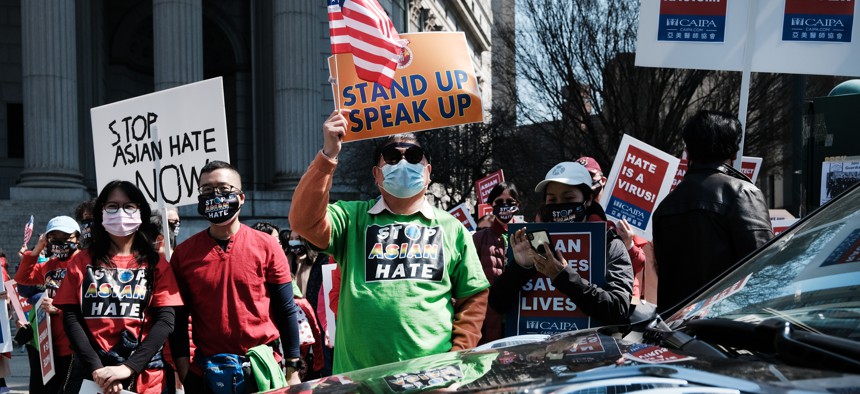 At a rally held last month, Cecille Lai, a 44-year-old woman, addressed a somber crowd gathered in Queens. "I'm just confused", she told them, "I just don't understand why we have hate for each other." One week prior, she and her son were targeted in a violent hate crime because they were Asian. Beneath their sympathy, the crowd felt a bitter sense of frustration: this was not the first time they had rallied to support a victim like Cecille. There was an overriding suspicion that it would not be the last. 
For members of New York's Asian American Pacific Islander community, Cecille is the latest victim of a well-established pattern: persecution for the crime of being Asian. New York is currently experiencing an unprecedented rise in Anti-Asian hate. From 2020 to 2021, the NYPD reported a 361% increase in hate crimes against Asians. For victims of these crimes, there is no consolation available in statistics, but there is support available in local AAPI networks and organizations. Often, these groups provide resources that help victims recover and rehabilitate. They also provide a sense of community that has become a crucial source of protection.
Assembly Member Grace Lee is the first Korean woman to be elected to New York's Assembly. Senator Iwen Chu is the first Asian American woman to be elected to the state's Senate. As representatives for AAPI communities in Manhattan and Brooklyn, we know how important these organizations are for the health and security of our constituents. In addition to protection against hate, the AAPI community depends on them for a wide range of services, including food insecurity, housing, immigration, and education. At this moment, these organizations desperately need support if they are to continue filling this role. The rapid growth in New York's AAPI population, which increased by more than 37% from 2010 to 2020, is making it increasingly difficult for them to provide their services. 
New York has a longstanding record of neglecting its AAPI community. Even as the AAPI population has grown, New York has failed to adequately invest in services to provide for their health, education, and safety. In 2022, New York City only allocated 5% of funding to AAPI organizations despite AAPI communities making up 17% of the City's population. Now, with the fastest growing population in the state, the AAPI community has never been more desperately in need of assistance. By providing Asian-led organizations the support they need to host their services, New York has an opportunity to reverse the legacy of neglect for AAPI communities.
In a matter of days, the New York State Legislature will pass its Fiscal Year 2024 state budget, which represents a major opportunity to secure this support. Last month, we joined our AAPI colleagues in the legislature to call on the state to allocate $66.5 million in funding for Asian-led and Asian-serving organizations statewide through the AAPI Equity Budget Coalition (EBC), a coalition of providers that will service this funding to more than 100 smaller, local community based organizations throughout New York. This allocation would continue the momentum started last year, when the coalition was granted one-third of this amount to provide culturally competent, language accessible services to millions of Asian Americans across New York. With increased funding this year, the EBC would be able to improve the quality of these services and take another step towards satisfying the needs of the AAPI community. 
We, along with our AAPI colleagues in the legislature, were very pleased to see that in response to our request, funding for the EBC was increased in this year's Assembly and Senate one-house proposals. Above all else, this inclusion signals that the legislature recognizes the unique challenges our AAPI community is facing as well as New York's obligation to correct its unequal treatment of the community. We were dismayed, however, to see that this funding was not included in the Governor's proposal, meaning that its status within the final budget could be in jeopardy. As legislators, we recognize the urgency of this moment and are calling on New York's leadership to do right by AAPI communities in this year's budget.
As Cecilla Lai noted during her remarks in Queens, Asians chose to gather in the aftermath of the attack because of the need to "show strength from our community." As we fight to counter the rise in anti-Asian hate in New York, the greatest tool we have available is the support of our AAPI community. For most of its history, New York has treated this community as if it didn't exist. To correct this legacy of injustice, the governor and legislature must make meaningful efforts to be responsive to the community's needs by funding the EBC in this year's state budget. 
Senator Iwen Chu is the first Asian American woman to be elected to the New York State Senate, representing an Asian plurality District 17 in Brooklyn. She is also the first Asian American elected from Brooklyn to the state Legislature. Assembly Member Grace Lee is the first Korean-American woman to serve in the state Legislature, representing District 65 in Manhattan. Assemblymember Lee is co-chair of the Asian Pacific American Task Force.