Opinion
Opinion: Background checks and blanket hiring exclusions don't reduce risk – they limit opportunities
Hiring restrictions, including background checks, prevent qualified job applicants from securing employment.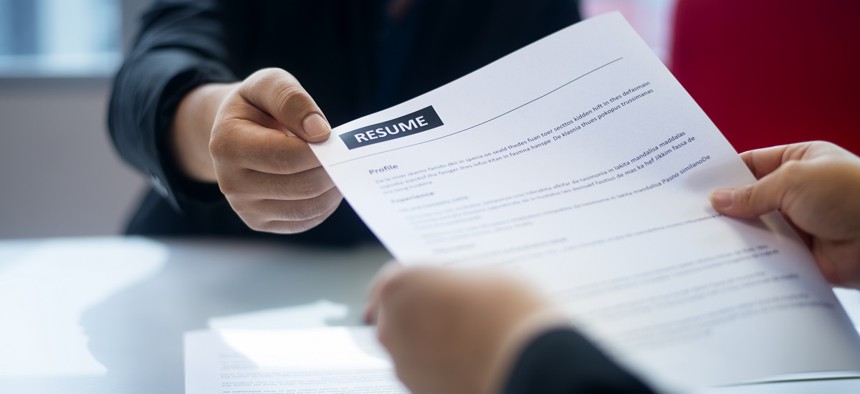 For a work-obsessed nation in the midst of a labor shortage, we still go to great lengths to prevent people with past criminal convictions who want to work from accessing a job. 
According to the most recent U.S. Department of Labor data, there are 5.9 million unemployed workers and 10.8 million job openings. Sprinkle in an aging workforce where there are fewer younger workers able to replace older workers who are exiting, and the labor gap becomes an urgent problem.  
Yet, in our collective work with justice-impacted individuals in New York and around the country, we repeatedly see hiring restrictions, including background checks, preventing qualified job applicants from securing employment. This presents a missed opportunity for businesses, particularly those that say they value equity and inclusion, not to mention the harm unemployment brings to the economic health of all communities.  
On the labor force sidelines there are millions of marginalized people who could work and are critical to the long-term success of the U.S. economy.  The largest of this group is the over 70 million Americans with prior criminal convictions  – including over 600,000 people released annually from our prisons and jails, and the over 4 million who are on probation and parole. 
While employers are embracing the idea of hiring talent with past convictions, there are many structural barriers in place  – especially at large companies  – like conviction restrictions and background check policies that limit the full career potential of formerly incarcerated individuals.  As a result, despite the increasing labor needs and positive benefits for employers and the community, 60% of people released from prisons each year are unemployed a year later.
Employers perform criminal background checks ostensibly to reduce their liability and minimize threats to the workplace. Yet too many are unaware of the significant limitations of background checks and other hiring exclusions, and the risks of using them. They are part of the structural barriers, masked as "risk mitigation," that have been erected from slavery through present-day mass incarceration policies that lock out and keep wages low for Black workers, and millions of other workers – especially those with a criminal conviction. 
Because of the patchwork of state, local, and federal criminal laws and variable record-keeping practices, federal and privately-run background check information is often incorrect. Nationally, only 49% of arrests have a matching court disposition. As many as one-third of all arrests with felony charges do not result in a conviction but will appear on a background check. 
Moreover,  it is not clear that someone's background has any material impact on workplace safety. The premise of background checks,someone who commits a crime will do so again,further reinforces the systems of oppression and cycles of poverty that have disproportionately impacted Black and brown communities.  
Let's be honest – no hiring is risk-free. There are many instances where employees who are not justice-impacted engage in illegal or risky behaviors on the job. Knowing the criminal background of a person in rare instances might help an employer to make better hiring decisions, but only if the employer is focused on the applicant's qualifications for the role, rehabilitative efforts taken since they were convicted, and relevance, or lack of relevance, concerning the conviction history to the job.  
The U.S Equal Employment Opportunity Commission provides guidance to employers that makes clear that using background check information in ways that discriminate against applicants violates federal law. Thirty-seven states, the District of Columbia, and many cities and counties have adopted "fair chance" hiring laws that require employers to follow a process that generally focuses on an applicant's qualifications for a job, requires employers to remove the conviction question on job applications, "bans the check box" for prior criminal convictions on applications, and requires employers to only look at a person's background after making a conditional offer. 
Don't take our word for it. Research from the Society for Human Resource Management indicates that employees with past convictions often meet or even exceed job performance standards. At companies that have hired people with criminal backgrounds, 81% of business leaders and 85% of talent professionals agree that workers with a past criminal conviction are on par or better than workers without a conviction history. 
Increasingly, employers are also supporting legal and regulatory reforms that end perpetual punishment. For example, a growing number of employers, including JPMorgan Chase, are joining advocates like us in advancing Clean Slate laws that automatically expunge or seal misdemeanor and certain felony convictions after some time.  
Employers are doing themselves a disservice by excluding many individuals who can have a transformational impact on their companies, simply to avoid perceived risk. Given the disproportionate impacts of the U.S. carceral system on Black and brown communities, employers must do more to expand opportunities for  individuals with past criminal convictions. 
Right now business leaders do not need a government mandate to act. They can meet with their internal talent leaders and ask them, "What more can we do as a company  to increase career opportunities for talent with past convictions?" They can revisit and ideally eliminate unnecessary hiring exclusions for people with felony convictions. They can also insist on regular progress reports complete with internal metrics to build a culture around inclusive hiring. Then these same leaders can tell their shareholders, customers, employees and their competitors that second chance hiring is part of their talent strategy moving forward and that it is the right thing to do, and is good for business. 
Samra Haider is president of the Center for Employment Opportunities, a national nonprofit that works to connect over 8,000 persons recently released from incarceration annually to employment and careers. Kenyatta Leal is the executive director of Next Chapter, a nonprofit dedicated to shifting perceptions about the potential of formerly incarcerated individuals while generating new opportunities in skilled, long-term employment in the technology sector.
NEXT STORY: Opinion: Government support is essential for investing in nonprofits