Opinion
Opinion: Albany, stop making excuses for keeping basement homes unsafe
Here are the facts that debunk myths about these dwellings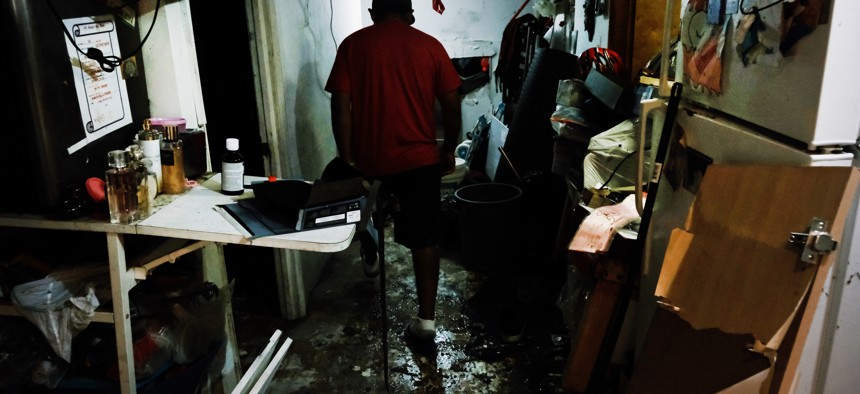 The end of New York's state legislative session and the beginning of hurricane season kicked off just like last year: with no action to protect the tens of thousands of New Yorkers living in unregulated basement and cellar apartments. These apartments provide vital low-income housing in a city with so little of it, but they must be legally recognized to ensure that they are safe places to live – every day and in the event of a disaster like Hurricane Ida. Yet Albany lawmakers have refused to enact legislation that would allow New York City to create basement and cellar safety standards and provide resources for upgrades. 
As advocates for the safe legalization of these homes, we'd like to clear up some myths and misconceptions we've heard about basement and cellar apartments as lawmakers allow another legislative session to go by without passing critical protections for these residents. 
Myth: Basement and cellar apartments are unsafe and no one should live in them
Fact: Banning basement and cellar apartments is current policy, and it doesn't keep people safe. It requires the city to either spend millions on enforcement to conduct mass evictions of people with few or no other housing options, or, as is the current approach, to allow tens of thousands of New Yorkers to live without basic tenant safety protections.
What can make basement and cellar apartments unsafe is lack of regulation. While some units might never be made safe, many others have light and air and means of egress, and can be equipped with all the safety features of a decent home. Under the current ban, however, the city cannot differentiate between the two. 
Of course, basement legalization is not a panacea. Addressing growing citywide flood risk – not just to basement tenants but other low-lying homes and underground infrastructure – will require significant climate adaptation infrastructure and policy.
Myth: Legalization would give blanket amnesty to illegally-converted apartments without concern for tenant safety
Fact: The proposed state legislation would not automatically legalize any basement or cellar apartment. 
What would implementation look like? First, to create the citywide basement and cellar conversion program authorized by the state legislation, New York City would have to convene its agencies responsible for buildings, fire, housing, and planning to decide on eligibility and safety requirements. Then, related zoning and building codes would be amended through public approval processes. Once the program is created, homeowners would apply to have their basements assessed for whether they could be made safe. 
Ironically, the chaotic, unsafe, unregulated landscape that opponents evoke with this myth is much closer to the current reality. Basement legalization would in fact be a vast expansion of housing safety regulations and resources. 
Myth: Upgrading basement and cellar apartments is too expensive
Fact: The existing rules for basement apartments make conversions too expensive in many cases. But this is a policy decision that can be changed. As the recent East New York Basement Apartment Conversion Pilot Program report found, modest reforms to rules like the state's Multiple Dwelling Law can drive down the cost of basement legalization dramatically without compromising health and safety standards. Adding a guardrail to the roof of an existing small home doesn't make the basement apartment any safer, but is prohibitively expensive. 
Myth: Legalizing basement apartments would strain my neighborhood's infrastructure
Fact: People already live in basement apartments across the city, using and contributing to their neighborhoods' resources just like the rest of us. Legalizing these homes would give communities and their elected officials a more accurate population count in advocating for adequate resources.
Myth: Basement apartments are out of character with our low-density neighborhood
Fact: Flexible use of basements has always been a part of homeownership, whether for housing your kids after graduation, your aging parents, or your neighbors who need an affordable home. Basement and cellar housing is fundamental to the neighborhood character of East New York, Fresh Meadows, Flatbush, Jackson Heights, and low-density areas across the city. 
Basement tenants are diverse, some having lived in New York for decades, others making their first homes in the U.S. Many basement residents are people of color working the low-wage jobs that keep our city running. A small but loud group of basement opponents carry on a legacy of xenophobia and classism in our city, which lawmakers have a duty to reverse. 
Here are the stakes: leaving basement and cellar apartments unregulated condemns tenants to live with the risk of eviction by vacate order, death by fire or flood, and the everyday anxiety of housing insecurity. Legalization would allow the city to establish clear health and safety standards for subgrade homes, provide funding for upgrades, and ensure that tenants have protections to report unsafe conditions. As long as these homes are illegal, none of these improvements are possible. And, as long as city and state lawmakers refuse to address the low-income housing shortage, our neighbors will continue to rely on basement and cellar housing.
The facts are clear. The responsibility to protect vulnerable New York City basement and cellar tenants rests in our state lawmakers' hands. And they are all out of excuses.
Sylvia Morse is program manager for policy at the Pratt Center for Community Development and Ryan Chavez the program director of the Basement Apartment Conversion Pilot Program at Cypress Hills Local Development Corp. Both are members of the Basement Apartments Safe for Everyone Coalition.
NEXT STORY: Opinion: Jails cannot fix our mental health care crisis